This listing is no longer available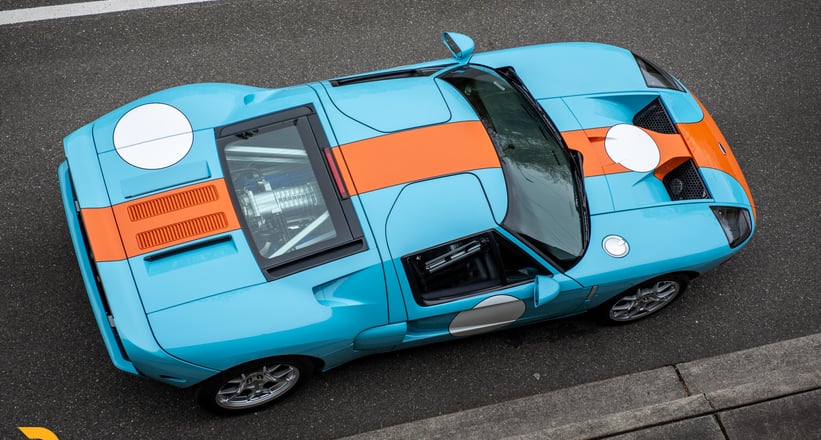 2006 Ford GT
Heritage Edition
Summary
Location
Description
HIGHLIGHTS
Iconic Ford GT Supercar
Heritage Paint - Blue/Orange "Gulf" Colors
Showing Only 2,500 Miles
1 of Only 343 Heritage Edition Cars
OVERVIEW
It's hard to imagine that the same company who built the humble Model T would have the potential to produce one of the most amazing performance cars the world has ever seen; not once, but twice. At the 2003 Detroit Auto Show, the GT40 concept car showed the world that the Ford 100 year anniversary was going to be more than a year long celebration. Seventeen years later, the performance celebrations continue in the hands of fortunate collectors sitting behind the wheel of the Ford GT.
The Camilo Pardo designed GT40 concept car was both visually compelling and technologically sophisticated. Just as Ford had accomplished their commanding win over Ferrari with their unprecedented "one-two-three" Le Mans victory, Ford reminded everyone they could build a supercar capable of besting Italian exotics. During the two-year production run from 2004-2005, Ford built 4,000 GTs. But a mere 343 were delivered from the factory painted with the iconic Heritage Livery, emulating the great Gulf Oil racing colors.
The Ford GT features an aerodynamically advanced body, doors cutting into the roof line for easy entrance and exit. The sloping windshield, mid-engine layout, and improved intake and warm air extractors offer great visual interest and aid in engine and brake cooling. The Ford GT also features innovative technologies including a superplastic thermo-formed frame, aluminum formed body panels, roll bonded floors (for increased rigidity and structural improvement), a lightweight magnesium center console, all assembled via the finest state of the art manufacturing processes for composite materials and bonding technology.
The resultant lightweight chassis is not only light, it met all safety requirements within a very short window of development time. Exceptional technology showcased on the car is not limited to the chassis alone as the mid-mounted 5.4 liter Ford Modular dual overhead cam 550 hp V8 engine, equipped with a Twin Screw Supercharger, is mated to a Ricardo six-speed manual transmission. Potent and highly capable, the Ford GT delivered top numbers when tested new with 0-60 3.3 second times, the quarter mile lapsing in 11.4 seconds, and a top speed over 205 mph.
Today these celebrated cars have become even more sought-after by enthusiasts increasingly appreciative of the iconic looks and celebrated racing heritage. Astute collectors continue to seek out preserved Heritage Livery examples featuring excellent provenance and documented low mileage.
This stunning 2006 Ford GT was assembled at the Ford Wixom, MI factory plant, February 1, 2006. Documented by the Ford factory certificate and window sticker, it is #565 of just 2011 cars built and #72 of a mere 343 ordered with Heritage Livery. The car was optioned with lightweight forged alloy wheels and a McIntosh AM/FM CD stereo. Understood to be a two-owner car, a recent Carfax and ownership documentation support the astonishingly low 2,500 miles accumulated since new. Not only is the car a remarkable preservation grade Heritage Livery example, it retains the original paint, original leather interior, original engine and gearbox, and still rides on the original tires.
Presenting essentially as new with beautiful factory original finishes and stunning polished factory optional wheels, the glass, lenses, and exterior body trim are all in excellent cosmetic condition. The upper body panels show no warping or lifting in corners, often seen in cars that have been subjected to harsh use or prolonged sun exposure. There are no chips or scratches in the expansive wrap around windshield. The optional stripes, graphic details, panel gaps, and inner strike surfaces remain exemplary in every respect.
Stepping up to the driver's door, the latch is easily accessed as the door swings open, revealing the distinctive roof panel opening as it separates from the body. The interior instantly displays superlative finishes including smooth and supple leather trimmed seats, race-inspired dashboard, and polished doorsills. Under the hinged clamshell rear deck, the visually arresting supercharged V8 engine has been meticulously maintained both mechanically and cosmetically, with just a few components bearing a golden performance hue from mild use. A common service item, the rear hood struts will need to be replaced, as such we are currently seeking appropriate NOS Ford parts to supply for the new owner. Lifting the hinged front section reveals a clean and meticulously maintained storage area showing factory fresh finishes and details. The undercarriage shows the correct reverse-dimpled aerodynamic factory chassis armor panels, which remain fastened in place. Suspension and various exposed components are further in excellent condition, with clean and fresh appearance, showing only minor evidence of use.
The car starts easily, setting off a sonorous V8 blast settling into a warm idle. Seating position is excellent with great forward visibility and side views of remarkable expanse. Acceleration is progressive and street-friendly with progressive power steering welcomed at low speeds. Agile in slow traffic, the real fun begins when the road opens up through the six-speed manual, celebrating the spirit of the original GT40. Power comes on immediately as an unforgettable rush of mid-engine power presses into your seat. Cornering and braking are on a par with some of the best track cars of this period. Despite being a remarkable race-bred performance car, the Ford GT is every bit at home cruising modestly in air-conditioned comfort.
This rare and amazing Ford GT is available with a copy of the original window sticker, factory literature, owner's manual with factory leatherette pouch, two keys and fobs, battery charger, tire air pump, and tow hook.
One of the most sought-after collectible premium supercars, the Ford GT offers top performance without all the fuss and maintenance challenges experienced in many comparable European exotics. And while original GT40 examples have become multi-million dollar motorsports icons, this rare Heritage Livery Ford GT delivers exceptional performance and provenance with the added benefit of documented originality, concours level finishes, and two-owner preservation-grade stewardship since new.
Please call Jason at +1-206-355-7727 for more information on this 2006 Ford GT for sale.