This listing is no longer available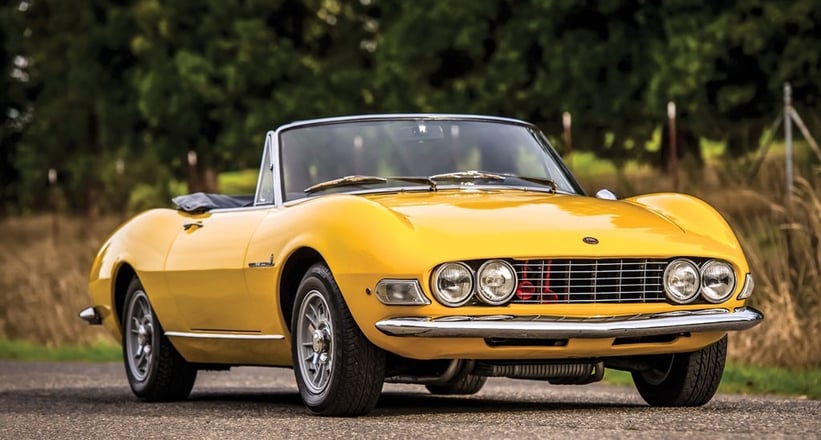 1967 Fiat Dino
2000 Spider – Rare first series, one of 200 with aluminium dashboard - Restored
Location

Performance

160 PS / 118 kW / 158 BHP
Description
Fiat Dino 2000 Spider – Rare first series, one of 200 with aluminium dashboard - Restored
The car is currently being reassembled in our workshop – Non contractual photos
In 1965, for the competition requirements, Enzo Ferrari needed to build 500 series cars equipped with a V6: these were the FIA regulations of the period for the Formula 2 championship. Ferrari had the idea to use the V6 from the Dino 206 GT but, as he knew he could not reach this production goal alone, he went to Fiat to propose the project of a high standard car that could allow him to homologate his engine in competition. This is how the Fiat Dino 2000 Spider was born, introduced during the Torino motoshow in November 1966, and designed by Pininfarina. Ferrari provided the engines, 2.0L V6s that also equipped the Dino 206 GT. They were then reworked at Fiat by Aurelio Lampredi (ex-Ferrari engine builder) and produced 160 hp.
This historical link with competition and with the Dino 206 GT make the Fiat Dino 2000 Spider an inescapable car! Our car is all the more important that it is the chassis 135AS 0000202. It is not only one of the 500 first exemplars made to homologate the engine in competition, but it is also one of the 200 first cars built, the only series with the aluminium dashboard! Our car just ended a complete restauration and is currently being reassembled in our workshop. Its restauration comes with a complete set of photos and will be delivered to its future owner with an appraisal value.
___________
Fiat Dino 2000 Spider – Rare première série, 200 exemplaires avec tableau de bord aluminium - Restaurée
Véhicule en cours de remontage dans nos ateliers – Photos non contractuelles
En 1965, pour les besoins de la compétition, Enzo Ferrari a besoin de produire 500 voitures de série équipées d'un V6 : c'est ce qu'imposait à l'époque la FIA pour le championnat de Formule 2. Ferrari eut l'idée d'utiliser le V6 de la Dino 206 GT mais, conscient de ne pas pouvoir atteindre cet objectif de production seul, il se tourna vers Fiat pour leur proposer le projet d'une voiture haut de gamme qui lui permettrait d'homologuer son moteur en compétition. C'est ainsi qu'est née la Fiat Dino 2000 Spider, présentée au salon de Turin en novembre 1966, et dessinée par Pininfarina. Ferrari a fourni les moteurs, des V6 2.0L qui équipaient en même temps la Dino 206 GT. Ils étaient ensuite retravaillés chez Fiat par Aurelio Lampredi (ex-motoriste Ferrari) et développaient 160 Ch.
Ce lien historique avec la compétition et avec la Dino 206 GT font de la Fiat Dino 2000 Spider une voiture incontournable ! Notre auto est d'autant plus importante qu'il s'agit du châssis 135AS 0000202. Elle fait non seulement partie des 500 premiers exemplaires ayant servi à faire homologuer le moteur en compétition, mais elle fait également partie des 200 premières fabriquées, seule série avec le tableau de bord en aluminium ! Notre auto sort d'une restauration complète est actuellement en cours de remontage dans nos ateliers. Sa restauration est accompagnée d'un dossier complet de photos et elle sera remise à son futur propriétaire avec une expertise en valeur agréée.