This listing is no longer available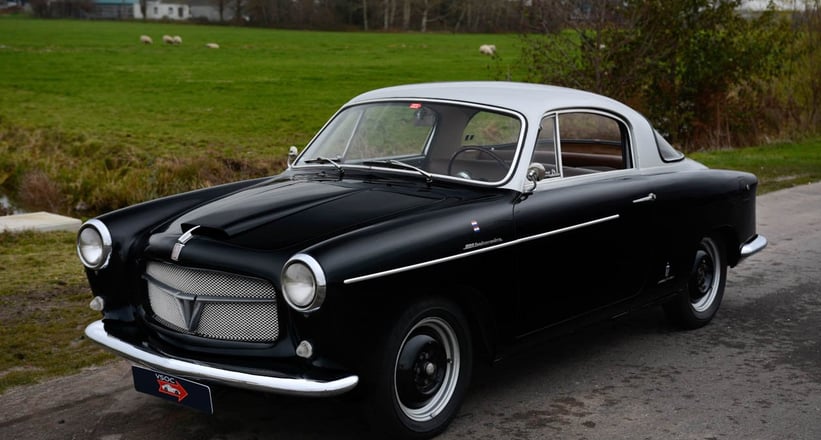 1956 Fiat 1100
Turismo Veloce Coupé Pininfarina, ex-Mille Miglia 2018
Location
Description
Model History
Like other manufacturers, after World War II Fiat continued producing and updating pre-war types. The first blank sheet design was the 1950 1400, the first with unibody Fiat, which took the place of the 1935 1500. Fiat's intermediate offering between the 1500 and the diminutive 500 was the 1100 E, the last evolution of the 508C Nuova Balilla 1100 first launched in 1937. Its replacement it was codenamed Tipo 103; like the 1400 was to use unit construction, while the 1100 E's 1.1-litre engine was carried over unaltered.
The Fiat Nuova 1100, or Fiat 1100/103 as it was called after its internal project number, was introduced at the April 1953 Geneva Motor Show. Unlike the 1100 E it replaced, the 103 had a modern four-door saloon pontoon body topping new unibody construction, both pioneered in Fiat's range by the 1950 1400.
If the 103's body was all-new, its engine sure was well-tested, having debuted in 1937 on the predecessor of the outgoing 1100 E, the 508 C Balilla 1100. Updated as type 103.000, the 1,089 cc overhead valve four-cylinder was fed by a single Solex or Weber downdraught carburettor, and put out 36 PS at 4,400 rpm. The 4-speed manual transmission had synchromesh on the top three speeds and a column-mounted shifter, fashionable at the time. The car was able to reach a top speed of 116 km/h. The new model was offered in two different versions: the spartan Tipo A and richer Tipo B. The former was only available in a grey-brown paint colour, had separate front seats instead of a bench, reduced, non-chromed exterior trim, and lacked a heater and ventilation. The type B came in a choice of paint hues and interior fabrics, and could be ordered with factory-fitted whitewall tyres and radio. A distinguishing feature of 103s throughout the 1950s were the doors, both hinged on the centre pillar, this would only change in 1960, when the 1100 started to adopt the more modern bodyshell of the Fiat 1200 saloon.
At the October 1953 Paris Motor Show Fiat launched a sporting version of the 103, the 1100 TV, standing for Turismo Veloce. The TV was fitted with an improved engine (type 103.006), which developed 48 PS at 5,400 rpm rather than the 36 PS of the regular versions, mainly thanks to a twin-choke Weber carburettor and a higher 7.4:1 compression ratio. Later in 1954, compression ratio was raised further to 7.6:1 and power reached 50 PS. Top speed was 135 km/h. Another notable mechanical difference was the propeller shaft, two-piece instead of one-piece in order to dampen torsional vibrations, intensified by the increased engine output.
From 1954 to 1956 Italian coachbuilder Carrozzeria Pinin Farina independently built and sold a 2-door 2+2 coupé based on 1100 TV mechanicals, in a small series. The design was first seen on a one-off displayed at the 1953 Paris Motor Show and entered by Umberto Agnelli at a race event held in 1954 near Turin, the Orbassano 6 hours Cup. The hand-built body was steel with aluminium doors, bonnet and boot lid; starting from 1955 a panoramic rear window was used, similar to the one found on coeval Pinin Farina-bodied Ferraris.
This Example
This rare Turismo Veloce Coupé with bodywork by Pininfarina is really nice and fun to drive, it is also pretty quick! It comes with Italian history from new and was used for hill climbs in Italy and also has old FIA papers. After that it came to Holland and was revised and the bumpers were fitted again. The engine has been tuned and delivers a real punch, the gearbox is very smooth, the suspension and brakes are well set up and the car is a delight to drive with a great sound!
It participated in the 2018 Mille Miglia and we performed a big preparation for it, with which it finished well. Much work was done; among others: engine tuned, cooling and new radiator, brakes, suspension, half shafts, exhaust system, extra instruments etc.
Dutch registered and with Fiva A3 papers to enter.
This could be your ticket to the Mille Miglia! We can prepare the car for you if you wish to participate.
Don't forget to watch the video on our website to see this Fiat in motion and listen to the amazing sound!
Price is now reduced to an interesting euro 115.000,-.
VSOC's Sassenheim showroom is centrally located between Amsterdam and The Hague, only 17 km (11 miles) from Schiphol Airport. There is a broad selection of classic sports cars on display, in very good or excellent condition, varying from beautiful yet affordable sports cars to rare and valuable collectors' items. When you intend to visit us in The Netherlands, we would advise you to make an appointment so that we can give you some quality time. If you arrive by plane or train, we would be happy to pick you up at the airport or train station. Besides Dutch we speak English, German, French and Italian.