This listing is no longer available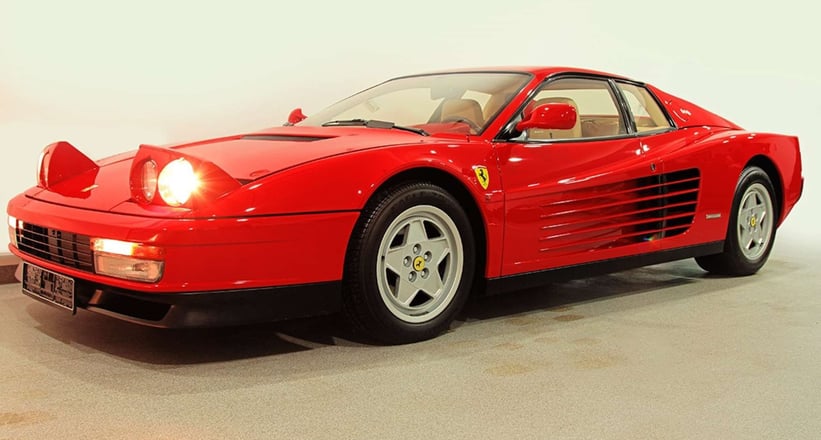 Summary
Location
Description
Delivered new in 1991 by Auto Becker GmbH & Co KG in Germany, to its first owner, Herr Frank Laufenberg, who never actually drove the car!
Herr Laufenberg did have the foresight, to order with car, an exclusive Ferrari watch by Cartier, which still accompanies it, and retains it original box and warranty card. These watches are now highly valuable, coveted and rare
The car is presented in its original colours of Rosso with an unusual interior in Crema with a Rosso leather roll-top and door cards
It's accompanied by its tool-kit and two original car covers for interior and exterior storage
From invoices in the history file, it had an engine-out service in late June 2009 by Ferrari Lueg Sportivo GmbH of Dusseldorf, who also changed the cambelts and tensioners at the time
In 2014, the owner prior to our vendor, sent the car to the Official Ferrari Dealer (Forza Rossa S.R.L) in Bucharest, Romania, for a complete service and inspection and to obtain a Certificate of Authenticity from the Ferrari Classiche Department
The car has been with a UK collector since 2015, stored and maintained to the highest standards, with a very recent service
Rarely do cars of this provenance come to market, with this particular car ticking all the right boxes for any serious collector today
Professional images to follow.
When Ferrari introduced the Testarossa at the Lido on the Champs-Elysees on the eve of the 1984 Paris Salon de l'Auto, it caused a sensation. The crisp, square-cut almost deliberately functional lines and superior mechanical specification instantly rendered the 512BBi yesterday's car and was rightly regarded as possibly the best car Ferrari had ever built.
The name 'Testarossa', literally Redhead, became synonymous with Ferrari sports racing cars in the '50s and '60s and was resurrected at that seminal 1984 launch. Housing a sweet and free-revving 4.9-litre flat dry-sumped V12 engine producing 390bhp, now cooled by rear positioned radiators, the car was capable of a respectable 0-60 mph time of 5.2 seconds and a top speed of c180mph. Produced between 1984 and 1991, some 7,177 Testarossas were made in total. Once again, time showed Pininfarina's design to be durable, and throughout the 1980s, the distinctive 'strakes' were echoed in other design disciplines from cars to kettles. However, although the design may have seemed to be 'of the moment', the Testarossa proved itself to be a well-built car, and despite its 'Eiger-rivaling' list price, turned out to be Ferrari's most successful model ever.
The final evolution of the model (sometimes called '88.5' models) featured a lot more changes than just the new five-stud wheels. There were modifications to the steering column, suspension, including the dampers, a wider track and new brake discs. From 1989, Testarossas ran the 'B'-spec motor with KE-Jetronic and catalytic converters.
Today, the Testarossa is a design icon, symbolic of eighties culture, and despite a period in the 'boondocks', its popularity is returning rapidly. It is not a surprise really since the Testarossa offers a rare package of serious performance, practicality, and reasonable comfort and confidence-inspiring handling at high speed that becomes almost addictive.
The car presented here was delivered new in 1991 by Auto Becker GmbH & Co KG, Germany, to its first owner a Mr Frank Laufenberg, this exceptional left-hand drive car was in fact never even driven by Mr Laufenberg! However, he did have the foresight to order the exclusive Ferrari watch by Cartier, gold with steel, which comes in its original box and warranty card. The market value for these watches has greatly increased and they are impossible to find. Accompanying the car, but not from new, is a 5-piece Ferrari luggage set in black leather that fits neatly into the trunk of the car - sourced at a cost of 10,000 Euros and never used.
Presented in its original colours of Rosso Red with an unusual interior of Crema with a Rosso leather roll-top and door cards, this car also comes with its full Ferrari tool kit and two car covers for interior and exterior storage.
It is unknown when the second owner bought the car, but from the bills in the history file, we can ascertain that it had an engine-out service in late June 2009 by Ferrari Lueg Sportivo GmbH of Dusseldorf, who changed the cambelts and tensioners at this time. All of this work is detailed in the invoices and has been recorded photographically. By this stage, we believe that the car had covered a mere 1,100 km, as confirmed by the Chief Service Engineer from Ferrari Lueg Sportivo, Gunnar Scholte.
On the 6th October 2014, the previous owner had this wonderful Testarossa sent to the Official Ferrari Dealer (Forza Rossa S.R.L) in Bucharest, Romania, where he resides, for a complete service and inspection and to obtain a Certificate of Authenticity from the Ferrari Classiche Department. At present, the odometer is reading a genuine, but staggeringly low, 1,545 km (960 miles).
Silverstone Auctions were extremely proud to sell this Testarossa back in 2015 to a UK-based collector of special, low-mileage original cars. He ably took on the mantl