This listing is no longer available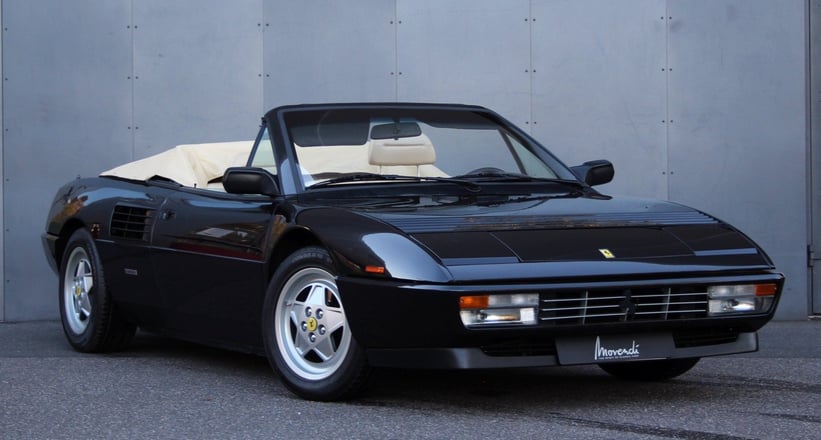 1992 Ferrari Mondial
T Cabriolet
Location

Performance

300 PS / 221 kW / 296 BHP
Description
- Top Motorisierung der Baureihe mit 348 Motor
- Sehr geringe Laufleistung, lückenloses Servicebuch
- Hervorragender Allgemeinzustand
- Attraktive Farbkombination
Fahrzeughistorie:
Dieser Ferrari Mondial T ist eine europäische Auslieferung. Seit 2003 ist er in München zugelassen und wurde regelmäßig gewartet und offensichtlich nur bei bestem Wetter bewegt. Der Lack ist in hervorragendem Zustand. Man sieht diesem Fahrzeug seine geringe Laufleistung regelrecht an. Ein kerniger Italiener, der durchaus eitel wirkt und durch den betörenden Sound, den er fabriziert, die Blicke auf sich zieht. Der 3.4 Liter Motor aus dem neu entwickelten 348 TB macht diesen Mondial zum König seiner Familie, steht dieser längs zur Fahrzeugmitte eingebaute Motor doch für eine neue Motorengeneration bei Ferrari.
Der Ferrari Mondial wurde im Jahr 1980 im Rahmen des Genfer Automobilsalons der Öffentlichkeit präsentiert. Der neue Mondial war der Nachfolger des 308 GT4. Das Design des Wagens zeugt von der Rückkehr dieses 2+2-Coupés.
Der Buchstabe "T" bei diesem Fahrzeug stammt vom 312 T Formel 1-Rennwagen, der eben die Formel 1-Weltmeisterschaften gewonnen hatte und ebenfalls mit einem längs montierten Triebwerk sowie einem quer montierten Getriebe versehen war. Hier ist schon der Motor des Ferrari 348 GTB mit 3.4 Litern Hubraum verbaut. Dank dieses Aufbaus konnte der gesamte Antrieb im Mondial T um 13 Zentimeter abgesenkt werden, was die Straßenlage und das Handling des Wagens beachtlich verbesserte.
- Top 348 engine of the series
- Very low mileage, complete service book
- Excellent general condition
- Attractive color combination
Vehicle history:
This Ferrari Mondial T is a European delivery. It has been registered in Munich, Germany since 2003 and has been regularly serviced and apparently only moved in good weather. The paint is in excellent condition. You can literally see the low mileage of this vehicle. This car is a sturdy Italian, which looks quite vain and draws attention to it with the bewitching sound it creates.
The 3.4-liter engine from the newly developed 348 TB makes this Mondial the king of its family. The engine is installed lengthways to the center of the vehicle and represents a new generation of Ferrari engines. The Ferrari Mondial was first presented to the public at the Geneva Motor Show in 1980. The new Mondial was the successor to the Ferrari 308 GT4. The letter "T" on this vehicle comes from the 312 T Formula One racing car, which had just won the FIA Formula One World Championship and was also fitted with a longitudinally mounted engine and a transversely mounted gearbox. The engine of the Ferrari 348 GTB with 3.4 liters displacement is already installed. Thanks to the structure of the vehicle, the entire drive in the Mondial T could be lowered by 13 centimeters, which considerably improved the road holding and handling of the car.