This listing is no longer available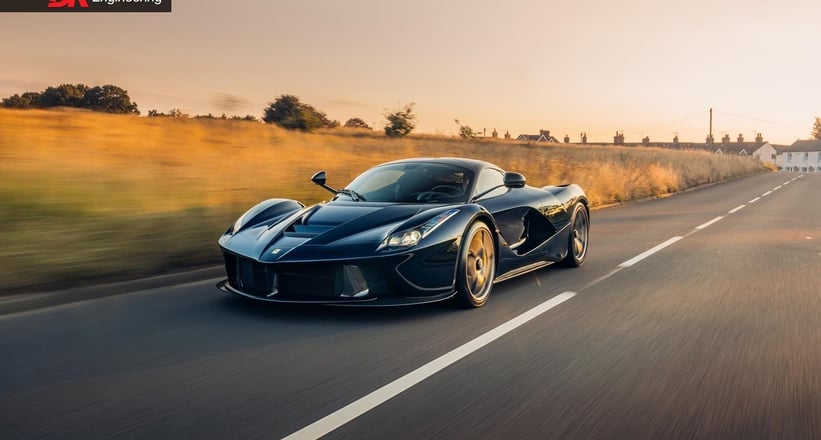 2016 Ferrari LaFerrari
EU Supplied - 1,150 Miles - Historic Blu Pozzi
Summary
Location
Description
Launched in 2013, the LaFerrari marks Ferrari's first foray into the world of hybridised hypercars. Breaking the trend of the 'F' nomenclature, the car follows the roughly 10 year gap that separated the Enzo from the F50. Retaining the much-loved formula, Ferrari assisted their naturally-aspirated V-12 engine with 160 bhp and 200 lb-ft of torque from an electric motor. Combined the LaFerrari generates 950 bhp and 715 lb-ft of torque. Unlike its rivals systems that offer an electric-only mode, the electrical system has been designed to work at maximum output all of the time, as such creating a 'torque-fill' effect working in combination with the V-12.
Derived from Formula 1 technology, the LaFerrari regenerates energy at every given opportunity with the brakes, ABS, TCS and E-Diff recuperating any energy possible. As such the car produces more power and less weight than any of the hypercar 'trilogy', the LaFerrari would remain a firm poster car and fan favourite.
With an official build number of just 499 examples during the production window, the LaFerrari was sold exclusively to Ferrari's best clients.
Delivered new to Monaco through Scuderia Monte-Carlo in April of 2015, this fantastic LaFerrari boasts an attractive colour scheme of Blu Pozzi paintwork over a Nero Alcantara interior. The car features a variety of carbon fibre options including carbon fibre fog lamps, lower and upper trim, outer mirrors, and wheel centres. The matte-grey painted rims complement the paint beautifually, offset by yellow brake calipers. Inside, the car is fitted with rosso-stitched cavallinos on the headrests, large size seats, and the track inner camera kit. Additional options included the Ferrari telemetry system, suspension lifter, and sports exhaust pipes.
The LaFerrari remained with its first owner in Monaco for one year and was then sold to its current owner in 2016. Remaining in storage for the majority of his ownership, the car is currently showing just under 1,850 km (1,150 mi) from new. The car's service book shows its first service at Scuderia Monte Carlo in April of 2016 at 1,712 km. While in storage with DK Engineering, the car was treated to annual services at HR Owen in October of 2019 and subsequently October of 2020, and it has been driven less than 50 km since.
Furthermore, the car will be supplied U.K. registered.
Truly brilliant cars to drive, the LaFerrari showed that automotive performance and electrification could work in harmony and that Ferrari's hybrid hypercars will have a rich future. This low-mileage, European specification example in Blu Pozzi is a very tasteful example of its breed and would surely be well received wherever it goes.
Please refer to our main website www.dke.co.uk for full details, additional photos, our terms of sale and accurate pricing as some websites may use out of date currency exchange rates: https://www.dkeng.co.uk/ferrari-sales/1432/blue_chip_competition_cars/ferrari_laferrari.html