This listing is no longer available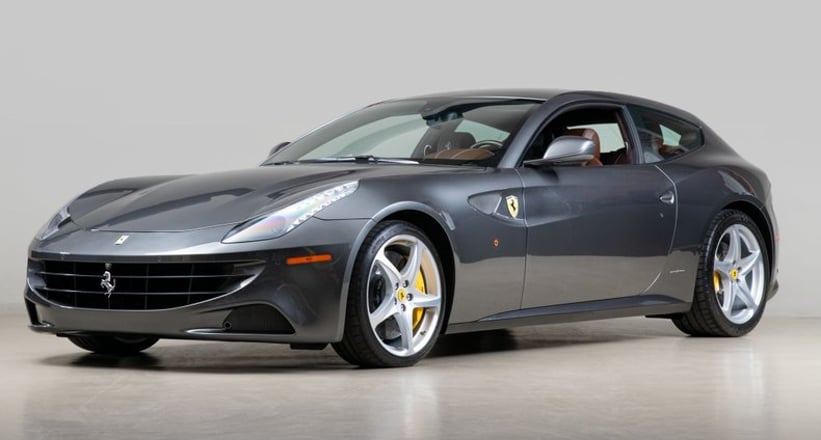 Summary
Location
Description
Click here to view high resolution photos https://www.flickr.com/gp/[email protected]/8w8F5V
The personal car of motorsports team owner, Chip Ganassi
7,864 miles since new
Original suggested price $370,862, including $58,246 in added options
6.3-liter V12 engine producing 651-hp
4RM all-wheel drive system
Extensive documented service records
Ferrari FF: a name inspired by the car's four generous, body-hugging seats, and more significantly, the Prancing Horse-patented four-wheel drive system. Purists will be keen to know that it is still the rear wheels that actually provide the power, with torque being transferred only to the front axle when required, and even then intelligently and predicatively distributed to all four wheels
The FF was Ferrari's first four-wheel-drive supercar, and first interpretation of a "shooting brake" body design. The shooting brake was conceived to take country gentlemen on the hunt with their firearms and dogs, and although its glory days came before World War II, the body style has shown signs of a renaissance since the mid 1960's. The most famous shooting brakes had custom two-door bodies fitted to the chassis of pedigreed sports cars such as Aston Martin's DB5, DB6, and DBS variants, which were custom manufactured by coach builder Harold Radford from 1965 to 1967.
Penned by Pininfarina, the Ferrari FF's sleek profile provides room to transport four adults, and some fitted luggage, anywhere, and in any weather or road conditions. The 651-hp 6.3-liter V12 situated just aft of the front wheels, seven-speed dual-clutch automatic transmission, and standard 4RM all-wheel drive conspire to make the FF the world's fastest grocery-getter.
In February 2019, Bruce Canepa was charged with sourcing the finest example of an FF for friend Chip Ganassi. Canepa procured this stunning example from its original and only owner via Ferrari Westlake in Southern California. Delivered new on February 12, 2012, it was ordered in the striking color combination of Grigio Silverstone over a Cioccolato leather interior. In addition, an impressive options list totaled $72,112 on top of the base price of $295,000; highlights of which include the suspension lift system, sport exhaust, AFS system, yellow brake calipers, Scuderia Ferrari shields, and numerous interior upgrades (Alcantara interior carpet, headliner, boot, and leather dash) making for an opulent cocoon for driver and passengers alike.
Upon arriving at Canepa, the FF was treated to the Canepa Difference process, ensuring that all mechanical items were inspected and serviced as needed, and the cosmetics detailed to a show-level presentation. Clear Guard was added to all surfaces prone to abrasion while driving, and the FF then delivered to Ganassi.
After nearly two years of Ganassi's ownership the Ferrari shooting brake has returned to Canepa, and is ideally suited to those that like to drive their Prancing Horse year-round, or require an alternative to a two-seat sibling during the winter months. Sold complete with extensive service records from both Ferrari Westlake and Canepa, and a fresh comprehensive Canepa Difference service and show-level detail, it presents in pristine condition, showing just 7,864 miles since new.