This listing is no longer available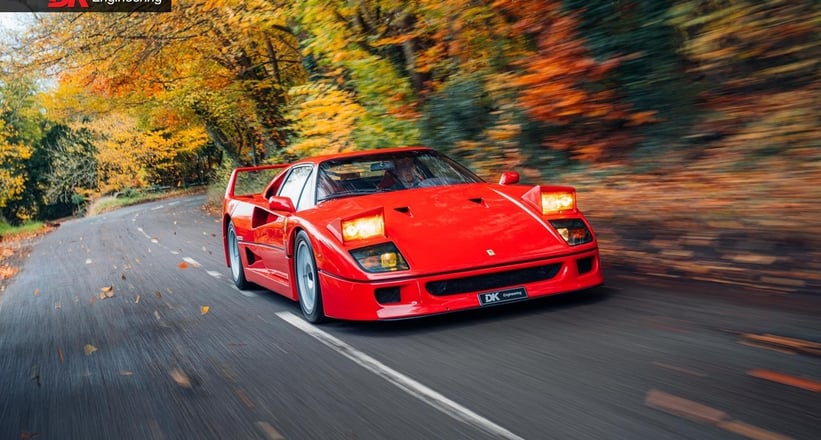 1989 Ferrari F40
Non Cat & Non Adjust - 57,100 kms - Classiche Certified
Summary
Location
Description
Ferrari's 201 mph F40 is the definitive supercar and has a formidable reputation alongside the 250 GTO as possibly the best road Ferrari built to date. With the F40, Pininfarina produced an era-defining creation, one that even today is instantly recognisable by old and young enthusiasts alike. F40's were closely derived from the experimental GTO Evoluzione and the road-going 288 GTO (that the F40 replaced). The design features a tubular steel chassis with bonded composite inserts, most notably around the sills and floor pan, The 2,936 cc motor produces approximately 500 bhp at 7,000 rpm with the help of two water-cooled IHI turbochargers running 1.1 bar of boost. At 1,202 kg, the F40 had, and still has, a phenomenal power-to-weight ratio. Shatteringly fast by any comparison (especially for 1988), the F40 can sprint from 0-60 mph in just 4.4 seconds and hit 201 mph flat out making it the first production car to surpass this mystical boundary.
This example is an early and highly desirable "Non-Cat Non-Adjust" example that was French supplied and delivered to its first owner in 1989 via Charles Pozzi, Ferrari's official distributor in Paris. That first owner was Emile Balthazard, a well-known enthusiast in France who used the car frequently. During his ownership, the car was seen at a number of events including at the Ferrari Days in Belgium and in France, including one event at Pierre Bardinon's Mad du Clos racetrack. The car remained with just one owner until 2010 when the car was sold via DK Engineering to its current and just second owner.
Throughout the car's time in France with Balthazard it has been maintained at no expense spared and as such it is accompanied by a vast file of invoices and service history (52 pages in total and all by Charles Pozzi!). During its early life Balthazard fitted the desirable and now very difficult to find F40 LM wheels, brakes, master cylinders, making for vastly improved braking performance. In 2008 the car received a 10,000 Euro service including new LM spec Turbos. Once again, all this work was done by Charles Pozzi.
In 2010, the car was exported to the U.K. via DK Engineering. At this time, we fitted new fuel cells, tyres and carried out a major service prior to selling it to its second owner. Remaining with him for two years, the F40 was then purchased by the current owner in 2012, again trading hands via DK Engineering. Over the ensuing years, the car has regularly been looked after by our service department and spent time in storage at our dedicated storage facility. Its last major service was carried out in June 2019 which included replacing the cambelts, as well as all four tyres and fitting new fuel tanks. In March 2020, the car returned to our workshops and the clutch and flywheel were replaced. Since its major service in 2019, the car has been driven less than 200 kms, and it shows just under 57,100 kms from new on its odometer.
As the world's foremost specialist in F40s, we are ideally suited in both sales and servicing on these fantastic automobiles, having transacted and serviced hundreds of examples for over thirty years. This well-kept example boasting known history, Ferrari Classiche Certification, and just three private owners from new would surely revel in being used and enjoyed as intended. It is ready to inspect at our facilities just outside of London.
Please refer to our main website www.dke.co.uk for full details, additional photos, our terms of sale and accurate pricing as some websites may use out of date currency exchange rates: https://www.dkeng.co.uk/ferrari-sales/1553/blue_chip_competition_cars/ferrari_f40.html