This listing is no longer available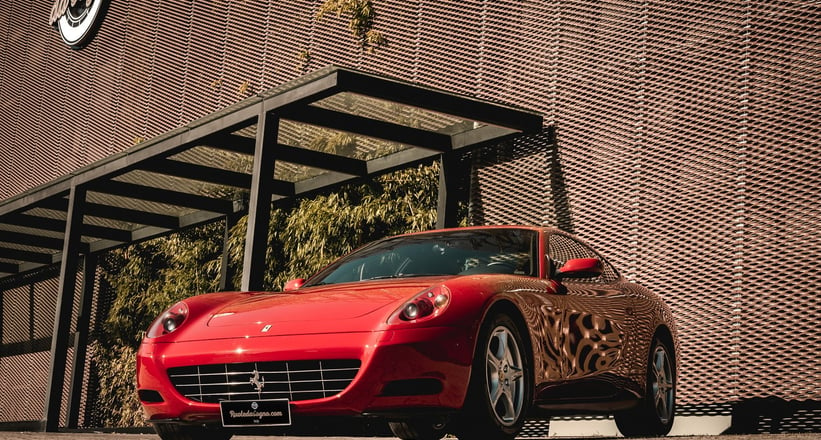 2005 Ferrari 612 Scaglietti
Summary
Location
Description
Chassis n. ZFFAY54B000140606
Engine n. 90580
Engine: front, 12 cylinder, V-Shape, aluminum
Displacement 5.784 cc
Max Power 540 CV (397 kW)
Max Speed 315 kph
-
Optional: Heated Seats, Scudetti "Scuderia Ferrari", Electrochromatic Mirrors,
Complete with service books and tool kits. Ferrari Direct Line services.
Presented during the 2004 Detroit Motor Show, the 612 is a tribute to Sergio Scaglietti, the Modena coachman, 'aluminum master' who made some of the most beautiful Ferraris. In the numerical abbreviation the 6 indicates the displacement (5748 cm3 rounded) and the 12 for the number of cylinders of the first Ferrari entirely in aluminum.
Certainly, a bold choice to use aluminum in an integral way, but consistent with the project. A lightweight and rigid structure that guarantees several benefits in terms of weight reduction, dynamic behavior, comfort and safety for passengers.
The style of the car is due to Pininfarina's pencil, while the production of the bodywork has been entrusted to Scaglietti of Modena.
The 612 Scaglietti has inherited from its ancestors that refined and classy allure while preserving that sporty character that makes it suitable for any type of route.
The distinctive feature of the Ferrari 612 Scaglietti is exactly the perfect balance between dynamism and comfort.
Externally it is a coupe with front engine and rear drive, while inside the cockpit offers space and comfort to four people.
To the perfection of the external structure, a powerful and dynamic engine is added: V12, 48 valves, 540 hp at 7250 rpm, maximum speed 320 km/h, acceleration from 0 to 100 km/h in 4 sec.
The refined production and assembly technologies, developed in collaboration with the American Alcoa, have allowed a considerable reduction in weights and a very high torsional rigidity, primary conditions to achieve performance at the top of the category.
The result is an extraordinarily effective coupe, not only in terms of absolute performance, but also and above all for driveability and handling on the mixed.
Italian car with 39,900 km in perfect mechanical and body condition. Full Ferrari Service book.
Black leather interior in excellent condition. Becker infotainment system.
During the road test the braking is progressive, and the excellent hold as befits a Ferrari of rank. Gearbox connections are accurate and fast.
Thanks to its soft lines, which keep intact the dictates of contemporaneity, without suffering from the sixteen years of life, the 612 remains a car of strong impact on "Cavallino" enthusiasts.
This beautiful Ferrari 612 Scaglietti has covered only 39,900 km and today represents an excellent investment with stable prices.
Equipment:
ABS, Driving and Passenger airbag, Anti-theft, 6-speed F1 sequential gearbox, alloy wheels, Bi-zone air conditioner, Integrated dynamic control vehicle on steering wheel (Manettino), Stability control, Xenon headlights, CCM brake system, Electric thermal rearview mirrors, Electrically operated hydraulic enslavement guide box Electric and heated front seats, Rain sensor, Rear parking sensors, pneumatic pressure monitoring system, active suspension, electrically adjustable steering wheel, HIFI system with sat nav.
It is possible to view the car online, booking a call with one of our commercial operators, via Skype, Zoom, Whatsapp and Google Meet platforms.
!