This listing is no longer available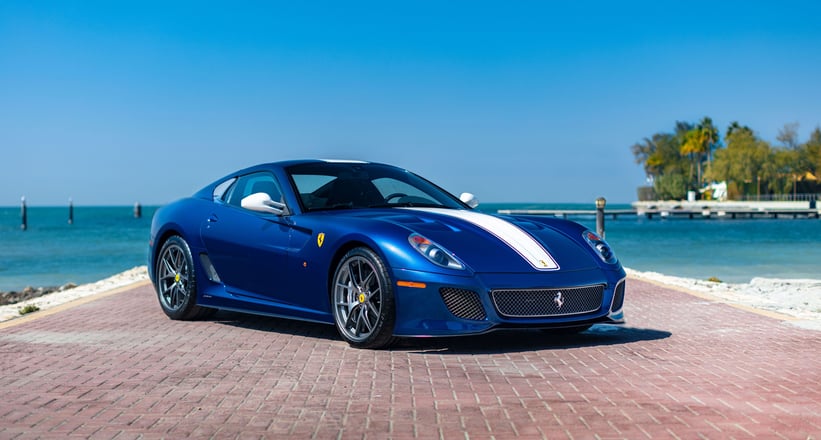 Location
Description
• 661bhp hypercar, a '599 XX for the road'
• UAE specification
• Blu Tour de France with Avus White strip and black Cordura fabric interior accented with blue stitching
• Freshly serviced 13 February 2022
• All books, papers, tools and luggage set
"Immediately you're aware that the car is set up right on the edge of what's acceptable in something road-legal: with the tyres warm, I trailed the throttle a little mid-corner to see what the effect would be, and the car snapped straight into oversteer. This, by the way, is cause for celebration. You have to drive the GTO properly: stop, steer, gas…" – star of BBC TV Top Gear and highly-rated road tester Chris Harris tries the 599 GTO for Evo magazine in June 2010
The first 'XX' Ferrari was the Enzo-based FXX of 2005. The cars were sold to the company's preferred customers for track days run by Ferrari Corse Clienti. For owners, it was the ultimate interaction with the legendary Scuderia, a chance to meet the team's F1 drivers, engineers and technicians. For Ferrari, it was a way of learning how skilled, but non-professional drivers coped with massively powerful sports cars, all within the confines of a safe modern racing circuit.
A new 'XX' car was launched at the 2009 Geneva Show. Based on the front-engined 599 GTB, the 599 XX had at its heart an upgraded version of the road car's 6.0-litre V12, one now producing 720bhp and 506lb-ft torque. Like the older FXX, no more than 30 were built.
But this time Maranello decided that the 599 XX package was so capable – at one time recording the fastest-ever lap of the Nürburgring Nordschleife by a production-based sports car – that it could build, and there would be demand for, a road version. The result was launched in April 2010: the 599 GTO, the third-ever Ferrari to bear that immortal three-letter suffix.
Limited to no more than 599 examples, the new 599 was also the company's quickest. A test driver lapped the Fiorano circuit in just 1min 42secs, one second faster than an Enzo. The engine was made more tractable for road use, but still turned out just over 660bhp. Enough for 0-62mph in under 3.3 seconds a top speed of 208mph (335km/h).
Every effort went towards saving weight and replicating the 599 FXX's extraordinary capabilities on the track, yet making the new 599 GTO genuinely usable on the highway. An impressive 100kg was shaved off the road car by the extensive use of all-new components such as a hydroformed exhaust that was 'blown' rather than stamped and welded. Thinner glass saved 5.5kg. Despite being wider than before, the forged wheels (and titanium bolts) saved 22kg, while Sabelt carbonfibre racing seats trimmed another 17kg.
The engine received upgrades that included a higher compression ratio and new pistons. Internal friction was reduced by 12 per cent so the motor could scream to 8,250rpm, where it produced 661bhp, nearly 10 per cent more than a regular 599 GTB. The suspension was further refined to razor-sharp levels hitherto solely the province of racing cars, while the F1 automated transmission now completed shifts in only 60m/s – compared to 100m/s for the GTB. Gear ratios were shortened for ultimate performance, yet the GTO could still hit 208mph on the rev-limiter at 8,400rpm in sixth.
Like the 599 XX, the GTO was fitted with three accelerometers that relayed real-time data to second-generation active dampers. The 599 GTO was equipped with lighter Carbon Composite Material (CCM) brakes and ran on special Michelin Pilot Super Sport tyres.
The 599 GTO was – and remains today – at the very top tier of front-engined performance cars, one as capable on the race circuit as it is driving to and from it. Still reeling from the experience, Chris Harris summarises his first drive in a 599 GTO by saying, "You could go on about this machine for an entire issue… It's a detail masterpiece, a track genius, a road tonic and yet another great Ferrari. "Oh, and it fully deserves the badge."
This Motor Car
This Ferrari 599 GTO was ordered from Bahraini national distributors Euro Motors to UAE specification. The differences chiefly focus on the powerful motor's intake system, with revised filters and ducting both to keep out sand and dust and maintain a constant temperature in the engine bay.
The invoice for the car is dated 10 Jan 2011 (the car was registered 4 January 2011) and totals 165,000 Bahraini Dinar, the equivalent to $US437,250.
The full specification of the car is as follows:
• Black Cordura fabric interior
• Exterior in Blu Tour De France with Avus White racing livery
• Non-standard carpets
• Bag set for rear bench
• Aluminium colour brake calipers
• Carbon engine bay extensions
• Carbon headlights
• Carbon rear bench
• Carbon dashboard insert
• Pivoting fire extinguisher
• Ferrari iPod
• Radionavigation system
• White rev counter background
• Carbon racing seat backrest – medium-sized seats
• Bose hi fi system
Special Equipment:
• Seat stitching in colour-on request-blue
• 3D fabric interior in black
• 20" Wheels
A pre-delivery inspection was carried out by Euro Motors of Al Hamriya, Bahrain on 4 Jan 2011. The official Ferrari agent in the region then carried out further services as follows:
11 March 2014 at 1,164km
23 May 2015 at 1,342km
20 September 2016 at 1,628km
13 February 2018 at 1,704km
10 March 2019 at 1,760km
18 October 2020 at 1,825km
12 February 2022 at 1,903km
Today, meticulously serviced and in totally 'factory-fresh' condition, '177576' has covered just 1,903km. Its low mileage and one-owner provenance, coupled with one of the best colour combinations, matching luggage and bespoke commissioning, make it a stand-out 599 GTO.