This listing is no longer available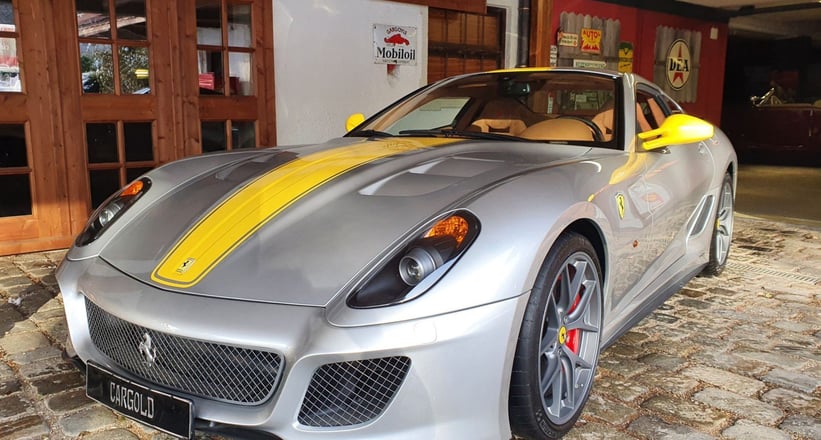 Location

Performance

670 PS / 493 kW / 661 BHP
Description
!. Hand aus prominenter Sammlung, nur 599 Einheiten Produziert.
Der 599 GTO ist nach dem 250 GTO und dem 288 GTO das dritte Fahrzeug von Ferrari, das die Bezeichung Gran Turismo Omologato erhielt.Zum Zeitpunkt seines Erscheinens, war er der schnellste Serien Ferrari aller Zeiten! Er unterbot den Ferrari Enzo, mit dem er sich den 6 liter V12 Motor teilt, auf der hauseigenen Teststecke Fiorano um ca. 1 Sekunde!
Zu Großen Teilen basiert der 599 GTO auf der reinen Rennversion der Baureihe, dem 599XX. Beide Fahrzeuge verfügen über das F1 Sechsgang Automatikgetriebe welches Gangwechsel innerhalb von nur 60 millisekunden erlaubt.Im Vergleich zum 599 GTB verlor der GTO fast 100 kg, u.a. durch den Einsatz von dünnerem Aluminiumblech und dünneren Scheiben.Der 599 GTO wurde in streng limitierter Auflage von nur 599 Stück gebaut.
Unser Fahrzeug ist in seiner Farbkonfiguration einzigartig:
Aussen: Einfarbig Argento Nürburgring mit Rennstreifen in Giallo Modena
Innen: Alcantara Cuoio abgesetzt mit Elementen in Tessuto Nero und Nähten in Rosso.
Er wurde 2010 an seinen Erstbesitzer in Deutschland ausgeliefert.
Der GTO wurde bis heute nur 9.897 km gefahren!
Er befindet sich im perfekten Sammlerzustand.
Weitere Ausstattung u.a.:
Rote Bremssättel
Ipod Connection
Navigationssystem
Carbon Rennsitze Large
One-Off Configuration!
One owner car
German delivery
The 599 GTO is the third Ferrari car after the 250 GTO and the 288 GTO to receive the famous Gran Turismo Omologato designation.
At the time of its release, it was the fastest production Ferrari of all time! It beat the Ferrari Enzo, with which it shares the 6 litre V12 engine, by about 1 second on the factory test track Fiorano!
The 599 GTO is largely based on the race-only version of the series, the 599XX. Both cars feature the F1 six-speed automatic gearbox which allows gear changes within 60 milliseconds.
Compared to the 599 GTB, the GTO lost almost 100 kg, mostly due to the use of thinner aluminium sheet and thinner windows.
The 599 GTO was built in a strictly limited edition of only 599 units.
Our car is unique in its colour configuration:
Exterior: Plain Argento Nürburgring with racing stripes in Giallo Modena
Interior: Alcantara Cuoio set off with elements in Tessuto Nero and stitching in Rosso.
It was delivered to its first owner in Germany in 2010.
The GTO has only been driven 9.897 km to date!
It comes in perfect collector condition.
Further equipment a.o.:
Red brake calipers
Ipod connection
Navigation system
Carbon racing seats large