This listing is no longer available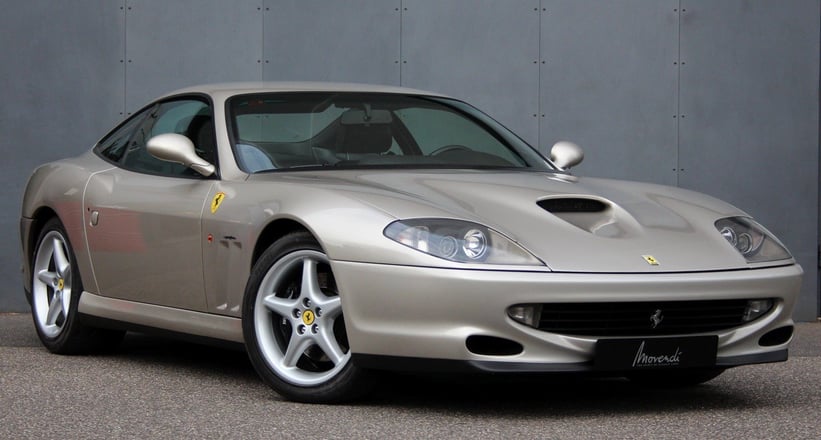 1999 Ferrari 550
Maranello - Grigio Ingrid
Location

Performance

485 PS / 357 kW / 479 BHP
Description
- Großes V12 Frontmotor Coupé, gestaltet bei PininFarina
- Fünfgang Handschaltungsgetriebe
- Erstauslieferung nach Italien
- Seltene, attraktive Farbkombination, geringe Laufleistung
- Gerade frischer Service bei Ferrari Spezialisten, alle Schalter überarbeitet
Fahrzeughistorie:
Grigo Ingrid, benannt nach der berühmten Schauspielerin Ingrid Bergmann, ist die Bezeichnung für die spezielle Farbe dieses Fahrzeugs. Zusammen mit dem grauen Leder wirkt die Farbkombination sehr edel und lässt den Ferrari überaus wertig erscheinen. Erst 56.439 km hat der stolze Grand Turismo hinter sich. Erst kürzlich wurde eine große Wartung durchgeführt. Die bei Ferrari aus der Zeit üblichen klebrigen Schalter sind auch bereits überarbeitet worden. Ein sehr schöner und potenzieller Klassiker, der Eleganz und Sportlichkeit in sich vereint.
Die unauffällige GT-Form täuscht über die 4800 Stunden Entwicklung im Windkanal hinweg, die zu einem Cw-Wert von 0,33 führten. Auf der Ferrari-Teststrecke Fiorano war der 550 pro Runde 3,2 s schneller als sein Vorgänger, der 512M. Der Innenraum ist mit Leder und einem verchromten Schaltknüppel ausgestattet. Analoge Instrumente beherrschen das Armaturenbrett. Die Höchstgeschwindigkeit beträgt 320 km/h, die 100 km/h aus dem Stand werden in 4,5 s erreicht. Vom F550 Maranello wurden insgesamt 3.083 Exemplare produziert, bis dieser dann im Jahr 2002 vom Ferrari F575 abgelöst wurde.
- Large V12 front engine coupe designed by PininFarina
- Five-speed manual transmission
- First delivery to Italy
- Rare, attractive color combination, low mileage
- Recent service at Ferrari specialists, all switches reworked
Vehicle history:
Grigo Ingrid, named after the famous actress Ingrid Bergmann, is the name for the special color of this car. Together with the gray leather the color combination looks very noble and makes the Ferrari appear extremely valuable. The proud Grand Turismo was only driven 56,439 km. Recently a major maintenance was carried out. The sticky switches common to Ferrari of the time have also already been reworked. A very beautiful and potential classic that combines elegance and sportiness.
The unobtrusive GT shape belies the 4800 hours of wind tunnel development that resulted in a Cw value of 0.33. On Ferrari's Fiorano test track, the 550 was 3.2 s faster per lap than its predecessor, the 512M. The interior features leather and a chrome gear stick. Analog instruments dominate the dashboard. Top speed is 320 km/h, and 100 km/h from a standstill is reached in 4.5 s. A total of 3,083 examples of the F550 Maranello were produced until it was replaced by the Ferrari F575 in 2002.