This listing is no longer available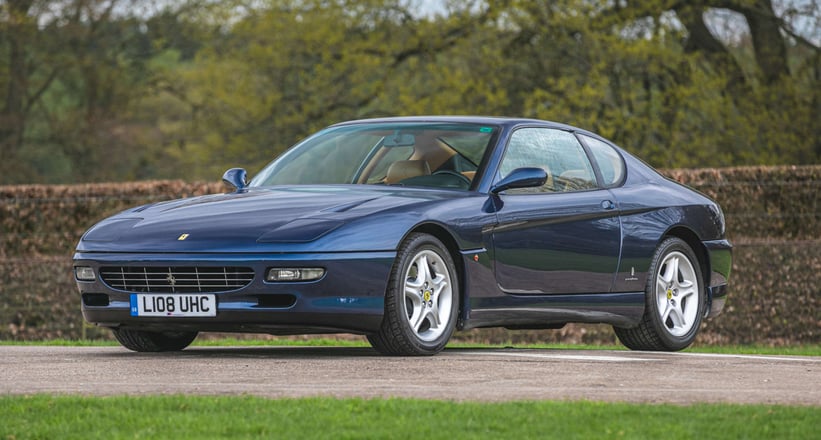 Location

Performance

364 PS / 268 kW / 360 BHP
Description
Produced from 1992 until 2003, the Ferrari 456 and later 456 M are front-engined 'Grand Tourers' in true Ferrari tradition and were an overdue replacement for the outdated, front-engined 412 which had been the company's premium four-seat V12 car for many years. The name '456' refers to the fact that each cylinder displaces 456 cubic centimetres and this was the last Ferrari to use this naming convention. Despite its supercar performance, 436bhp, 0-60mph in 5.2 seconds, and a top speed of 188mph, the 456 has a relatively unstressed engine which has proven to be a very reliable unit. Its looks are smooth and understated, and distinctive external features include a small grille with fog lights on the outside, bonnet-mounted air scoops (removed on the 456M), and pop-up headlights, making this the last Ferrari to do so. The model was warmly received by press and enthusiasts alike, and although not produced in large numbers was always gently in demand by 'silver-haired' Ferrari owners before the 456M was eventually replaced in 2004 by the 612 Scaglietti.
Finished in the rare colour combination of Blu Swaters Metallic with tan leather, this front-engine, V12 manual gearbox, Grand Tourer is a very useable example. Initially supplied to European specification, it was imported into the UK in 2017 with an odometer reading of just 95,874km (59,573 miles). In November 2021, it was subject to a comprehensive service at a cost of £8,567 with Ferrari specialists Stradale Italia, and this work included replacing the cambelts, auxiliary drive belt, air-conditioning belt, tensioners, engine oil and filter. It also included spark plugs, brake fluid, wiper blades, air flow meter, headlamp motor, an engine cooling system flush and antifreeze required as a reconditioned radiator had been fitted. The water pump was replaced at the same time together with a refurbished alternator, re-gassed air conditioning and screen washer system.
The 456 was the final Ferrari to offer classic 'pop-up' headlamps and overall the Pininfarina-styled coachwork seems to become more attractive as time moves on, subtle and stylish yet still with that timeless Ferrari sense of purpose. The 456 GT is a connoisseur's Ferrari, a gentleman's express, especially with three pedals, and when the time comes to re-offer this European example, a global left-hand drive market awaits.