This listing is no longer available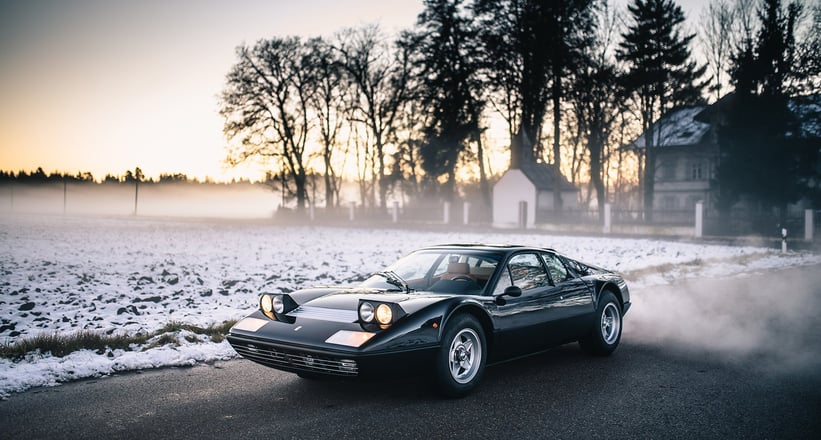 Location
Description
As a successor to the front-engined 365 GTB/4 "Daytona", Ferrari engineered a completely new car, exhibiting its first ever non-vee-configuration engine for the road. Presented in 1971 as a concept, of which the production model was almost unaltered, the 365 GT4 BB was powered by a Boxer 12-cylinder engine inspired by the brand's successful flat-12 motors which were used in their F1 and sports-racing units. At an output of no-less than 360 bhp at 7,700 rpm, the BB was sent to a top speed of 280 km/h, and this, in 1973! With the mid-engine setup and the low centre of gravity, the handling of the Boxer Berlinetta was more than a match to its straight-line performance.
The 365 GT4 was the fastest car back then and that, not only thanks to its superior powerplant, but also to its stunning Pininfarina body, which was the result of extensive wind tunnel testing. The mixture of light aluminum-alloy and steel panels, complemented by glassfibre elements, were assembled by no less than Scaglietti. The 365 GT4 BB is a very rare horse, as only 367 were built in its four-year production run.
Our example is chassis #18581, and was delivered new in July of 1975 by Campagnano Automobili in Firenze, Italy. Its beautiful Pininfarina body was finished in the color of Nero 20-B-50 Salchi, married to an exquisite Pelle Beige VM 3218 leather interior. Today, our 365 GT4 BB still retains this classy yet efficient colour combination, which makes the beauty of the car stand out even more. Once fully restored to bare metal, the actual condition of the car is absolutely exceptional, both cosmetically and mechanically. This comes at no surprise, as it was recently owned by one of the most well-known Ferrari collectors in Bavaria. The Ferrari Classiche certificate attests to the fact that our vehicle retains its original engine and gearbox specification, both of which are believed to have been replaced in period and under warranty. Here is an opportunity to own a stunning piece of art from Maranello, which does also happen to make one of the nicest 12-cylinder sounds. Only 367 were built. How many still exist today, and in this condition? Probably a much lower number.
Deutsch:
Als Nachfolger des 365 GTB/4 "Daytona" entwickelte Ferrari ein komplett neues Auto, das von einem 12-Zylinder Boxer Motor angetrieben war. Das Konzept wurde in 1971, und das Serienmodell in 1973 vorgestellt. Das Serienmodell blieb nahezu unverändert. Der Motor war von den erfolgreichen Rennsport und F1 12-Zylinder Boxer Motoren der Marke inspiriert. Mit einer Leistung von 360 PS bei 7.700 U/min erreichte der BB eine Höchstgeschwindigkeit von 280 km/h, und das in 1973! Danke der Mittelmotor Konfiguration und dem niedrigen Schwerpunkt hatte das Fahrzeug ein extrem agiles Fahrverhalten.
Der 365 GT4 war damals das schnellste Auto der Welt, und das nicht nur dank seiner Technik, sondern auch wegen seiner aerodynamischen sowie atemberaubenden Pininfarina-Karosserie, die das Ergebnis umfangreicher Windkanaltests war. Die Mischung aus leichter Aluminiumlegierung und Stahlpaneelen, ergänzt durch Glasfaserelemente, wurde von Scaglietti zusammengebaut. In vier Jahren Produktion wurden nur 367 365 GT4 BB gebaut.
Unser Fahrzeug ist Chassis #18581, und wurde im Juli 1975 durch Campagnano Automobili in Firenze, Italien, neu ausgeliefert. Seine wunderschöne Pininfarina-Karosserie wurde in der Farbe von Nero 20-B-50 Salchi lackiert, in Kombination mit einer exquisiten Lederausstattung in Pelle Beige VM 3218. Noch heute behält unser 365 GT4 BB seine originale und edle Farbkombination. Das Fahrzeug wurde mal komplett restauriert, und befindet sich deshalb in einem außergewöhnlichen kosmetischen und mechanischen Zustand. Kein Wunder, da er zuletzt im Besitz eines der bekanntesten Ferrari-Sammlers Bayern war. Das Ferrari Classiche-Zertifikats bezeugt, dass unser Fahrzeug seine ursprünglichen Motor- und Getriebespezifikationen beibehält. Vermutlich wurden beide in den 70er Jahren im Rahmen der Garantie ersetzt. Hier ist eine seltene Gelegenheit, ein atemberaubendes Kunstwerk aus Maranello zu besitzen. Nur 367 wurden gebaut. Wie viele existieren heute noch und in diesem Zustand? Wahrscheinlich eine viel niedrigere Zahl.