This listing is no longer available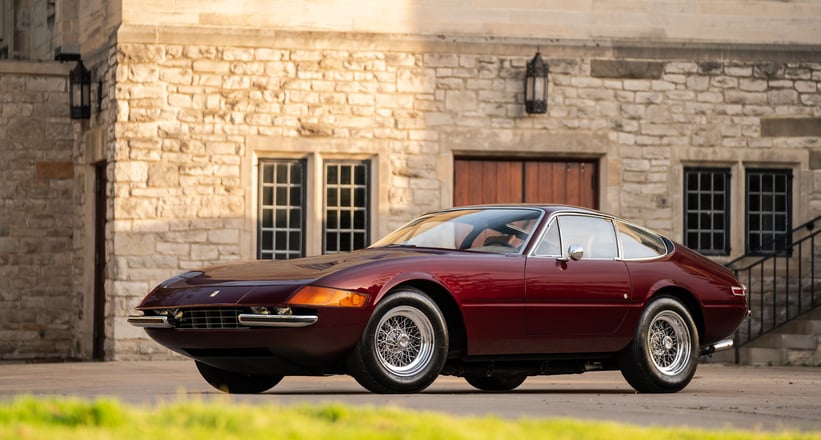 1972 Ferrari 365
GTB/4 Daytona
Location
Description
- Chassis # 14999
- Engine # B 1498
- An Extremely Original Daytona With Just 12,483 Miles From New
- Discovered in 2011 After More Than 30 Years of Storage
- A Classiche Certified, Matching Numbers Example
- 1 of Approximately 5 Finished in Rosso Cordoba
- Cosmetic Restoration & Mechanical Refurbishment By Carrozzeria Zanasi
- Includes Manuals, Tool Kit, Jack, Spare, & Original Documentation
The Ferrari 365 GTB/4 was introduced 51 years ago at the 1968 Paris Salon as a replacement for the hugely successful 275 GTB/4. It featured the iconic Colombo V12 punched out to 4.4L with six Weber Carburetors making 352 horsepower. Its purpose built design as a Grand Touring car exhibited typically stunning Pininfarina lines. With a long sweeping hood section leading to a set-back cabin and "Kamm tail" rear, the 365 GTB/4 was another instant classic penned by Leonardo Fioravanti. The functional design mounted the 5-Speed transaxle in the rear for optimum weight distribution making the 365 GTB/4 a well-balanced performer and recognized as one of the fastest cars in the world at the time of its release.
Most enthusiasts refer to the 365 GTB/4 by its famous nickname; the Daytona. The universally recognized nickname pays homage to Ferrari's dominant podium sweep at the 1967 Daytona 24-Hour Race. Though the Daytona was created as a road-going grand touring car, the model did have an unexpectedly successful racing career which included class wins at the 1972, 1973, and 1974 24 Hours of Le Mans races. Ironically, the Daytona saw further racing success at the very track it received its nickname! All told, Ferrari produced 1,284 Berlinetta Daytonas and 122 spiders from 1968 to 1973. Many examples have been wrecked, neglected, and/or lost forever due to careless owners and accidents. Today, very few remain in original, low mileage condition such as the example we are offering below.
The 1972 Ferrari 365 GTB/4 Daytona offered here is chassis number 14999 fitted with its matching-numbers engine number B 1498 and gearbox number 732. Referring to the Ferrari Classiche "Red Book" we know that this example was dispatched in February of 1972 to Luigi Chinetti Motors in the striking and rare color combination of Rosso Cordoba (106-R-7 Salchi) over Pelle Beige (VW 3218). It is believed to be 1 of just 5 Daytonas finished in this unique color. Chassis # 14999 was originally sold to Ferrari NART (North American Racing Team) supporter and driver, Howard O'Flynn of New Jersey. There is a receipt on file from Chinetti Motors dated 5/1/1972 at 481 miles for a basic tune-up completed for O'Flynn. Mr. O'Flynn was one of Enzo Ferrari's best early US customers and close friend of Luigi Chinetti. Based on an insurance card on file, we know that #14999 remained in New Jersey under O'Flynn's ownership from 1976 until sometime in the late 1980s when it was moved to a storage location in Texas. Alongside the car were two other interesting models; a low mileage Maserati Bora and Ferrari 246 GTS Dino. All three cars lay dormant for approximately 30 years before being discovered in 2011 covered in decades worth of dust. As the ultimate "Garage Find," many photos of this scene made their way around the internet as an astonishing discovery truly worthy of legendary status. The slumber preserved the car's originality showing just under 10,000 miles on the odometer at the time of discovery. Within the "View Documents" tab in the website listing, one will find many photos of the car in as-found condition. The car was a true time capsule that still retained its original paint and needed nothing more than a basic service to be started for the first time in 30 years.
After being purchased in 2013, the car went with its new owner to Germany and immediately sent to Ferrari Eberlein for Classiche Certification. It then made its way to famous Maranello based, Carrozzeria Zanasi for a sympathetic reconditioning which included a full strip and repaint as the original paint was unfortunately deemed too far gone to save. Photos within the documents tab show that the car had an excellent body that was taken down to the bare metal with glass and interior removed for a properly done, full repaint. Along with the repaint, mechanical servicing was also completed.
In 2016, the car changed hands once more and made its way back to the United States where it was shown, driven sparingly, and awarded a Ferrari Club of America Platinum Award at their annual meet in 2017. In December of 2018, the current owner purchased #14999 at auction. After enjoying it for a short period of time, the owner decided to consolidate his collection to make a bigger car purchase. The car was treated to a minor service then placed on consignment with LBI Limited. Presently, #14999 shows a mere 12,483 miles from new. As a low mileage example finished in rare original colors, this Daytona checks all of the boxes and has an incredible history to go along with it. Here is an opportunity to own a proper, Classiche Certified Daytona that checks all of the boxes and has a truly remarkable story to go along with it.
Included in the sale are manuals, tool kit, jack, spare, original documentation, and Ferrari Classiche "Red Book."
Please visit www.LBILimited.com for many more photos and details. Follow us on Instagram and Facebook @LBILimited. Ride along on our classic car adventures by subscribing to LBI Limited on YouTube. #claimyourclassic™