This listing is no longer available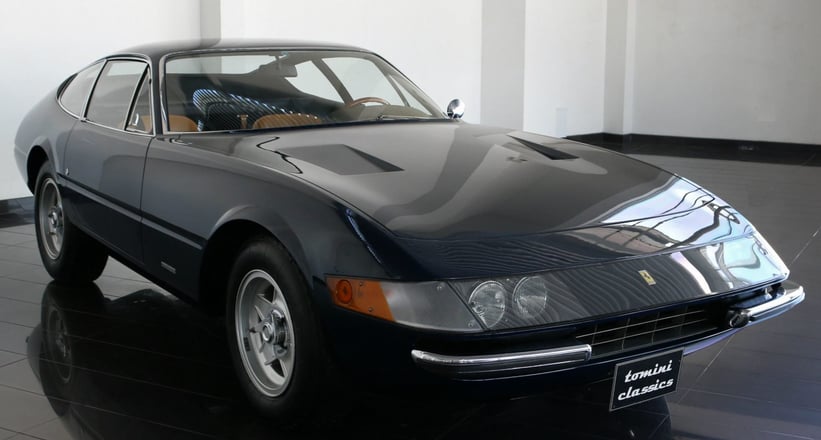 1970 Ferrari 365
GTB/4 Daytona 'Plexi' - Classiche + Massini
Location

Performance

347 BHP / 352 PS / 259 kW
Description
[[NOTICE: please note this car is now pending sale. You are still welcome to contact us and be part of the car's waiting list, in case the sale does not materialize]]
Officially, it was the 365 GTB/4. But after it managed a clean 1-2-3 sweep at Daytona beach in 1967, this drop-dead gorgeous grand tourer has been only been called by one name since.
Another Pininfarina masterpiece, the Daytona was styled by Leonardo Fioravanti – a man whose CV stretches from the 246GT to the world-conquerering F40. The 'Tipo 251' version of the glorious Colombo V12 boasted 347bhp at an ear-shattering 7,500rpm and 318lb/ft of torque, enough to propel the Daytona from 0 to 100kph in under six seconds and on to a top speed of 174mph (280kph).
This matching-numbers example was delivered new in Bologna, and comes with a Ferrari Classiche Certification and an extensive history from noted marque historian Marcel Massini. Befitting an early Daytona, 13465 comes with the more desirable plexiglass headlight covers (as opposed to the later pop-up versions) and a wooden steering wheel.
Chassis 13465 was originally delivered in May 1970 to a gentleman by the name of Pelloni, under licence plate BO 419239. Massini's expert detective work reveals a rich seam of maintenance by Ferrari Factory Assistenza Clienti at Viale Trento Triesta in Modena for 4,415kms of its early life. In the early 1980s, the car left its European homeland and moved to Japan.
In 1990, then-owner Shigeru Usui steps out of the shadows to become its most prominent custodian. In 1996, he ensures the car had prime placing in Japanese publication "Scuderia", as well as an appearance at the Ferrari Days Japan Concours D'Elegance at Okayama International Circuit.
By now, Chassis 13465 was registered on Japanese plate (33) 607 – and with this licence number, it achieved a strong third place showing at the 10th Anniversary Ferrari Club meeting at Suzuka circuit in 1999.
At the turn of the millennium, the car was purchased by renowned Japanese publisher, Mille Miglia Participant and avid Ferrarista Kenji Sasamoto, who shipped the car to Ferrari Classiche for extensive restoration works. Once back in Japan, the car's distinctive dark blue paint became the focus of "Ferrari and the Story" by Tipo Magazine Collection #003 (Neko Mook) and a substantial six-page article in issue #15 of "Ferrari Daytona: Libreria Scuderia".
Today, Chassis 13465 rests safely in our collection in Dubai under the best of care. During our ownership, the car has won 'Best Restoration' at the Dubai Concorso Italiano and been showcased at the Gulf Conocurs. A thoroughly enjoyable driver, this rare 'Plexi' example is a top example worthy of display as one of the most iconic Ferrari models of all time.