This listing is no longer available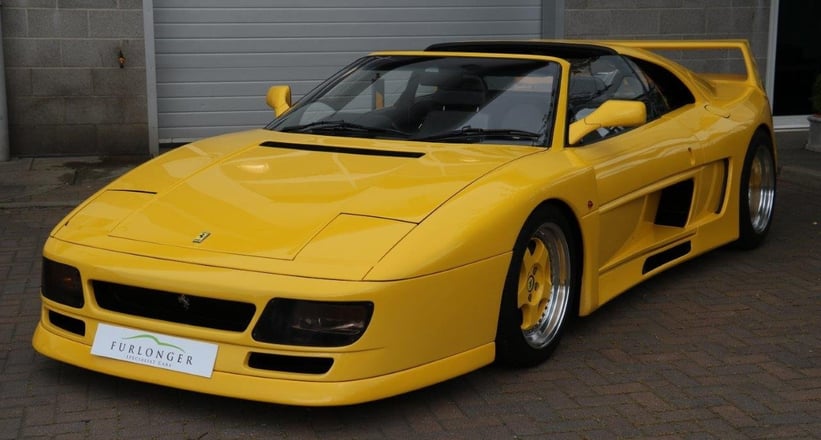 1990 Ferrari 348
F48 Koenig
Location
Description
Koenig-Specials founded by Willy Koenig who started out racing Ferrari road cars and with the permission of Enzo Ferrari further developed the cars to be successful in racing went on to be one of the industry leaders in tuning and developing the ultimate sports car for road use.
In the 1980s and 1990s, barely a single model of supercar escaped the clutches of Koenig, the Munich-based tuning house that would turn a supercar into a monster. One car was the Ferrari 348 which, in this instance, had a pair of turbos bolted onto its 3.4-litre V8, surely pushing the limits of day-to-day driveability. Believe it or not, the aesthetic intervention was even more dramatic: the rear end was transformed into something resembling an F40. Despite being unique in RHD specification this car has also had further development over the years to make it a superb grand tourer. Koenig was an excellent engineer and believed that the F48 needed to use turbos derived from contemporary F1 cars. The F40 used IHI Japanese turbos which of course performed brilliantly but didnt maintain the link between road and track which the Garrett T3 did, therefore these were fitted to the F48, thus producing 520hp. The lift out targa roof was also retained and this did not return until Ferrari themselves developed the F50. The F48 was very desirable as it had close to F40 performance and cost £250k, making it a cheap alternative to an F40 but one which still maintains the prancing horse and an F40 like design.
This 1990 Ferrari 348 started as a standard TS, but was extensively modified by Koenig into a model the company called the F48. Changes performed by Koenig included a full widebody conversion, multi-piece, staggered width OZ wheels, upgraded brakes and suspension, a new ECU, twin turbos, a large intercooler and more. The F48 also has the worlds first carbon ceramic / hybrid brake installation (carbon ceramic fronts, steel rears). This was the first road going installation of Surface Transforms plc 3-D continuous carbon ceramic brakes. These are used as OEM on all of the Koenigseggs and Webers, (and increasingly on track and Ferrari, Porsche, Nissan GTR's, Callaway Corvettes etc in the USA CWE and Japan) in a company established by the owner after he left ICI plc as the R&D director responsible for advanced materials developments including all of the current F1 vehicles, all forms of exotic road and track cars and on civillian and military aircraft.
Chassis #85708 is the only RHD car with full provenance from new and a full service history, and phased development by RD the Eccles based Ferrari specialists over the years. The history of this awesome car is complete with documentation from the Ferrari factory and from Koening Specials in Munich. The car was imported by JCT 600 Newcastle in 1994 direct from Koenig in Munich and driven with close to zero miles on the clock back to Newcastle as a special import for a Mr Douglas Hall, (the deputy Chairman of Newcastle United at the time) to add to his extensive collection.
The F48 has been extremely well maintained throughout its lifetime and is accompanied by a history file filled with supporting invoices, previous MOT's and original books. With provenance from new via Ferrari at Maranello and Koenig at Munich as well as being 1 of just 2 RHD cars, this awsome example is one not be missed.
A link to the classic driver article on this very car:
https://www.google.co.uk/search?q=f48+koenig&oq=f48+ko&aqs=chrome.1.69i57j0l5.4848j0j4&sourceid=chrome&ie=UTF-8
For all enquiries please call 01233 646328.