This listing is no longer available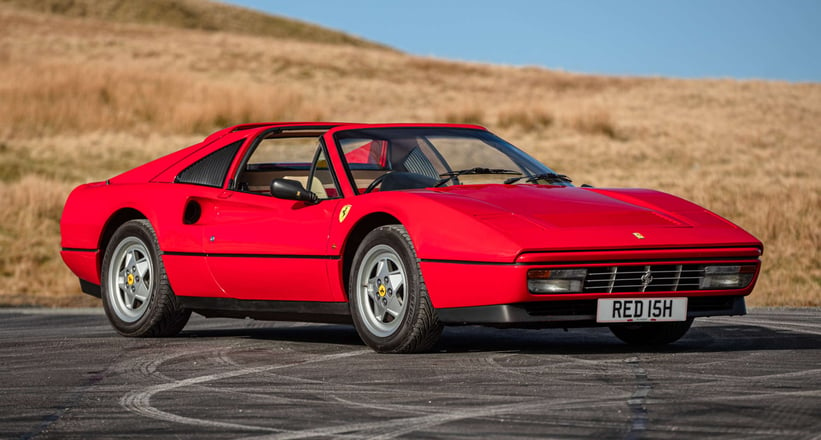 Location

Performance

212 PS / 156 kW / 210 BHP
Description
The entirely new Ferrari 308 made its debut at the Paris Salon in 1975 and marked a welcome return to Pininfarina styling, with rakish lines and curved haunches. After ten years of huge success, particularly in the United States, Ferrari had grown weary of the "Federalisation" of their lovingly designed motorcars in America, with mandatory ugly rubber bumpers ruining the Pininfarina-penned lines. With their Italian aesthetics under attack, Ferrari launched the new 328 with body coloured front and rear bumpers which adhered to US guidelines, and for the first time, the design remained unadulterated by bureaucracy.
Under the engine cover is the same transversely-mounted, fuel-injected V8 from the Ferrari 308 Quattrovalvole, with an increase in displacement. By increasing both bore and stroke, the QV's capacity was raised to 3,186cc which, together with a higher compression ratio, revised pistons and an improved Marelli engine management system, lifted maximum power to 270bhp at 7,000rpm. Top speed was raised to within a whisker of 160mph (258km/h) and 60mph arrived from a standing start in 5.5 seconds.
A significant difference from the 308 is the use of galvanized steel, which greatly reduces potential rust problems compared to its forebear, however, beneath the skin, the tubular steel chassis remained much as before, with all-round independent suspension by double wishbones, four-wheel servo-assisted disc brakes and aluminium-alloy wheels, though the latter were increased in size. The interior too had come in for some subtle revision and now featured improved instruments, switchgear and heating.
The pretty, Leonardo Fioravanti-designed, body was updated for a smoother, more contemporary appearance with integrated bumpers and revised cooling ducts, resulting in a more cohesive and streamlined profile. Pininfarina built two variants of this mid-engine sportscar, the Gran Turismo Berlinetta Coupe and the Gran Turismo Spider, featuring a removable Targa top, offering an exhilarating open-air driving experience and affording the driver and their fortunate passenger unbridled access to the unmistakable howl of the dry-sump Ferrari V8.
Dating from 1989, this UK-supplied example naturally benefits from the braking and suspension upgrades introduced in 1988 and is superbly finished in gleaming Rosso Corsa with a smart Crema leather interior. It was purchased by our vendor, a marque enthusiast and a member of the Ferrari Owners' Club, around four years ago and we understand he has invested a further £7,000 in the car's welfare since then. Its previous owner used the Ferrari regularly on European road trips and tours and it was looked after by DK Engineering for all servicing and maintenance. In our vendors ownership it's been maintained exclusively by GTO Engineering who also stored it during the winter. The current indicated mileage is just shy of 50,500 from new and the car appears in splendid condition confirming the old adage "A busy Ferrari is a happy Ferrari".
It's supplied with a full history in the traditional book pack and the cherished registration number, RED 15H, will remain with the car.