This listing is no longer available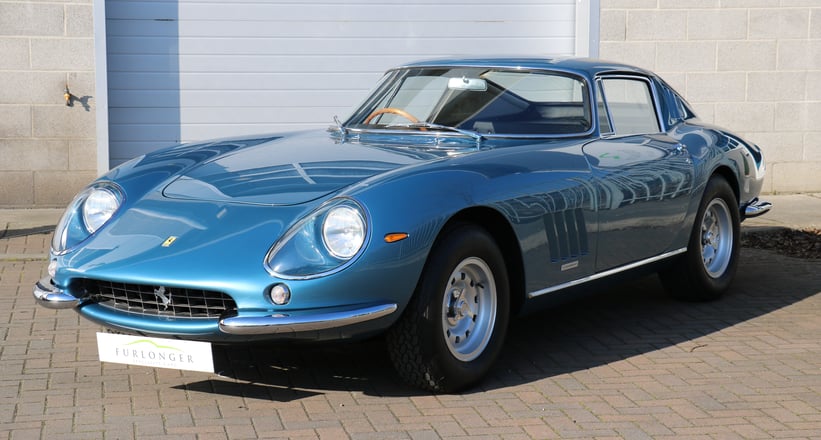 1966 Ferrari 275
GTB/2 1 of 8 torque tube RHD with CLASSICHE
Summary
Exterior brand colour

Celeste Chiaro Metallizzatto
Location
Description
ur latest addition is this outstanding UK supplied Ferrari 275 GTB, finished in its original specified colour combination of Celeste Chiaro Metallizzatto (Metallic Sky Blue) exterior and Nero (Black) interior.
First unveiled at the 1964 Paris Motor Show alongside its drop top sibling, the 275 GTS, the 275 range was an impressive successor to the 250 series that was warmly welcomed by the public. The 275 GTB is one of the most iconic road cars Ferrari have ever produced. It retained so many beautiful characteristics from its predecessors within the 250 series, yet had multiple credible improvements both in its design and performance. Despite its more obvious exterior features which distinguished it from the 250 range, the 275 used a 3.3 litre version of the V12 Colombo engine which produced approximately 300 horsepower and was equipped with all-round independent suspension. Other changes included the reduction in engine height which contributed to the car having a lower centre of gravity, and a rear mounted 5 speed transaxle gearbox. This was the first time that Ferrari had integrated both of these features, thus greatly improving its handling. The 275 was capable of achieving 60 mph in just over 6 seconds and had an astonishing top speed of 160 mph, a speed which was and is still considered ludicrous among road cars within that era.
Like most cars produced by Ferrari, there were significant changes made to the cars specification throughout its production. The most notable of these additions which apply to this particular car were the application of a torque tube to improve the durability of the drivetrain and the newly introduced Long Nose design which aided in removing the possibility of lift occurring at high speeds, which was an issue presented among the earlier Short Nose cars.
This car was delivered new via Maranello Concessionaires in 1966 to Mr Ronnie Hoare. Mr Hoare, more formally known as 'the Colonel' is widely known for establishing Ferrari's brand in Great Britain. After using the 275 for a short period as his own personal car and covering 4,100 miles, Mr Hoare sold the car to a gentleman named Mr Raymond Thompson of Sussex after meeting him and his wife in Paris the week before. Among the cars early history is a letter from Mr Hoare to Mr Thompson dated 11th October 1966, congratulating him and expressing his delight that he has purchased his personal 275 GTB. Included with the letter is the cars original second hand order form displaying the sale price of £4,900 and further correspondence between them outlining the cars payment and delivery. After owning the car for just over a year, Mr Thompson wrote a letter to Mr Hoare explaining that he now needed to sell the car as he had ''less and less opportunity to drive it''. After the agreement to sell the car on a sale or return basis and the exchange of a few more letters (all of which is documented within the cars history) the car was then sold in February 1968 for the sum of £3,750 to a Mr David Griffith-Hughes of Surrey who continued to use Maranello for servicing during his ownership.
Documented within the history file is an article by Ronald Barker titled ''FERRARISSIMO!'' from the magazine Autocar in 1969. This documents the 275 GTB's journey of having a super charger fitted. Mr Griffith-Hughes explains his ambition of not only owning a Ferrari but experiencing what it would be like ''to know what 12 cylinders would be like smoothed out by a blower''. Barker's article goes into great depth to describe the process undertaken by Weslake Engineering and is accompanied by multiple photographs showing the car and the engine. Although having a slightly more comical approach, this impressive article continues to further outline the testing of the car and its jaw dropping results. Alongside the article are historic photographs of the 275 ''In period''.
The car then moved on to its ownership of Brian Classick. Mr Classick, a renowned historic car dealer from Cheshire then sold it to a Swiss client in the late 1970's. In 1982 he then re-imported the car back into the UK where he decided to convert the car into a NART spyder. With the assistance of two ex racing team mechanics and the access to an original NART spyder, he carefully began removing the original roof and replicating the one from the Spyder with great attention to detail and accuracy. Once the project was completed, the car was then sold to one of his clients. Mr Classick stored the original roof and screen within his workshop.
After changing hands to a Mr Sugden of London in 1986, the car had an engine rebuild in 1987 which took place at Modena Engineering Ltd, where the car was maintained for another 3 years. Terry Hoyle, a reputable Ferrari specialist was later commissioned to have the car changed to a six carburettor set up while in the hands of Talacrest. It was then supplied to a Mr David Morrison in June 1991. Mr Morrison, a renowned collector, had the car completely restored by Maranello over a 2 year period. There are numerous invoices included documenting all of Morrison's service work at Maranello's.
After being sold to another renowned collector in 2006, it then changed hands a few more times up until 2013 where it was then purchased by Furlonger and supplied to a private individual. After owning the car for a short period he decided to have the car sent to Neil Twyman for a comprehensive restoration where it was completely returned to its factory specification. Tony Willis of Ferrari Classiche documented the restoration from start to finish and oversaw the works carried out. Mr Willis also photographed all of the works to ensure that the car was the same standard and specification as it was when it left the factory. The original roof which was stored by Mr Classick was carefully refitted by Twymans during the restoration, meaning that the car is back to its complete original form with the correct parts.
Available to purchase today, this stunning matching number example is finished in its original specification and comes complete with an extensive history and a thorough breakdown of the cars lifetime. This is a fantastic opportunity to purchase 1 of just 8 Long Nose Torque Tube UK supplied GTB's in wonderful condition complete with Ferrari Classiche.
More photos of the cars restoration and history are available upon request.
19,213 Miles
For all enquiries please call 01233 646328.