This listing is no longer available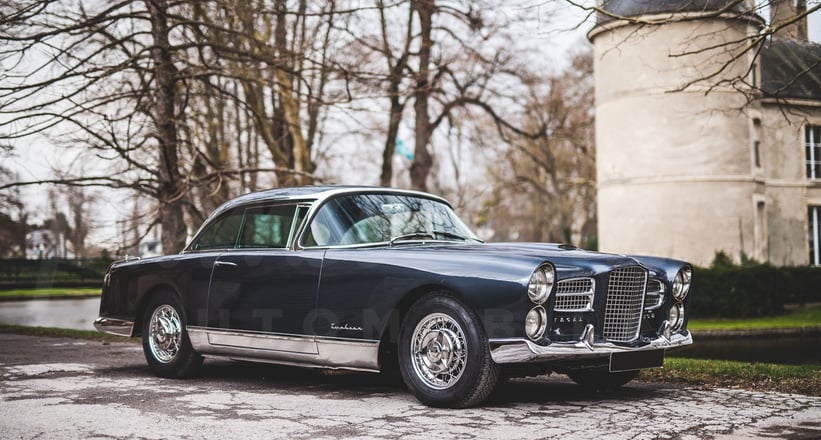 1957 Facel Vega FV4
Typhoon 1957 – 340 hp, only 36 built – Top French class and elegance, one of the last handmade French cars !
Location

Performance

340 PS / 251 kW / 336 BHP
Description
Facel Vega FV4 Typhoon 1957 – 340 Ch, seulement 36 exemplaires – La classe et l'élégance à la française, une des dernières autos françaises fabriquées à la main !
Créée au début de la seconde guerre mondiale la société Facel travaille d'abord dans l'aéronautique avant que son nouveau directeur, le talentueux Jean Daninos, décide d'orienter son activité vers la carrosserie automobile dès la fin de la guerre en 1945. Durant quelques années il fabriqua des carrosseries pour Panhard, Simca, Ford France et même Bentley avec Pininfarina avant de décider de créer sa propre auto en 1952. Désirant atteindre un haut niveau de performances, il se tourna vers Chrysler pour se fournir en moteurs, des V8 puissants et modernes qu'il ne trouva pas auprès des constructeurs français. Il présenta son prototype FV en 1954 au salon de Paris et de millésime en millésime son luxueux et sportif coupé 2+2 s'améliore jusqu'à donner naissance à la FV4.
Produite entre 1957 et 1958, la Facel Vega FV4 fut spécialement conçue pour la clientèle nord-américaine, marché très prometteur pour la marque, et recevait les moteurs les plus puissants de la gamme. La première série des FV4 est équipée du mythique V8 Hemi Chrysler TY5 « Typhoon » de 5,8 L (354 ci) développant 340 Ch et a été produite de manière confidentielle avec seulement 36 exemplaires, tous destinés à l'export. La FV4 possède un style incomparable et incarne la classe et l'élégance à la française avec son imposante calandre, ses pare-chocs chromés, ses bas de caisses en aluminium poli et ses feux arrières signés d'un « V » rappelant le nom de Vega, suggéré à l'époque par le frère de Jean Daninos pour évoquer l'une des étoiles les plus brillantes de la constellation de la Lyre, symbole de puissance et de prestige. Sa carrosserie est entièrement en aluminium et fabriquée à la main. Innovation de Facel Vega, la FV4 possède un faux tableau de bord en bois qui est en réalité une tôle peinte et son pare-brise tout en rondeurs offre une vue panoramique. Son intérieur est luxueux et n'utilise que des matériaux nobles : cuirs, bois, chromes et compteurs Jaeger. Il est également spacieux et permet de profiter de la route à près de 225 km/h dans un confort absolu avec pour l'époque une mécanique étonnamment silencieuse ! Grande marque française de luxe, Facel Vega était un des derniers constructeurs français à construire des autos à la main. La FV4 était destinée aux stars, aux hauts diplomates, aux ministres, seuls quelques privilégiés pouvaient se permettre le luxe de rouler dans ce genre d'autos. Elle était vendue à l'époque près de 4 millions de Francs soit 10 000 $, ce qui représentait 4 fois le prix du fleuron technologique de Citroën, la DS, et approchait le prix de certaines Rolls-Royce !
Notre FV4 a été livrée neuve le 14 juin 1957 par l'agent distributeur Hornburg de Los Angeles aux Etats-Unis, luxueusement équipée en options de jantes Robergel à rayons, de la direction assistée, de l'assistance au freinage et des vitres électriques et teintées. Elle possède le châssis 57H46 avec la coque numéro 0212. La voiture ne connut que deux propriétaires jusqu'en 2005 lorsque son propriétaire actuel la racheta auprès d'Aston Martin à la Nouvelle Orléans et l'importa en France. Il entama alors une méticuleuse restauration qui dura plus de 10 ans. A partir de son châssis mis à nu, près de 100 000 € ont été dépensés pour restaurer sa carrosserie en aluminium, son châssis, son moteur TY5 numéro 562120, son pont Salisbury, sa boîte automatique Chrysler à 3 vitesses et ses trains roulants. L'ensemble est accompagné d'un dossier de factures détaillées. La voiture est matching numbers, son tableau de bord d'origine a été conservé et son intérieur en cuir Dark Green en grande partie d'origine possède une exceptionnelle et magnifique patine. Elle possède même encore ses rares outils d'époque comportant clés, pinces, tournevis, bougie et ampoules ! La voiture n'a parcouru que 400 km depuis son arrivée en France en 2005 et est recensée par l'amicale Facel Vega, il ne resterait à ce jour qu'une quinzaine de survivantes. Elle sera remise à son futur acquéreur avec son expertise en valeur agréée et son contrôle technique.
__________
Facel Vega FV4 Typhoon 1957 – 340 hp, only 36 built – Top French class and elegance, one of the last handmade French cars !
Born at the beginning of WW2, the Facel company firstly worked in aeronautics before its new director, the talented Jean Daninos decided to focus his business on the automobile bodywork when the war ended in 1945. For a few years he built bodies for Panhard, Simca, Ford France and even Bentley with Pininfarina before he decided to create his own car in 1952. Wishing to achieve a high performance level, he turned to Chrysler to buy engines, powerful and modern V8s he could not find with French manufacturers. He introduced his FV prototype in 1954 at the Paris Motor Show and year after year he improved his luxurious and sporty 2+2 coupé to give birth to the FV4.
Produced between 1957 and 1958, the Facel Vega FV4 was especially designed for North American customers, a very promising market for the French brand, and received the most powerful engines of the range. The FV4 first series was equipped with the mythical Chrysler V8 Hemi TY5 "Typhoon" of 5.8 L (354 ci) producing 340 hp, and was produced confidentially with only 36 exemplars, all for export. The FV4 has an unrivalled style and embodies the French class and elegance with its impressive grill, its chromed bumpers, its polished aluminium rocker panels and its rear lights signed with a "V" remembering the Vega name, suggested at the period by Jean Daninos' brother to evocate one of the shiniest star of the Lyra constellation, symbol of power and prestige. Its body is entirely in aluminium and handmade. Innovation from Facel Vega, the FV4 has a fake wooden dashboard which is in reality a painted sheet of metal, and its all-in-curves windshield offers a panoramic view. Its interior is luxurious and only uses noble materials: leather, wood, chrome and Jaeger meters. It is also spacious and allows to enjoy the road at nearly 225 km/h in an absolute comfort for the period and a surprisingly silent mechanics! Great French luxury brand, Facel Vega was one of the last French manufacturers to build cars by hand. The FV4 was intended for stars, high diplomats, ministers, only a few privileged people could afford the luxury of driving in this kind of cars. At the time it was sold at a price close to 4 millions of Francs (10 000 $), representing 4 times the price of the technological flagship of Citroën, the DS, and was close to the price of some Rolls-Royces!
Our FV4 was delivered new on June 14th 1957 by the distributing agent Hornburg of Los Angeles in the USA, luxuriously equipped in options with Robergel spoke wheels, power steering, braking assistance and electric and tinted windows. It has the chassis 57H46 with the body number 0212. The car only knew two owners until 2005 when his current owner bought it at Aston Martin New Orleans and imported it in France. Then he started a meticulous restauration that lasted more than 10 years. From its naked chassis, nearly 100 000 € were spent to restore its aluminium body, its chassis, its TY5 engine number 562120, its Salisbury axle, its Chrysler 3-speed automatic gearbox and its running gear. The whole comes with a file of detailed invoices. The car is matching numbers, its original dashboard has been preserved and its mostly original Dark Green leather interior has an exceptional and magnificent patina. The car even still has its rare tools from the period including wrenches, pliers, spark plug and bulbs! The car only drove 400 km since its arrival in France in 2005 and is registered by the Amicale Facel Vega, there would only be 15 survivors left nowadays. The car will be delivered to its new owner with appraisal value and contrôle technique.