This listing is no longer available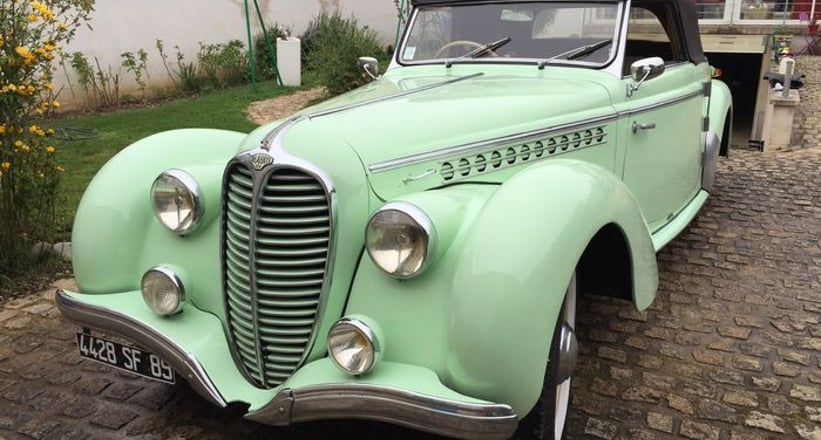 Location
Description
This Delahaye 135M Cabriolet Guilloré from 1947, of French origin, has been in the possession of its fourth owner for over 20 years.
With a low mileage of 50,800 km, this rare and sublime Delahaye is in good overall condition and has benefited from recent and regular servicing, but will need a restart to cover long distances.
The bodywork, repainted in its original colour 4 years ago, is in good condition and only shows a few rare blemishes.
The exterior chrome and seals are in good condition, as are the lamps.
The interior is in good condition, the original natural leather upholstery has no holes or tears, only normal signs of wear for its age.
All of the electrical equipment works without problems.
Recently overhauled, the 4-speed Cotal electro-mechanical gearbox and the famous 3.6-litre 6-cylinder engine work normally.
The full history of the vehicle since 1947 will be provided with the vehicle.
This Delahaye 135M Cabriolet Guilloré from 1947 can be viewed in Auxerre, France.
The Delahaye Type 135 is a prestigious vehicle of the Delahaye car manufacturer, of which 2,592 were produced between the autumn of 1935 and the end of 1952.
With its Type 145, 165, and 175 variants, the Type 135 was a great success in competition, winning, among others, the 1935 Rallye des Alpes françaises and the 1938 24 Heures du Mans.
It was also a great commercial success, selling more than its competitors of the time, the Bugatti Type 57, Talbot-Lago T150, Delage D6, Panhard et Levassor Dynamic, Renault Vivastella, Hotchkiss 20 CV Grand Sport (686 GS), Salmson S4 E, and other Talbot-Lago Baby.
It benefited from a few technical evolutions during its long career, including the optional Cotal gearbox with epicyclic gears and electromagnetic control; in the spring of 1937, the radiator grille and headlamps became domed and for the 1949 models the radiator grille was the type 175 with horizontal bars.
Designed by the designer Jean François, inspired by the Art Deco style in vogue at the time, it won numerous elegance competitions, with its numerous bodywork variants by the most prestigious independent French coachbuilders of the time, including Antem, Chapron, Dubos Frères (Delahaye type 135 Dubos "Gascogne"), Faget & Varnet, Figoni & Falaschi, Franay, Guilloré, Labourdette, Pourtout and Saoutchik.This Classic Car is for sale on Catawiki. To have more information or to place a bid click on the "BID NOW" button.