This listing is no longer available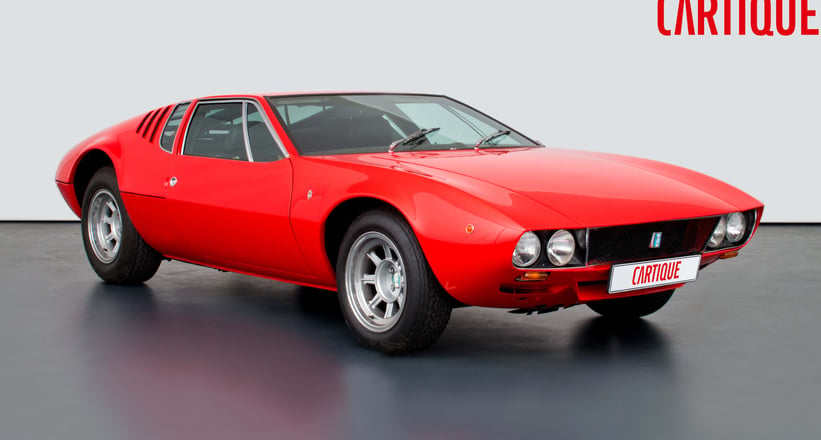 Summary
Location

Performance

305 PS / 225 kW / 301 BHP
Description
The company De Tomaso was originally founded with motor sports in mind. In 1959, the designer Alejandro De Tomaso set up a car workshop in Modena, Italy, with financial support from his wife, Isabelle Haskell. De Tomaso initially designed Formula 1 racing cars, some of which he brought to the racetrack for his own workshop team and some of which he sold to customer teams. In the mid-1960s, the lack of success from this venture led De Tomaso to move the focus of his company to developing sports cars for road-use. Built together with the bodywork company Ghia, the first models had Ford engines. The sensationally shaped Mangusta, which was launched in 1966, was the first car, for which De Tomaso used a large American eight-cylinder engine. The V8 had a 4.7 litre Ford mid-engine with 305 horsepower. This was the concept that the company would always remain faithful to. The Mangusta was much more successful than its predecessor, the more dainty Vallelunga: about 400 Vallelunga were produced until 1968. The breathtaking proportions of the bodywork came from none other than Giorgetto Giugiaro, who had designed them for Ghia (De Tomaso had just become president of the company). They confidently named the bold coupé Mangusta – the Italian word for mongoose, an animal that is known to have no fear, not even of cobras. Today it is estimated that no more than 250 of these cars have survived the tales of time.
The vehicle on offer is one of the last Mangusta models that left the Italian factory in Modena. This rare sports car found its way to Germany, where its initial registration took place in Emmendingen on 12 May 1972. The proud owner was none other than Hermann Dietrich-Troeltsch, one of the founders of the Motor Presse publishing house, now publisher of numerous German magazines including Motor Klassik. The car registration plate read EM-PP-7. Six years later, in June 1978, the car was given a different vehicle registration number, as the owner moved house. The vehicle registration number was now BB-V-7, until it had to be reregistered again three years later, once more due to the owner changing his address. The new number plate, S-Y-36, remained the same for the coming 34 years. The ownership itself did not change at all in the years 1972-2015. The sports car spent more than 43 years with its original owner, and it could not have had a better home than with such a knowledgeable enthusiast. And so it is not surprising that the vehicle is in almost new and pristine condition.
In August 2015, the time had finally come: It was time for the DeTomaso Mangusta, which had spent over 43 years with its first owner, to change hands. After a long search, the department in our company that looks after our own collection,was pleased to be able to secure a vehicle with such a complete history. As the original owner is an expert who appreciates the relevance of the original documents, it is not surprising that even today, after more than 47 years, the original German vehicle registration document from 1972 still exists. Our collection team had concrete plans for the DeTomaso, and the car was registered to our company back in August 2015. Over the next four years, the Mangusta successfully participated in chosen events in Europe, always well maintained by our in-house workshop.
Now the decision has been made to change our own collection again, and so this unique piece of Italian automotive history finds its way to our sales room. Our sales staff will be happy to answer any further questions you may have.
________________________________________________________________________________
Die Basis des Unternehmens De Tomaso war der Motorsport. Der Konstrukteur Alejandro De Tomaso gründete 1959 mit finanzieller Unterstützung seiner Frau Isabelle Haskell im italienischen Modena eine Automobilwerkstatt. Anfänglich konstruierte De Tomaso Rennwagen für die Formel 1, von denen er einige in einem eigenen Werksteam einsetzte, während er andere an Kundenteams verkaufte. Nachdem diese Ansätze keine Erfolge gebracht hatten, verlegte De Tomaso den Schwerpunkt seines Unternehmens Mitte der 1960er Jahre auf die Entwicklung von Straßensportwagen. Zusammen mit dem Karosseriewerk Ghia schuf er die ersten Modelle mit Ford Motoren. Bei dem 1966 vorgestellten Mangusta, der eine aufsehenerregende Karosserie trug, verwendete De Tomaso erstmals ein großes amerikanisches Achtzylindertriebwerk. Es war ein V8 mit 4,7 Liter Hubraum von Ford, der über 305 PS verfügte und als Mittelmotor eingebaut wurde. Diesem Konzept sollte das Unternehmen bis zum Schluss treu bleiben. Der Mangusta war deutlich erfolgreicher als sein Vorgänger, der filigrane Vallelunga. Der Mangusta wurde bis 1968 in rund 400 Exemplaren produziert. Die atemberaubenden Proportionen der Karosserie stammten von keinem geringeren als Giorgetto Giugiaro, der sie für Ghia entworfen hatte (De Tomaso war gerade Präsident des Unternehmens geworden). Man taufte das kühne Coupé selbstbewusst auf den Namen Mangusta – so heißt auf Italienisch der Mungo, der sich bekanntlich selbst vor einer Kobra nicht fürchtet. Heute geht man davon aus, dass nicht mehr als 250 Exemplare des Mangusta die Zeit überlebt haben.
Bei dem hier angebotenen Fahrzeug handelt es sich um eines der letzten Mangusta Modelle, welche im italienischen Modena die Fabrik verließen. Der Weg dieses seltenen Sportwagen sollte nach Deutschland führen wo schließlich am 12. Mai 1972 in Emmendingen die Erstzulassung erfolgte. Der stolze Besitzer war kein geringerer als Herr Hermann Dietrich-Troeltsch, einer der Gründer des Motor Presse Verlags, heute bekannt als Herausgeber zahlreicher Magazine, unter anderem der Motor Klassik. Die Zulassung erfolgt auf das Kennzeichen EM-PP-7. Umzugsbedingt erfolgte 6 Jahre später, im Juni 1978 die Umschreibung des Fahrzeugs auf ein neues Kennzeichen. Dieses lautete fortan BB-V-7 , bis wiederum 3 Jahre später nochmals umzugsbedingt eine Umschreibung erfolgen musste. Das neue Kennzeichen, S-Y-36 sollte sich nun aber für die kommenden 34 Jahre nichtmehr ändern. Ebenfalls an den Besitzverhältnissen sollte sich von 1972 bis 2015 nichts ändern. Über mehr als 43 Jahre befand sich dieser Sportwagen im Erstbesitz. Ein besseres Zuhause als bei einem solch fachkundigen Enthusiasten hätte sich dieser Wagen wohl nie wünschen können. Und so wundert es nicht, dass das Fahrzeug noch heute in einem nahezu neuwertigen und fast gänzlich unberührten original Zustand erstrahlt.
Im August 2015 sollte es dann aber soweit sein. Der DeTomaso Mangusta, seit über 43 Jahren im Erstbesitz sollte zum ersten Mal seinen Besitzer wechseln. Nach langer Suche freute sich unsere hauseigene Sammlungsverwaltung sich dieses Exemplar, mit einer solch lückenlosen Historie sichern zu können. Natürlich handelt es sich bei dem hier genannten Erstbesitzer um einen Fachmann, welcher die Relevanz der Originaldokumente zu schätzen weiß und so wundert es auch nicht, dass auch noch heute, nach über 47 Jahren, der originale deutsche Fahrzeugbrief von 1972 exisitiert und uns vorliegt. Ebenso wie die originale und vollständige Literatur des Wagens, angefangen von der Verkaufsbroschüre bis hin zu einem kompletten Ersatzteilkatalog.
Unsere Sammlungsverwaltung hatte konkrete Pläne für den DeTomaso und so erfolgte die Zulassung auf unser Unternehmen bereits im August 2015. In den kommenden 4 Jahren sollte der Mangusta ausgesuchte Veranstaltungen in Europa erfolgreich bestreiten, stets bestens gewartet durch unsere hauseigene Werkstatt. Nun wurde der Entschluss gefasst, unsere hauseigene Sammlung erneut zu verändern und so findet dieses einmalige Stück italienischer Automobilbaugeschichte seinen Weg in unseren Verkauf. Für Detailfragen steht Ihnen unser Verkaufspersonal jederzeit gerne zur Verfügung.