This listing is no longer available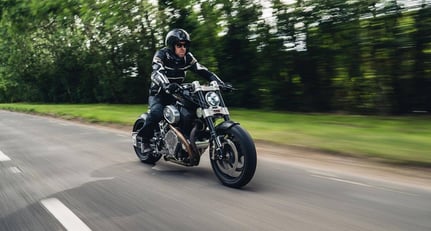 2014 Confederate X132 Hellcat
Just 25 KM from New - 1 Owner
Location
Description
Confederate Motors was founded by Matthew Chambers in 1991 in Louisiana. Chambers was a successful trial lawyer and decided to make a career shift to involve his main passion for motorbikes. He sought to create bikes of 'enlightened design through true American inspiration. Confederate produced 500 of their first-generation Hellcat between 1999 and 2001.
The small-batch bike manufacturer has always delivered motorbikes of exceedingly high quality, regarding themselves as the 'Bentley of motorbikes'. Through extensive use of materials of the highest quality, minimalist but engineering-biased design, Confederate's hot-rod bikes have always been as much art-installations as functional items.
Inconsistent funding meant growth was a struggle for the first ten years of production but in 2010, Confederate received a sizeable influx of capital through a long-term partnership with Wisconsin engine builder, S&S Motors.
The C3 X132 was available in two configurations. The Fighter with its steeper 23.5-degree rake and 61.5-inch wheelbase and this Roadster, with its more relaxed 30-degree rake and slightly longer 64.5-inch wheelbase. Powered by an S&S Motors Copperhead V-Twin, the 132cui Confederate specification complete with 1-piece forged crankshaft provides a strong 145 ft-lbs of torque across the rev range.
At just 226 kilos, the Hellcat is lighter than many of its cruising counterparts, but with 132bhp is ahead in terms of power to weight. This example features Confederate's short ratio 5-speed switch box transmission.
This one-owner example was purchased as an art piece when new in 2014 and since resided in the owners living room and has as such, covered just 25km to date. That said this example has just received a comprehensive service from a V-Twin specialist ensuring it is ready to be used and enjoyed going forwards. Arriving in the UK in January this year, this bike is currently undergoing road registration in the UK.
Costing in excess of $50,000 new, this Hellcat is just one of two examples known to be in the UK. A very rare opportunity to acquire the produce of one of America's leading small batch motorcycle companies. Taxes paid and awaiting UK registration, this Hellcat is available to view at our showrooms just outside London immediately.
Please refer to our main website www.dke.co.uk for full details, additional photos, our terms of sale and accurate pricing as some websites may use out of date currency exchange rates: https://www.dkeng.co.uk/ferrari-sales/1248/prestige_cars/confederate_c3_hellcat_roadster_x132.html