This listing is no longer available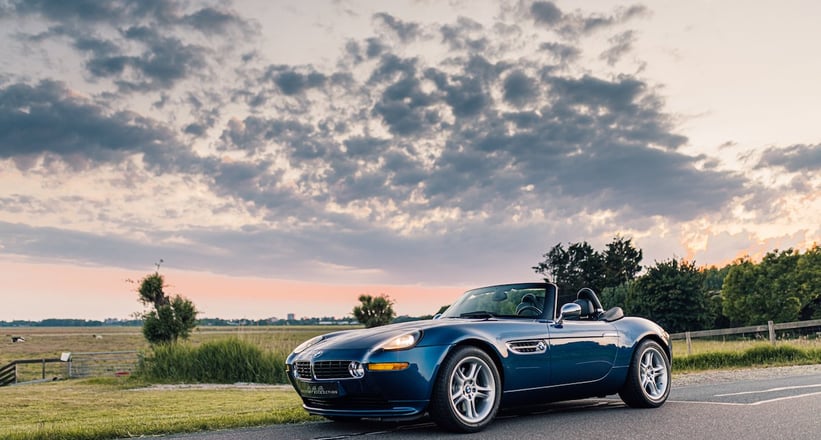 2003 BMW Z8
Roadster, the iconic modern successor to the 507
Summary
Location
Description
- The iconic modern successor to the 507
- A splendid example of BMW's limited-production retro-inspired Roadster
- National version, newly delivered in Germany
- A very well maintained example with a variety of invoices available
- Attractive Blue on Black combination
- Sublime looks and superb performance
- A very highly collectible BMW, we think will be a treasured asset for years to come
- Rare color combination (1 of only 135 examples built)
'In truth, the Z8's visual charisma is so powerful that just sitting in this car with the engine off is more fun than driving many other cars. Then when you press the starter button set apart, also a tribute to the past another level of excitement begins.' Car & Driver
In recent times many motor manufacturers, particularly those with a significant sporting heritage, have felt the need to reference iconic models from the past when launching their latest.
BMW introduced its quirky Z1 Roadster with roll-up doors in 1988. Next on the scene was the mass-market Z3 in 1995. The Z8 arrived in production from 2001.
The three cars could not be more different in their design, engineering, and intention.
However, like the Z3, the Z8 was chosen to star in the newest James Bond film, The World is Not Enough, where it unfortunately met an untimely end!
Inspiration for the Z8 came in 1993 when BMW's Wolfgang Reitzle and Bernd Pischetsrieder attended a party at the factory where a vintage BMW 507 was displayed.
The duo liked what they saw and decided that, one day, they would try to repeat the trick. Conceived under code Z07, a team from BMW Technik GmbH developed a concept car that was unveiled at the Tokyo Motor Show in October 1997.
All Z8s were fitted with BMW's silky smooth and powerful 400-horsepower 4.9-liter V-8, as used in 5- and 7-series models, while backed up by a Getrag six-speed transmission from the M5.
The limited-production model went on sale in 2000, with 5,703 examples built.
ABOUT THIS SPECIFIC EXAMPLE
This splendid example of BMW's limited-production retro-inspired Roadster was delivered new on the 20th of January 2003 in Munich, Germany.
The car was newly delivered in this very rare color combination named Topaz Blue with a black interior.
The first German owner sold the BMW Z8 to its second owner from Guttaring, Austria in 2005.
Between 2007 and 2010 the Austrian second owner moved to Dubai.
The Z8 came recently via a very large Belgium collector in the hands of a close classic car friend in Holland.
This iconic BMW Z8 has been perfectly maintained over the years and is in a wonderful condition.
It has covered 77.000 Kms from new and is finished in a very beautiful color scheme of Blue Metallic over soft sport Black leather.
The aluminum bodywork presents beautifully and the 507-inspired interior is in very good condition, with its luxuriant hides showing minimal wear.
It has beautiful paint without any paint work history, very clean interior leather, and complete with factory boot cover, windscreen, tool kit and both keys.
DRIVING EXPERIENCE
These cars are very exciting to drive and enjoy, but they have also proven to be very robust and dependable for collectors who also enjoy using their investments.
We could finally get to climb behind the wheel. The doors respond with that beautiful metal-on-metal 'thud' sound.
The original seats do a perfect job, offering support when cornering, and are noticeably softer than any of today's sporty seats, with enough support around the lower areas.
Although we tried to focus on the whole experience while driving the car, it was without a doubt the engine that dominated our sensations.
This BMW Z8 is a pleasure to drive and represents excellent value for its condition.
This Z8 is a highly collectible BMW, and we think will be a treasured asset for years to come.
Disclaimer
The information provided on this website has been compiled by The Houtkamp Collection with the utmost care. The information contained within this advert is provided 'as-is', without warranties as to its accuracy whether expressed or implied and is intended for informational purposes only. The Houtkamp Collection is not liable for any errors or mistakes.