This listing is no longer available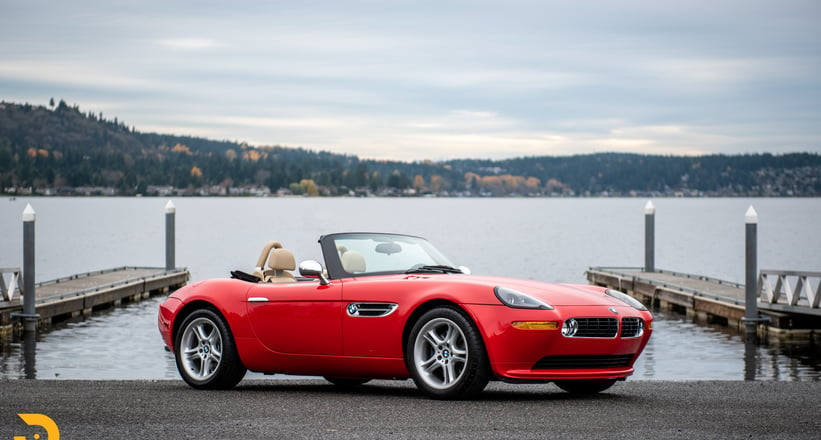 Location
Description
HIGHLIGHTS
Highly Optioned Example in Excellent Condition
18,000 Miles with Two Documented Owners from New
All Z8 Extras/Accessories Present
One of 62 Built in This Color Combination
OVERVIEW
Contemporary collectors often seek top level performance cars with premium build quality and superlative performance. Nowhere is this combination more evident than in classic BMW sports cars. As a premier sport luxury brand, BMW called upon their heritage and top-level engineering in 1997 when they debuted the stunning Z07 styling study. Penned by design icon Henrik Fisker (later head of design at Aston Martin and eventually creating his own bespoke brand), the design team evoked the incomparable BMW 507, as a concept car for the new millennium. Customer reaction was so positive that BMW announced they would build a limited production vehicle based on the design. The Z8 roadster would be offered from 2000 to 2003 featuring the latest in technology and design, appropriately so for this halo premium offering.
Mechanically, the Z8 chassis utilized modern aluminum stampings, with many lightweight castings and formed aluminum components including independent suspension. For power, the M5 series 4.9 liter quad-cam V8 engine was tuned to 400hp, and mounted well behind the front axle for optimal weight distribution allowing it to achieve .92g of lateral acceleration, with 4.2 second 0-60 times. Competitive with Ferrari performance, the BMW Z8 was powerful yet easy to drive and surprisingly so for a range of even lesser experienced performance drivers. Today, Z8s are sought-after not only for their award-winning design and high performance, they remain among the last manual transmission open sports cars that still offer a visceral man/machine connection to the soul of sportscar motoring.
This beautifully maintained Z8 has been under the care of two thoughtful enthusiast owners since delivered new. Both owners refrained accumulating significant miles on the car to preserve the quality and condition of the car. Having accrued just 18,000 miles, the first owner owned the car for approximately 13 years, putting just over 1,000 miles per year on the car, until it was purchased by the second owner in 2015. That owner added another 3k miles over the next six years. With just 291 Z8s produced in Red, this car is 1 of only 62 produced in Red over a Crema interior, makes this a rare, highly optioned Z8.
The stunning all-aluminum body features original paint which has been digitally metered to show original finishes throughout. The body lines and panel fit are factory correct with excellent panel gaps and superb inner strike surface finishes. The factory wheels are in excellent condition showing no curb rash or marks still retaining the original factory mounted tires. The glass, lenses, and emblems are all in as new condition, as are the beautifully finished chrome details throughout the exterior of the car. Every aspect of the car has been properly maintained and carefully preserved by the previous owners who were obviously champions of originality and preservation.
The interior continues the design themes of the original 507 with handsome brushed aluminum and chrome accents, particularly as they contrast the supple leather seats, contoured doors, and performance-oriented trim, all of which are in excellent condition. The main instruments are centered in the dashboard, offering systems indicators and classic analog dials combined with digital instrumentation. The fit and finish are truly exceptional at all corners of the interior, delivering elegance and harmony to the sporting color combination.
The steering wheel, evoking the original 507 design, is in excellent condition showing only mild evidence of use on the rim surfacing. The carpet and floor mats (both the black ones, and the original Crema ones) are in excellent condition, as are the door sill entry plates, alloy dead pedal and foot pedals, beautifully sculpted 6-speed manual gear lever, and carefully crafted seat and interior trim stitching. Overall, the interior presents essentially as new with excellent finishes, beautifully trimmed features, and a freshness that is nearly impossible to find in a twenty-year-old car.
The black canvas convertible top retains an excellent exterior finish, and the interior headliner is plush and effective for sound deadening when the top is in the up position. Alternatively, the car can also be outfitted with the hardtop, which is painted in matching red and in excellent condition both inside and out. The trunk compartment has been beautifully preserved, showing little evidence of use to the trunk liner and carpeting.
Under the hood, this immaculate Z8 continues to impress with originality, factory finishes, and careful detailing. The engine and all components not only retain their correct factory finishes, they exhibit minimal aging, while all engine components, factory stampings, and correct labels are in place. The air cleaner, and air-management chambers, ducting, and factory fittings remain in excellent condition, fully in place and unaltered since new. Underneath the car, detailed inspection reveals further evidence of exceptional care and mild weather use, including the factory heat shields in the correct areas. Finishes show only modest signs of use, consistent with the miles. The suspension castings, floor pan and structural mounting points appear unaltered and in excellent condition.
Driving this beautifully preserved BMW Z8 is a captivating reminder why this is one of the finest BMWs ever built. The combination of world-class ride and comfort is a hallmark of these exceptionally engineered cars, with the powerful V8 engine punch when downshifting to pass or simply cruising on a sunset drive at leisurely speeds. Every aspect of the driving experience from the superb braking, ease of shifting, precise steering, and comfortable highway driving all come together in a harmonious sports car that delivers excellence in all areas.
This car is offered with a factory hardtop finished in matching paint, factory tools and tool roll, and a complete set of original BMW owner's manuals, all in an embossed leather case. Also included are the factory hard top stand, covers, wind deflector, coffee table book, phone, four keys, two sets of floor mats, hardtop cover, car cover, and all known accessories.
Exceptional when new and coveted by contemporary collectors, this low-mile BMW Z8 offers its next fortunate owner an ideal ownership experience, especially for those who missed out on a brand-new purchase twenty years ago. Inspired by the multi-million-dollar 507, the Z8 captures all the power, prestige, and refinement in a modern iteration of uncompromising performance. Built in limited numbers, and unrepeatable today, this Z8 is ready to deliver years of enjoyable open motoring and sporting elegance with state-of-the-art performance and contemporary confidence that only a modern classic BMW can offer.
Please contact Jason Harris at +1-206-355-7727 for more information on this 2002 BMW Z8 Roadster.