This listing is no longer available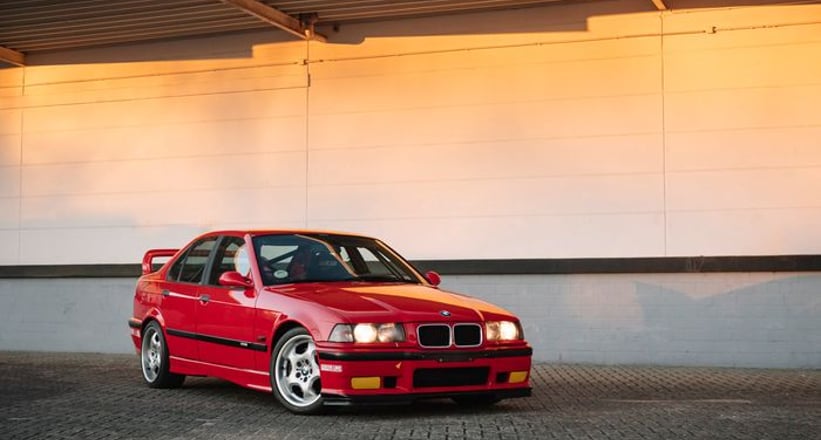 Location
Description
This 3-litre M3 from the E36 series was first registered in May 1995 by a then already 68-year-old gentleman who owned the vehicle for 11 years before it changed to the second owner in June 2006. He had the M3 professionally converted for his secondary job as a driving instructor for sports drivers at a company in Holland specialising in drift vehicles for corresponding purposes (invoice available).
During the conversion, the vehicle received all the motorsport components it needs to be used competitively: in addition to a roll cage from Wiechers and a bucket seat (Sparco 2000 Pro) with a 4-point belt from Sabelt, an OMP sports steering wheel, a Wiechers strut brace with Z3 dome bearings, H&R springs, a rear spoiler with DTM centrepiece and a fly-off handbrake are also installed – which guarantees maximum driving pleasure. Due to the conversion, however, the road approval has expired, the car is a pure "track tool".
The M3 presents itself through the restrained use of the first owner and the only occasional use of the instructor at sporting events; it has a very convincing overall condition without any rust deposits, with deep gloss paint (which is very unusual for red tones after more than 20 years!) and is technically flawless. The low total mileage of less than 64,000 km will certainly benefit the next owner. However, motorsport affinity should be a given, as not all dismantled interior parts are available anymore.
The BMW starts immediately, runs smoothly and drives absolutely reliably without any abnormalities – just as you have been used to for three decades from well-kept vehicles from this indestructible series! The original on-board folder with all documents is available. For delivery to the buyer, the M3 will be serviced with replacement of the operating fluids, so that nothing stands in the way of further use on the race track or in sporting events.
The E36 series from BMW, which has matured into a classic, continues to enjoy great popularity, which makes the good vehicles rare. For ambitious motorsport drivers, there is hardly a better price/performance ratio than with the M3. The sedan version, which is lighter than the M3 Coupé, is therefore an option for all those who have a powerful sports car with high reliability and the best parts supply in mind!This Classic Car is for sale on Catawiki. To have more information or to place a bid click on the "BID NOW" button.