This listing is no longer available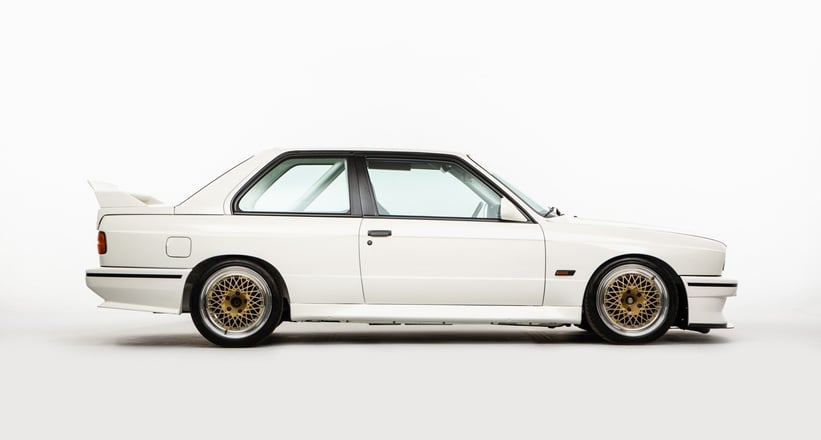 1989 BMW M3
BMW E30 M3 // GROUP A RECREATION // NUT AND BOLT RESTORATION // MSA LOGBOOK // LHD
Summary
Location

Performance

240 BHP / 244 PS / 179 kW
Description
FOR SALE; Group A Recreation // Nut and Bolt Restoration // MSA Logbook // LHD
EQUIPMENT
UK Supplied, Group A Seam welded Shell, Group A welded Cage, Matching Number 2.3 S14, Schrick 284/276 Cams, Valves and Followers, JC Racing Oil Pump & Sump Baffle, Ported head with OEM 48mm Throttle Bodies, Bosch Motorsport Injectors on Alpha N Management with Wide Band O2 Control, Carbon Airbox, Getrag Dogleg Gearbox, Competition Clutch & Lightweight Flywheel, Rose Jointed Short Shifter, JC Racing 4 Plate Differential 3.64 Ratio, Leda Coilover Uprights with Helper Springs, Group A Camber and Caster Adjustable Top Mounts, Eiback Front Oversize Adjustable ARB, Vink Motorsport Bump Steer Correction Kit, Camber and Toe Adjustment Rear Beam, Leda Rear Coilovers with Rose Jointed Top Mounts, Group A Manual Steering Rack 2.25 Turns Lock to Lock,, Muzzi Motorsport Group A Column Parts, AP Racing Front Calipersand Front Discs, OEM Rear Calipers, Pagid RST3 Pads, Group A Alloy Fuel Tank, Facet Lift Pump & Bosch Pump, AGS Motorsport BBS E50 Recreations with Magnesium Centres in 17x8J ET20, Motordrive Carbon Fibre Seat with Sabelt Harness, Spa Desgin Oil Pressure and Temperature, Water Temperature and Voltage. Standard OEM Instrument Cluster, Tech Edge WB02 Monitor, Muzzi Motorsport Group A Footrest.
EXTERIOR
The box arched E30 will remain a signature design for years to come with proportions and dimensions that worked for the road, the track and rally stages of the world.
Finished in Alpine White 1 this example presents as new fresh from an intense and detailed nut and bolt restoration to Group A specification. The shell was completely striped to bare metal for a complete rotisserie restoration. As per 1988 Group A specification the body was seam welded and fitted with the correct period welded cage. As such this example is primed for historic racing.
All new rubber seals were purchased from BMW as the car was built back up along with all new OEM glass fitted rather than lexan, a 35kg weight penalty offset by a more comfortable experience and a watertight cabin. A Genuine Sport Evo front splitter and under tray add to the aesthetics along with a carbon fibre rear spoiler.
Having had a shake down and covering minimal mileage since the work, the paintwork is of course excellent on this car with very few stone chips or blemishes to be found. All of the black plastic trim and grilles are in excellent condition and retain their original black finish.
INTERIOR
The familiar dashboard retains excellent original fit and finish and along with the door cards make up the few items left from the standard interior. The standards clocks are used along with a professionally rebuilt wiring loom.
Stripped back, it is a pure motorsport experience, secured and harnessed into the deep bucket seat surrounded by the Group A specification period cage, with no sound deadening every stone and road noise is amplified and made more extreme with the differential bolted to the cage at the rear. The cabin heater system has been left in-situ and provides some basic comfort to the uncompromising interior.
The period works Italvolanti Formel steering wheel is a fantastic addition and a nod to the cars successful racing heritage. This connects the driver to one of the best steering cars in existence with this M3 running a Group A manual steering rack with 2.25 turns lock to lock further improved with Muzzi Motorsport Group A column parts.
Warning systems are courtesy of SPA design instrumentation for oil pressure & temperature, water temperature & voltage with Tech Edge supplying the Wide band O2 monitor.
ENGINE & TRANSMISSION
The original matching number 2.3 S14 215 engine has been rebuilt with new bearings throughout. Schrick 284/276 cams, valves and followers fitted with further head-work to match the factory OEM 48mm throttle bodies. Uprated Bosch injectors have been fitted along side the huge Carbon airbox all controlled with Alpha N Management with wide band control. Revving to 7800rpm the engine makes a conservative 240bhp and has been designed for longevity rather than outright sprint performance and regular rebuilds.
A JC racing oil pump and sump baffle keeps the engine well lubricated in all circumstances. Fuel is stored and delivered from a Group A alloy tank built into the wheel well with a facet lift and Bosch pump.
The standard 265 Getrag dogleg gearbox has been fully rebuilt and connects to the engine via a competition clutch and lightweight flywheel. Driver control is fed through a rose jointed short shifter with power transmitted to the JC racing 4 plate limited differential running a 3.64 ratio.
WHEELS, TYRES & BRAKES
Running on AGS Motorsport BBS E50 recreation wheels with gold Magnesium centres in 17x8J ET20 the stance on this Group A recreation is spot on.
Suspension is courtesy of Leda coilover uprights on the front with Group A camber and caster adjustable top mounts, Vink Motorsport bump steer correction kit and Eibach oversize adjustable anti roll bar.
The rear a matching set of Leda coilovers with rose jointed top mounts, Eibach adjustable anti roll bar alongside a camber and toe adjustable rear beam. Naturally the drive shafts were all rebuilt with all hardware either new of powder coated.
HISTORY FILE
A UK supplied car from new this E30 M3 was first registered on 28/04/1989 to the Cheshire area. The history file contains the original owners pack, M3 supplement, owners manual and original service book that is fully stamped and documenting the cars life as a well maintained standard road car along with a huge amount of service invoices and MOTs to confirm the mileage.
In late 2016 the car was granted a new lease of life by its forth and very particular owner who embarked on the transform to the pristine Group A replica it is today.
Fully documented in every aspect, both photographically and on paper, the very best experienced specialists were used over a two year period to fully rebuild every inch of this lucky M3 into a historic racer and supreme touring car. With a period correct cage, seam welded shell along with MSA papers it can be used at club events or quite easily on the historic race circuit. Equally, MOT'd and road legal it can be enjoyed on the roads or at track days as it stands.
Please visit our website for a full write up and additional photographs.
The car is supplied having had an extensive intake inspection. Warranty, Finance, Part Exchange and Worldwide shipping are all available on request.
Buy with confidence: we operate from a 10,000sq ft indoor showroom with the support of a fully functioning 4000sq ft preparation and service centre that includes a professional photo studio that is used by Top Gear, McLaren and Alpine Stars. We have a passionate team that work incredibly hard to ensure all our motor cars go through our rigorous and unique sales process so they are presented in the best possible condition and light, then found homes all over the world.
Keep up to date: Follow us on Facebook, Twitter and instagram. Register on our webpage for the latest stock updates.
** SIMILAR VEHICLES ALWAYS REQUIRED**
Selling? Our commission sale or SOR (Sale or Return) program is a great way to utilise and access our services and facilities while still maximising the return from your vehicle with minimal hassle, If you'd like to take advantage of this then please get in touch for further information. Alternatively If you'd like to move your vehicle on quickly and efficiently with minimal delay then we can make an offer on an outright purchase basis with payment and collection arranged soon after.