This listing is no longer available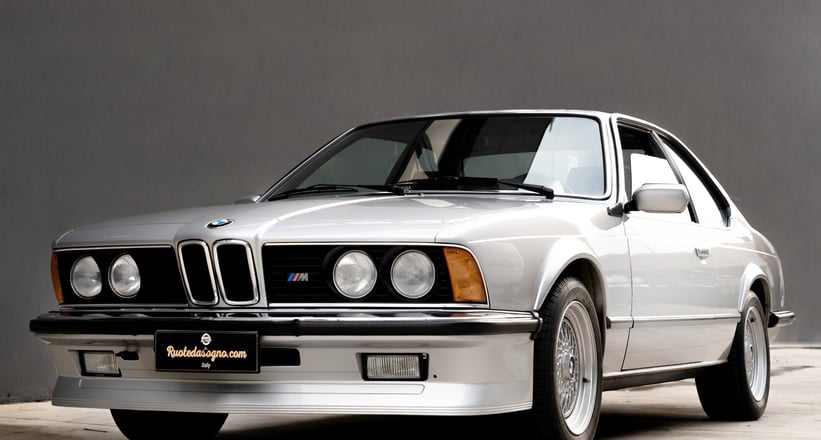 Location
Description
Chassis WBAEE310601052585
Engine no. 42843707
Power: 205 kW - 279 HP
First registration: 1985
Very good condition
Optional: Insulating green glass, electric glass, opening roof.
Certificate and Statements ASI N. 603179
BMW Certificate
Italians documents and papers
The BMW 635CSi is one of the iconic cars of 80 that marked BMW history for a distinctive style and for its contribution in the sports feats.
The "6 Series" was presented in the exclusive town of Marbella (Spain) in 1975: the line was the work of Paul Bracq, who was able to expertly blend elegance, sportsmanship and prestige in the new Bavarian coupé.
It was initially made on the base of the E12, the first generation of the 5 Series, but was configured as a car of size (over 4.75 m) and superior image.
The pointed profile, outlined by the very sloping muzzle and thin uprights immediately earned her the nickname "Shark": the double circular headlights, the double central kidney and made the Series 6 particularly personal and it was not difficult to imagine it just like a shark in search of the last overtake.
High performance and refined lines outline a very successful mix that finds shape in the BMW 635 CSi, a particularly coveted model and sought after by collectors.
The car is in perfect condition keeping its prestigious image intact even after 35 years.
The paint is in excellent condition and shows no sign of rust. All exterior moldings are new, as are the bumpers and coats of arms of the Bavarian house.
The mechanics have also recently been overhauled and the engine is in splendid condition.
The interiors are original and excellently preserved, the carpet renovated.
The on-board instrumentation is fully functional.
Original circles restored to new. New tires.
A classic example of Instant Classic with a strong tendency to revalue even in the short term.
It is possible to view the car online, booking a call with one of our commercial operators, via Skype, Zoom, Whatsapp and Google Meet platforms.
!