This listing is no longer available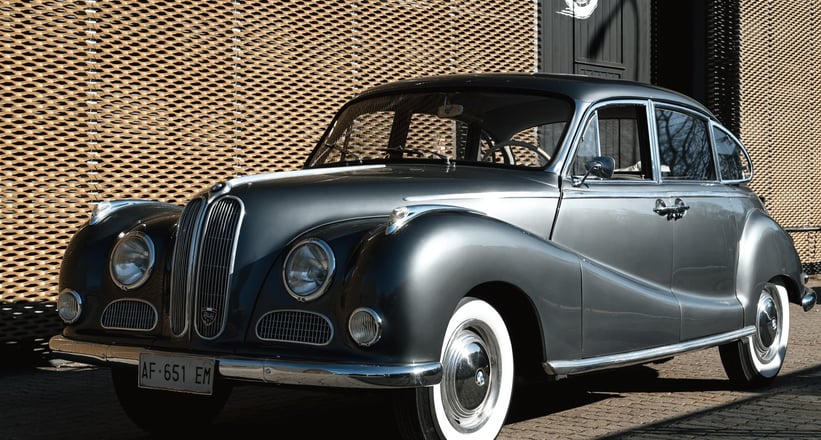 Location
Description
The luxurious 502 was presented at the 1954 Geneva Motor Show as the flagship version of the BMW range.
The new entry was proposed with a massive car body, but with enveloping and rounded features and its rather refined style for the time, earned it the nickname of Barockengel "baroque angel".
Engine with refined architecture and cutting-edge technical solutions for that period. It was in fact the first V8 produced in Germany after the end of the Second World War, but also the first 2.5-liter V8 in the world made entirely of aluminum alloy and these two firsts still place this engine at the attention of many historians of the car.
The structure adopted for the 502 was that of the separate frame type with sheet metal body, both in steel.
In 1955 the displacement was increased to 3.2 liters, which allowed the imposing German sedan, to develop 120hp and reach 170 km / h.
The production of the 502 3.2 then lasted until March 1964, when it came off the list, with 2517 units produced in the various versions with 3.2-liter engines.
Our BMW 502 V8 3.2
- Very charming car preserved in excellent condition
- Single owner for over 30 years
- Car with regular papers
- ASI registered
- Frame n.027407
- Engine in good efficiency
- Well preserved interior, with blue velvet seats.
- Working instrumentation with well preserved wooden dashboard
- Original 4-spoke steering wheel in white Bakelite
- Spare wheel supplied.
Today it is possible to view the car online, by booking a call with one of our sale operators, via Skype, Zoom, Whatsapp and Google Meet platforms.
!