This listing is no longer available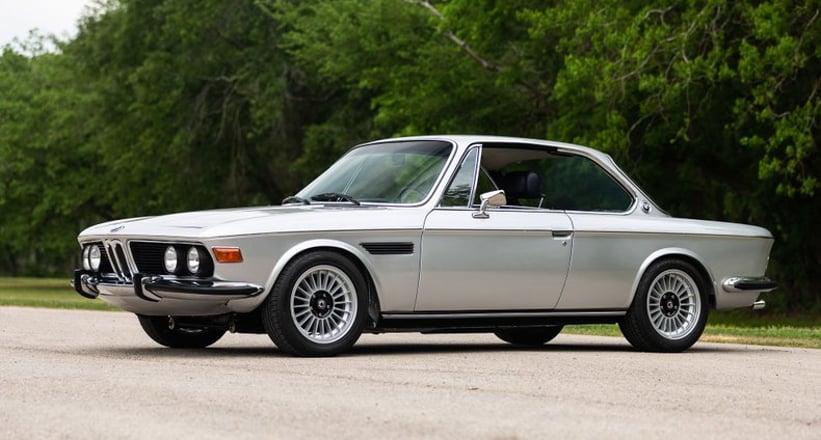 Summary
Location
Description
1975 BMW 3.0 CSi
Chassis No. 4341419
Engine No. 4341419
Numbers-Matching per accompanying BMW Classic Certificate
Late Production Example - Among the last E9s Constructed, Completed on November 28, 1975
• Chassis No. 1419 of 1429 – 10th from the Final LHD, Manual 3.0 CSi's
Delivered new to Bavaria Societa Importazioni e Vendite S.p.A. (Original Selling Dealer) of Verona, Italy
Near Lifelong Italian Residency, on Roma License Plates: RM R56571
Provenance:
Antonio Cantarini, Rome, Italy - March 1976-November 2008
Lorenzo Iaccarino, Naples, Italy – November 2008-2019
D. Leone, Los Altos Hills, CA – December 2019
Wearing Correct Polaris Metallic over Blue Leather Livery
Recipient of comprehensive restorative work throughout the last decade, as well as detailing by marque experts Oldenzaal Classics
• Naples, Italy to Oldenzaal Classics in 2019
• Oldenzaal performed a major "fresh-up" on the car, mechanically and technically. The engine was rebuilt in Italy during the previous ownership, as well as the repaint. The vehicle is said to have been a typical dry Southern, Italian car.
• Oldenzaal detailed / freshened up the engine bay, slightly lowered the suspension stance and mounted restored Alpina wheels.
• Additionally, new premium upholstery was installed, followed by an overall check-up of all workings of the car.
Beautifully Presented Cabin
• Excellent new supple leather, and wool carpeting
• Nice wood surrounds and trim
• Cold factory air conditioning
• Working lights, instruments, and power windows
• Fitted with later Pioneer radio
Older Glossy Polaris Metallic paint
• Etched original side and rear glass (with defroster)
• Nicely restored 16x7 and 16x8 Alpina wheels with 225/50R16 and 205/55r16 tires mounted
Restored Engine Compartment
• With correct finishes, decal, and auxiliary equipment
• Numbers-matching engine, as delivered new
• Compression Test
o 200 PSI on all 6 Cylinders
Solid Undercarriage
• With restored finishes, coatings, rubbers and appearances
Complete Luggage Compartment,
• Fitted with stowed matching Alpina spare wheel, jack, tool kit and supplemental tool – all in exceptional condition
10,030 kilometers Currently Displayed
Supported by copies of the vehicle's original Italian registration documents and Automile Club of Italy registrations – both documenting its early ownership history, Change of ownership paperwork and a large dossier of more recent records and invoices.
• Additionally complete with Italian Owner's Manual, Maintenance Manual, Tool Kit, Jack, Matching Spare and Accessories
This extraordinarily late production and wonderfully presented BMW 3.0 CSi is an absolute pleasure to drive and display, as confirmed by a recent 200-mile classic car club event, in which the BMW lead with remarkable ease and modern drivability. Complete and correct, in highly desired European specification and livery, 4341419 leaves a lasting impression upon driver and admirers alike.
The above vehicle information is accurate to the best of our knowledge at the time it is posted to this website. It is provided 'as-is', without warranties as to its accuracy, whether expressed or implied, and is intended for informational purposes only. Corrections or additional information is always appreciated.
All advertised prices exclude government fees and taxes, any finance charges, any dealer document preparation charge, and shipping expenses. Vehicles are subject to prior sale. DriverSource is not liable for any errors, omissions, or mistakes.