This listing is no longer available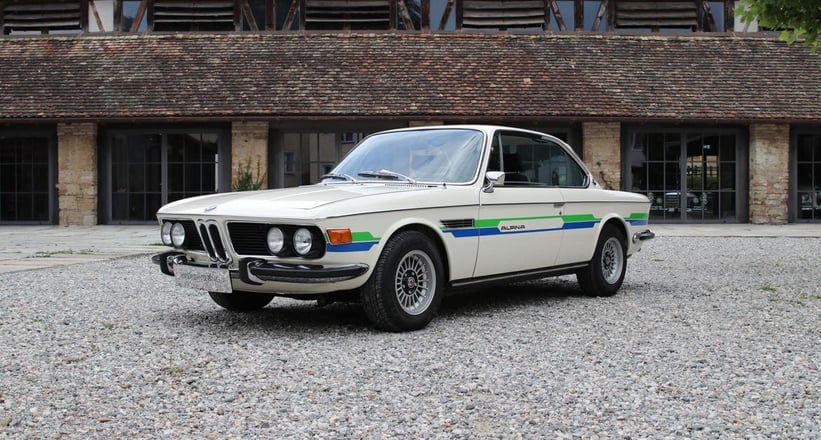 1972 BMW 3.0
CS/CSI Alpina
Location

Performance

169 kW / 230 PS / 227 BHP
Description
Dieser wunderschöne BMW 3.0 CS B2 wurde erstmals am 11.08.1972 in Deutschland nach Ebsdorfergrund an einen Bauunternehmer ausgeliefert. Dieser ließ das Fahrzeug direkt bei der renomierten und späteren BMW-Werks-Tuning-Firma Alpina umbauen. Im Anschluss hatte das sportliche Coupe noch 3 weitere Besitzer. Im Jahr 2014 wurde der CS dann in vollrestauriertem Zustand von einem deutschen Sammler erworben und nur selten genutzt.
Der BMW präsentiert sich in perfektem Zustand! Lack, Interieur sowie Technik sind das Ergebnis einer sehr hochwertigen und fachkundigen Restauration! Das Fahrzeug sieht nicht nur aus wie ein Neuwagen sondern fährt sich auch so! Durch den äusserst drehfreudigen und durchzugsstarken 3 Liter Motor mit 230 PS ist das schicke Coupé auch heute noch mit tollen Fahrwerten vertreten.
Ein Wertgutachten aus dem Jahr 2016 bestätigt den Zustand auch mit der Note 1- und einem Marktwert von 200.000,-- Euro. Zusätzlich vorhanden ist die originale Bordliteratur, Werkzeug, BMW Zertifikat sowie der alte Pappdeckelbrief. Wir liefern diesen CS mit neuem TÜV sowie H-Kennzeichen.
This beautiful BMW 3.0 CS B2 was first delivered on 11.08.1972 in Germany to Ebsdorfergrund to a Construction Company. The Owner had the vehicle rebuilt directly at the renowned and later BMW factory tuning company Alpina. Following the sporty coupe had 3 more owners. In 2014, the CS was then acquired in fully restored condition by a German collector and rarely used.
The BMW presents itself in perfect condition! Paint, interior and technology are the result of a very high quality and expert restoration! The vehicle looks like a new car and also drives like that! Due to the extremely sporty and powerful 3-liter engine with 230 hp, the coupe is still represented today with great driving values.
A valuation report from the year 2016 confirms the condition also with the note 1 and a market value of 200.000, - euro. In addition, there is the original on-board literature, tools, BMW certificate and the old Manual books. We deliver this CS with new TÜV and H-plates.
Zwischenverkauf und Irrtümer für dieses Angebot sind ausdrücklich vorbehalten. Ausschlaggebend sind einzig und allein die Vereinbarungen im Kaufvertrag.
**Standort:** D 82398 - Polling
Bei Interesse wenden Sie sich an:
HK-ENGINEERING D 82398 - Polling
Stefan Hoisl
unter Tel.: +49 881 925 609 57
Mobil: +49 160 97 96 98 91,
stefan.hoisl hk-engineering ( . ) com
Anschrift: Kirchplatz 1 82398 Polling
Auch am Wochenende oder Abends erreichbar.