This listing is no longer available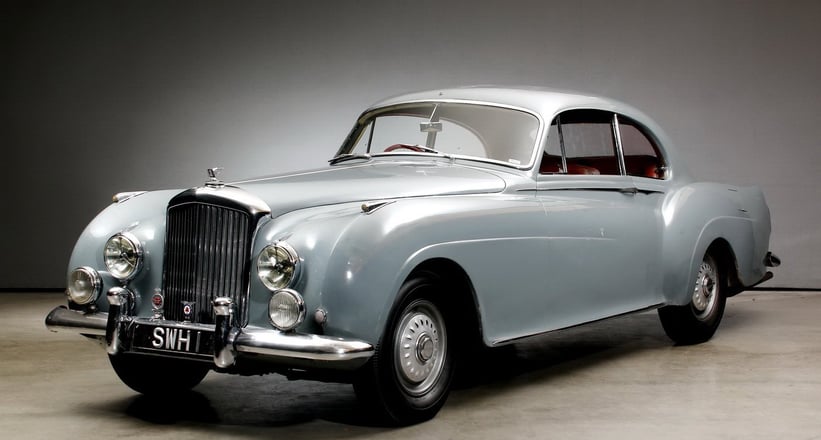 1953 Bentley R Type
Continental Mulliner Sports Saloon
Summary
Location
Description
- Erstklassig original erhaltenes Exemplar
- Einzelstück
- Best of Pebble Beach 2017 preserved class
- 47 Jahre im Familienbesitz
Beschreibung:
Der Bentley R-Type Continental ist ein zweitüriges, viersitziges Luxusauto, das mit einer Stückzahl von 207 Exemplaren zwischen 1952 und 1955 produziert wurde. Er war ein Sondermodell des Bentley R-Type, der als schnellster Viersitzer seiner Zeit galt und oft auch als "fliegender Teppich" bezeichnet wurde.  Heute gilt er als eines der gesuchtesten und interessantesten Sammlerfahrzeuge.
Bei dem hier präsentierten Bentley R Type mit Karosserie von H.J. Mulliner handelt es sich um ein erstklassig original erhaltenes Exemplar. Die meisten R Type Continental wurden von prominenten Persönlichkeiten bestellt – und auch der hier vorgestellte Bentley wurde 1954 im Auftrag von Philip. F. Scrutton, einem Weltklasse-Golfer und Piloten, gefertigt. Gemäß vorliegender "Productions Records" erhielt das Fahrzeug zahlreiche besondere Ausstattungsmerkmale und spezielle karosserieseitige Modifikationen. 1968 erwarb der Flugsport-Enthusiast Frank Cavanagh den Wagen während einer Geschäftsreise in London. Der Bentley blieb 47 Jahre lang im Besitz seiner Familie in Australien. Vor einigen Jahren wurde der Bentley einer behutsamen Wiederinbetriebnahme unterzogen, bevor er 2017 am Pebble Beach Concours teilnahm, wo er den prestigeträchtigen FIVA-Preis für das am besten erhaltene Nachkriegsfahrzeug gewann. Heutzutage werden die Preservation-Klassen der Concours-Veranstaltungen immer beliebter, weshalb wir diesen vollständig dokumentierten Bentley als zukünftigen Star einschätzen würden! Regelmäßig gefahren und gewartet durch seinen jetzigen Besitzer ist er bereit für weitere Roadtrips und Concours Events.
Motor:
6-cylinder-engine, 4.566 cm3, 137 PS, Schaltgetriebe
---
- Original and complete example
- One-off
- Best of Pebble Beach 2017 preserved class
-  Single-family ownership for 47 years
Description:
The Bentley R-Type Continental is a two-door, four-seater luxury car produced by Bentley in 207 examples from 1952 to 1955. It was a special edition model of the Bentley R-Type, which was considered the fastest four-seater of its time and was often referred to as the "flying carpet". Today it is one of the most sought-after British classic cars, reaching high six-figure prices on the classic car market.
This car features bodywork by H.J. Mulliner and is an original and complete example of this most desirable driver's car. Naturally, the majority of R Type Continentals were purchased new by prominent figures – and indeed, the Bentley presented here was ordered new in 1954 on behalf of Philip. F. Scrutton, a world-class amateur golfer and pilot. He specified every conceivable option, along with a number of special requests, such as flared wings and cutaway spats, on the H.J. Mulliner body. In 1968 the aviation enthusiast, Frank Cavanagh, bought the car while on business in London. It remained in his family in Australia for 47 years. Some years ago the Bentley received a sensitive recommissioning before attending the 2017 Pebble Beach concours where it won the prestigious FIVA award for the best preserved post war car. Nowadays, the preservation classes are becoming more and more popular at world–class concours events, for which we`d estimate this fully documented Bentley as a future star…! The lavishly equipped R Type Continental is sure to beguile its new custodian with a layer of dust, a few dents – and some specially commissioned one-off features. Regularly driven and serviced by its present owner it is ready for further road trips.
Engine:
6-cylinder-engine, 4.566 cm3, 137 hp, manual gearbox
;