This listing is no longer available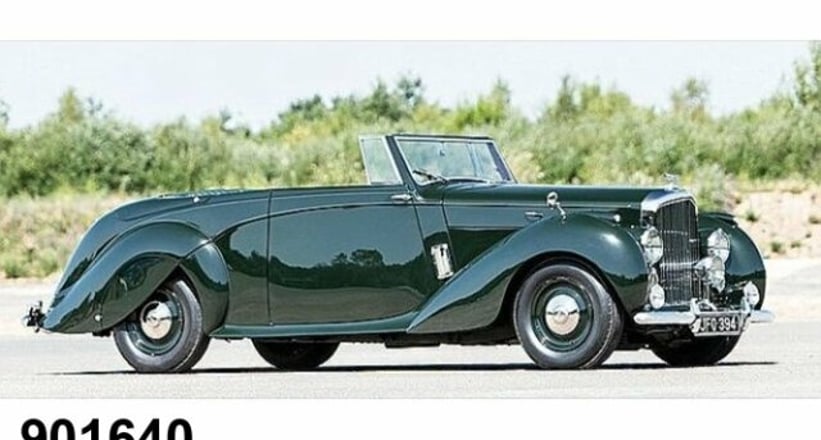 1947 Bentley Mark VI
MK VI Drophead Coupé
Location
Description
* Fahrzeugstandort: im Zulauf / in transit,
Aufbau: Coachwork by Windovers
Bei Rückfragen Tel. +49 551/820244!
Farbe: grün
Leder: grün
Verdeckstoff: grün
1947 Bentley Mark VI Drophead Coupé, Coachwork by Windovers
-Registration no. JFO 394
-Chassis no. B108AK
-Rare coachbuilt Mark VI
-Unique coachwork
-Believed Windovers' last body
-Bentley R-Type 4½-litre engine and automatic transmission
-Maintained by Frank Dale & Stepsons
The policy of rationalisation begun in the late 1930s continued at Rolls-Royce after the war with the introduction of standard bodywork on the Mark VI Bentley. Rolls-Royce's first post-WW2 product, the Mark VI was introduced in 1946, a year ahead of the Rolls-Royce Silver Wraith. Although mechanically similar to the Mark VI, the latter was exclusively a coachbuilt car, the first 'standard steel' Rolls-Royce, the Silver Dawn, not appearing until 1949. A separate chassis was retained, the same basic design being built in three different wheelbase lengths, that of the Mark VI (and Rolls-Royce Silver Dawn) measuring 10' exactly. Notable features were independent front suspension and hydraulic front brakes. Powering the range was a new 4,257cc six-cylinder engine featuring 'F head' (inlet-over-exhaust) valve gear that permitted the use of larger valves than the pre-war overhead-valve unit with a consequent improvement in gas flow. As a concession to the marque's sporting pedigree, the Bentley version was equipped with twin SU carburettors, the Rolls making do with a single Stromberg. The Mark VI was a 90mph car while its interior was typically well appointed, boasting leather upholstery and walnut dashboard and door cappings, while the right-hand manual gear change was a characteristically pre-war inheritance.
Despite the popularity of the 'standard steel' body, a coachbuilt alternative remained the preferred choice of many customers. Indeed, of one's preference was for an open car it was the only option, there being no factory-built convertible in either the Rolls-Royce or Bentley range at this time.
Chassis number 'B108AK' was completed in August of 1947 to the order of Sir Alexander Rogers. The Bentley was bodied as a drophead coupe by the respected coachbuilding firm of Windovers. Founded in 1856 in Huntingdon but from 1924 based in North West London, Windovers diversified into the manufacture of motor bodies in the early 1900s, concentrating on quality marques ? chiefly Daimler and Rolls-Royce at first ? before adding the likes of Alvis, Armstrong-Siddeley, Lagonda, Lanchester, Mercedes-Benz, and Bentley to its portfolio in the 1930s. The coachwork is believed to be unique, with a disappearing hood design, concealed when lowered by a panel of folding coachwork, which is secured with a coach key. It is understood that this particular body - number '6645' to Design '101' - is one of the last, if not the very last, built by Windovers.
'B108AK' changed hands in 1950 when purchased by Brook Tool Ltd of Birmingham, and then again in 1952 when purchased by R and W H Symington Ltd of Market Harborough. It was acquired in 1958 by Mr R V Fontes of Knutsford in Cheshire, and at some time in the mid/late 1980s was sold by David Baldock, as a restoration project, to Merrick Edwardes. 'B108AK' had been in Canada for many years, was complete in every respect but needed a full restoration. Merrick Edwardes intended to restore the Bentley for his own use, but after a great deal of persuasion sold the car to Peter Channing and restored it for him during the early 1990s.
This thorough restoration included a new ash frame, coachwork restoration, brightwork restoration and re-plating, a new hood and interior, and also extensive mechanical works. Mr Channing also wanted to upgrade the car with a 4½-litre Bentley R-Type engine and automatic transmission (the original engine had a cracked block and was unserviceable). A donor R-Type was purchased (chassis number 'B236WH') and the engine, gearbox, and steering column were removed, overhauled and fitted to 'B108AK' as per Mr Channing's instructions.
At the same time the engine was modified for increased power and torque to this end Oselli Engineering gas flowed the cylinder head and an R-Type Continental exhaust was fitted. Following the completion of the works, the car was carefully maintained and serviced to a very high standard.
Respected marque specialists Frank Dale & Stepsons first supplied 'B108AK' to Mr Peter Ralphs, who owned a small collection of desirable motor cars. Subsequently it was bought by Ivor Gordon, the Chairman of Frank Dale & Stepsons, and was the last car he ...
ZUBEHÖRANGABEN OHNE GEWÄHR, Änderungen, Zwischenverkauf und Irrtümer vorbehalten!
----powered by two Sales