This listing is no longer available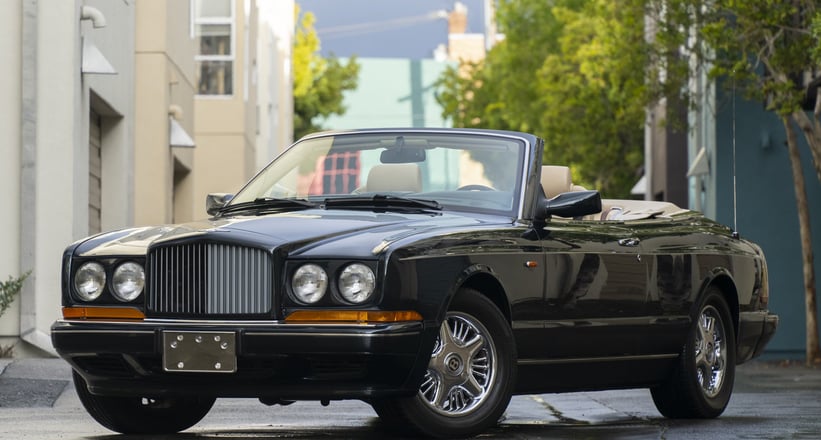 Location
Description
BaT NO RESERVE auction preview: Low-mile, pre-1997 manufacture Bentley Azure1997 Bentley Azure ConvertibleVIN – SCBZK14C1VCX61074Exterior Color – Deep GreenInterior Color – Dark Green with Tan LeatherEngine – 6.7L V8 OHV TurbochargedTransmission – 4-Speed AutomaticCurrent Miles – 35,606Owner Purchase – Current owner purchased in 2018Highlights of This Car-Impressive low mile example with beautiful cosmetics-Owned by multiple car collector-One of 200 built for the 1997 model yearGeneral OverviewOriginally designated for construction in 1995 when it debuted at the Geneva Motor Show, the first series was offered on the Continental R platform. With very few units built in 1995 and 1996 and 200 units built in 1997 with assistance from Pininfarina, Italy who manufactured and assembled the complex power top. The lush insulated convertible top smoothly retracted and nested under the hard-shell rear tonneau giving the Axure a beautiful low profile when the top was down. Having removed the roof from the R platform, the body and chassis were heavily reinforced giving the robust Azure impressive presence. The turbocharged V8 engine delivered the power needed to propel the Azure to 60 mph in just a tick over 6 seconds with a top speed of 150 mph. In addition to the power and technical features, the Azure was trimmed in leather using colors and finishes specified on special order for nearly every car produced, making it even more exclusive and substantially more expensive than the Continental R model. History and Build Details of This CarThis Azure is one of 200 examples built for the 1997 year. Completed in November 1996, this car was processed through US Customs December 11, 1996. By 2003 it had accumulated 24,461 miles where it was serviced and detailed at Steve Foley Cadillac, Northbrook, IL where it was serviced under the same ownership at the same dealership until January 2007 when 24,928 miles was recorded with ownership transferred to Jacksonville, FL. Miles continued to accrue sequentially through ownership in North Dakota and New York before being sold to the current owner in 2018.The current owner enjoyed a nineteen-car collection (15 of which are convertibles), with this car becoming the most frequently used for driving duties because of the performance and comfort it offered the owner. The car has remained in a climate-controlled garage, stored in Scottsdale, AZ where it has been serviced and maintained to a very high level. Records for specialized services are included with the car but a privately employed mechanic performed regular oil changes and general service inspections on this car including checking all fluids, keeping the battery charged, and preparing the car for longer trip use.Major services include:April 2018 – New Bentley Azure hydraulic lines and hoses for convertible topJuly 2018 – New convertible top rams and hydraulic top hoseJuly 2019 – New thermostat, oil filter, new heater hoseApril 2020 – New right rear top cable, new battery, new o-ring at brake pump, and new brake spheres.March 2021 – Convertible top pump rebuilt with electric motor replacementCondition OverviewWith exemplary care under current ownership and visual condition confirming previous ownership exhibiting similar fastidious attention, the paint remains in excellent condition with beautiful gloss and deep luster, showing no significant paint chips or scratches of note. The finish has been digitally metered, returning numbers that are consistent with original paint as displayed on all the deep metallic green exterior surfaces. Fit of the doors, hood, and trunk are factory precise and consistent. The beautiful wheels are in excellent condition with no curb rash, excellent chrome finish, and Bridgestone tires. Beautiful details include the Bentley grille shell crest, body-colored bumpers and side view mirrors, and a stunning convertible roof, all of which are all in excellent condition. Subtle in color, with a handsome contrasting interior, and matching pinstripe accent, the stance, classic lines, and impressive presence evokes power and prestige like no other car.Opening the door to enter the car, you are immediately greeted by the wonderful aroma of the opulent leather interior which has been very nicely preserved. The interior is finished in a striking contrast of tan leather with green piping and carpets. Overall, the interior appears nearly new in many areas with a very cohesive look and feel to all surfaces. The premium leather luxury seating surfaces are accented with sporting distinctive green piping, burled walnut door caps and dashboard insert, and lush emerald carpeting. The top of the dashboard is finished with matching green leather. The dashboard and assorted instrumentation present a handsome blend of digital and analog features with classic switches and knobs. The interior features are state of the art for the period with plush seating and comfort being paramount in this top-of-the-line offering. Among the many period accessories, the center console is covered in matching emerald leather, concealing a Motorola cell phone built into the center console armrest. A contemporary Kenwood SoundStream stereo unit has been installed and functions properly. The condition of the carpeting, door panels, and other interior surfaces is excellent throughout. The convertible top features a beautifully lined felt headliner and the power system for raising and lowering the roof functions smoothly and quietly, benefiting from recent convertible top service and replacement of key components as needed. The trunk is fully carpeted and trimmed in matching emerald carpet with tan edge beading. The trunk area conceals the battery, convertible top motors and hydraulics, and battery cut off switch.Under the hood, the turbocharged V8 engine is clean and unmodified from new with handsome detailing and factory delivered equipment in place. Services have been consistent and regular for the car even though mileage has remained quite low given the more recent years of careful ownership. The underside is clean, very tidy and reflective of indoor storage, low miles, and no visual evidence of structural damage or compromise. The recently received accident-free Carfax shows no accidents and mileage consistent with owner recorded services. The car starts, runs, and drives per original specifications with memorable precision and performance. Despite the heft and scale, the Bentley Azure is capable of surprising acceleration and comfortable GT cruising on the highway. Even a more sporting drive is remarkable under all conditions as the supple suspension causes all bumps and potholes to yield before disrupting the cabin. All driving is quiet and composed with the roof up, and refreshingly calm even for rear seat passengers when the top is down.With its top tier build, superlative materials, elegant open design, and luxurious amenities, this Bentley Azure must be counted as one of the finest luxury performance convertibles ever assembled and certainly one of the most memorable from this era.Items Included with the CarThe car is accompanied by a complete owner's manual and case, radio manual and remote-control units, the factory tool kit, and electronic copies of partial service records from current ownership. A cell phone is installed in the car however operational fidelity and service requirements for the phone cannot be confirmed at this time.
Azure Walkaround: https://youtu.be/SHmksr6a0TQ
Azure Drive: https://youtu.be/OAm_jSIF7Hw
More info coming soon....