This listing is no longer available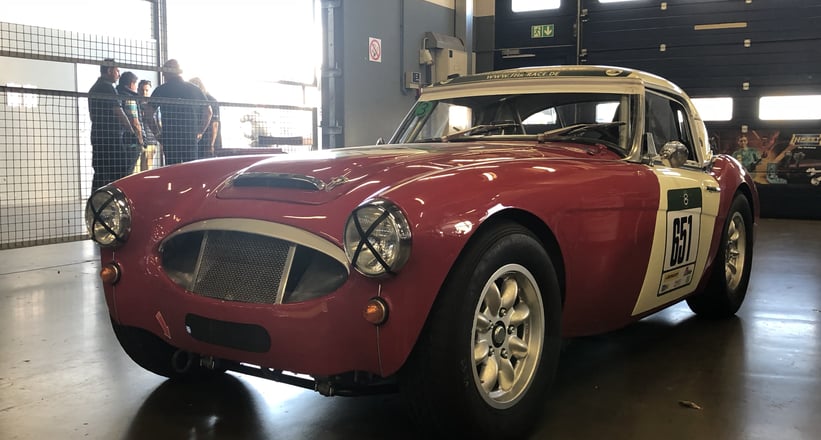 1962 Austin-Healey 3000
Austin Healey 3000 MK2 ° FIA HTP Race Car ° full rebuild!
Location

Performance

280 PS / 206 kW / 277 BHP
Description
One of the most successful Healey 3000 in historic motorsports! Well knon front runner!
The car was full rebuild in 2021 regardless of costs even with a new Chassis!
As part of three identical Healey 3000 this car was part of the successful Böööös Racing Team! The Team finished most winning in the class and many podiums. They were the fastest Healey Team by the 6h of Spa this year again!
The car has new FIA HTP valid until 2027 and German road registration.
This car is ready to race without any work! The buyer will get an introduction by the team.
If you don't have a team, race support would be possible, too. The Bööös Racing team is supporting Healeys since years with big success.
Chasis & Body:
> Aluminium door, wings, boot lid and bonnet
> Heated windscreen welded roll cage
> FT3 fuel tank
> Recaro Seat and belts valid L
> lightweight Hardtop
> Fire extinguishing system (valid)
Engine:
> 2993 ccm
> Schild Aluminium cylinder head
> Steel crankshaft + condos
> Forged pistons
> Triple Weber Steel Flywheel with racing clutch
> output: > 280hp
Gearbox & rear axle:
> Centre change with OD
> Straight cut gears "Sebring" LSD - Diff 4,1 : 1
> Denis Welch uprated half shafts
Suspension:
> Denis Welch coil springs & leaf springs
> Uprated shock absorbers (rear adjustable)
> Denis Welch heavy duty front stub axles
> Safty high ratio steering box
> optional: 6 x 15 Minilite - Repro, Aluminium, bolt on hubs or 6 x 15 Minilite Repro, Magnesium (Denis Welch), knock off hubs
The car comes with a basic package of spare parts. Optional available are every parts like an complete engine ready for plug and play change or a gearbox.