This listing is no longer available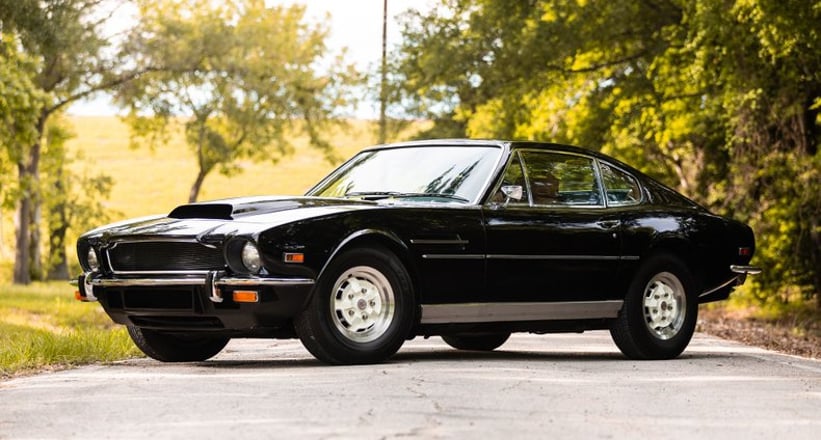 Summary
Location
Description
Offered for Sale exclusively through Bring-a-Trailer's Spring Motoring Collection. A selection of 15 sports and touring cars, chosen by DriverSource in celebration of our 15th Anniversary! Bidding Now Live -> https://bringatrailer.com/listing/1978-aston-martin-v8/
1978 Aston Martin V8 Series III Saloon
The Gentleman's British Muscle Car
Chassis No. V8/11812/LCA
Engine No. V/540/1812/LFM (Matching Numbers)
Gearbox No. 000897 (Matching Numbers)
Rear Axle No. F77/90R (3.54) (Matching Numbers)
One of only 967 Series III V8 Coupés
Complete Numbers-Matching: Engine, Gearbox, Rear Axle & Livery
- Per Aston Martin Heritage Trust & Car Record Card
Ideally Optioned with All Power Equipment Left Hand Drive & 5-Speed Manual Transmission
Outstanding Driver - Complete with Manual, Jack & Spare Assembly
Recent Inspection, Service, and Detailing Performed
Distinguished & Entirely Handbuilt Grand Tourer from Aston Martin
After an announcement on 27 September 1969, the DBS was made available with the long awaited V8 engine, with the car being known as the DBSV8 – a four-seat grand touring car, capable of 160 mph. As with the straight six, the design of the new V8 engine was the work of Tadek Marek. With a capacity of 5340cc and 4 overhead camshafts with Bosch mechanical fuel injection, the DBSV8 was the fastest 4-seater production car in the world at the time. This engine was to form the basis of all Aston Martin power plants for the next 20 years. Apart from the change of engine, notable visual differences were the specially designed 15'' GKN light alloy wheels, with ventilated brake discs for the first time on an Aston Martin production car.
The Aston Martin V8 is often considered the Gentleman's British Muscle Car and this particular example exemplifies this in its as-delivered, Raven Black paint over Magnolia leather upholstery and Sandringham beige carpeting - lavishly equipped with power windows and locks, power assisted steering, air conditioning, 5-Speed manual transmission, rear seatbelts and headrests. According to Aston Martin Heritage Trust and the Chassis' Car Record Card, 11812 was completed in November of 1977 and dispatched on December 7th as a U.S. specification model – destined to dealer Hollywood Showroom.
Today, this outstanding V8 retains factory equipment, trim, etched glass, and much of its upholstery and accessories. Engine, gearbox and rear axle are original to the vehicle. The recorded mileage of 52,000 is said to be original. In years past, the exterior received fresh paintwork in the original color, while the cabin's original leather was re-dyed to freshen up appearances. The engine bay and stowage compartment appear correct and tidy, while the rear is complete with spare and jack assembly. Performance is strong. with solid handling reflected by its originality. Notable recent services include overhauled brake boosters by White Post Restorations, a tune-up of the ignition and intake, along with all new filters and fluids. Whitney Motor Werks of New Hampshire addressed electrical components, such as new rocker switches, amenity equipment wiring, new radio, speakers and a repadding of the driver's seat.
In April 2020, the car's lower boxed rockers, an often-problematic corrosion point for these models, were properly removed and replaced by the artisans at MetalCraft Racing in Houston, TX. The V8 remains exceptionally solid throughout the body, frame, pans and undercarriage. Cavallo Auto Salon of Houston, TX performed a paint correction shortly after. This stunning late, 305hp Series III V8 certainly impresses and makes for a highly capable GT. Benefitting from an April service, major detailing, steam cleaning and paint correction. The documentation file includes a copy of the build specification and Heritage Certificate. Available for worldwide purchase and delivery from our Houston, Texas showroom.
Note* Vehicle titled as a 1979
Engine Compression PSI/Cylinder
1. 130 PSI
2. 130 PSI
3. 135 PSI
4. 135 PSI
5. 135 PSI
6. 135 PSI
7. 140 PSI
8. 135 PSI
Note: Titled as a 1979 Year Model
The above vehicle information is accurate to the best of our knowledge at the time it is posted to this website. It is provided 'as-is', without warranties as to its accuracy, whether expressed or implied, and is intended for informational purposes only. Corrections or additional information is always appreciated.
All advertised prices exclude government fees and taxes, any finance charges, any dealer document preparation charge, and shipping expenses. Vehicles are subject to prior sale. DriverSource is not liable for any errors, omissions, or mistakes.