This listing is no longer available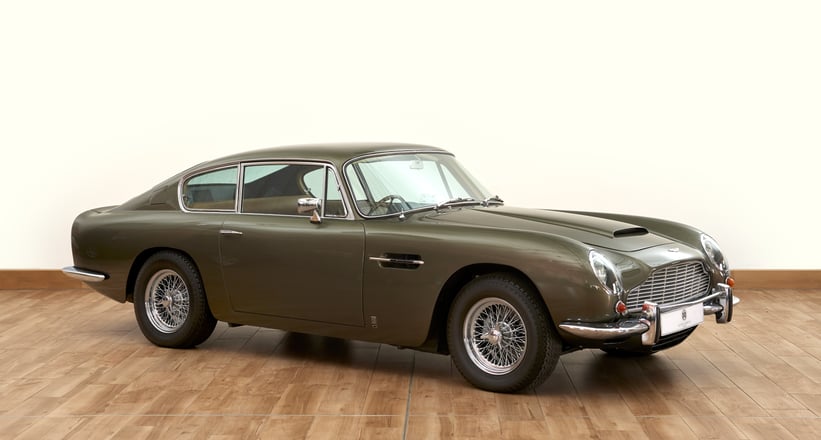 1968 Aston Martin DB6
Vantage
Summary
Location
Description
Chassis # DB6/3505/R
- Originally a Sales Demonstrator for Aston Martin Lagonda
- A rare factory supplied Vantage model with RHD and manual transmission
- Finished in its beautiful original colour combination of Olive green paint with Natural leather
- Boasting an extraordinarily comprehensive history file with many maintenance records, correspondence, and old MOT certificates
- Only five owners from new, with the fifth having the car for nearly forty years
- Repainted and re-trimmed in 2014 and presenting beautifully
Detailed History
With over thirty years in the classic car world, your author has rarely had the pleasure and privilege of handling a history file as detailed as the one for this beautiful Aston Martin DB6 Vantage.
Chassis 3505 was originally registered as FKX 3G by Aston Martin Lagonda in Newport Pagnell on October 3rd 1968 having been specified and constructed for use as a Sales Demonstrator. The options chosen above the standard specification were Olive green paint work with a Natural Connolly leather interior, a Vantage specification engine, manual transmission, power assisted steering, bumper over-riders, chrome wire wheels with three eared spinners, FIAMM horns, a heated rear window, seat belts, and a Motorola radio with an electric aerial.
After its duties were served as a Demonstrator it was sold in March 1969 to the director of a family-run plant hire and haulage company in Birmingham. The recorded mileage at this time was about 6,500 miles. The gentleman had the car serviced by the factory during his ownership and in December 1970 when the odometer recorded 23,700 miles, he exchanged it with the factory for a new DB6. Having retained his personalised number plate it was at this time the car gained the licence UWD 637G that it still wears today.
A copy of the Factory Build Sheet on file states that shortly after Aston Martin took the car in exchange it was acquired by car dealer George Kidd Motors of Leamington Spa, Warwickshire, to be used as a demonstrator. After a few months they sold the car and we enjoyed a delightful conversation with the then new owner who recalled their time with the car very fondly. He was the managing director of the family clothing manufacturer in London E17, and his company sales director was friends with a Tommy Beach who worked at George Kidd Motors. Apparently Mr Beach was also friends with the sales manager at Aston Martin Lagonda. The gentleman went to view the DB6 at George Kidd's and remembers the car was still displaying the personalised number plate of the previous owner, JON 107, which was of course removed prior to him taking delivery of the car in May 1971. By this time the odometer recorded about 32,000 miles and a new gearbox was fitted just prior to his purchase.
He continued to have the car maintained by the factory and reported to us the car was primarily used to commute between his home in Stanmore and the office, and that no exciting journeys were undertaken such as trips abroad. He always found the Weber carburettors struggled to produce a smooth operation in London traffic and he soon set his sights on a new Ford Mustang. After consulting his friends who ran a local Ford distributor, he eventually part exchanged the Aston Martin for a new Mustang at Gates Ford of Woodford.
The original green log book on file shows that the next owner was a company based in Palace Gate, Kensington. After taking ownership of the DB6 in May 1973, they owned it for less than a year before arguably the most interesting chapter in the car's life began in early 1974.
February 1974 saw a gentleman from Worcester Park in Surrey place a £75 deposit on the DB6 when he agreed to purchase it from a person (possibly a car trader) in Woodford Green in Essex. After paying the balance of £1,600 a month later he collected the car and would continue to own the DB6 for almost forty years.
Within the enormous history file of this car are the majority of the old MOT certificates from its first MOT test in 1971, and it is expected the odometer recorded about 52,000 miles when the gentleman took custodianship. He was clearly an enthusiast who expected from the outset to retain his prized Aston Martin for many years as he promptly wrote to previous owners of the car, including Aston Martin Lagonda, to ask them about their ownership experiences. According to all the correspondence on file, it seems only the company in Kensington failed to reply.
Six months after buying the car he took it to Aston Martin Lagonda in September 1974 for a thorough service, which included replacing the cylinder head gasket and fitting three new Weber carburettors.
It is clear the gentleman adored his DB6 and enjoyed it regularly by covering a few thousand miles a year, however, it appears from the MOT certificates that usage of the car reduced after 1981 (the odometer recorded 67,473 miles on July 16th 1981) to just a few hundred miles a year.
The generously sized history file is a delight to observe and contains the aforementioned early green registration (log) book, a copy of the factory Build Sheet, the majority of the car's MOT certificates from its first one in September 1971, and the correspondence between the five owners and also the Aston Martin Lagonda factory. In addition, the file also accommodates many previous MOT inspection reports, many expired tax discs since 1978, several Vehicle Licence Application Forms since 1977, a British Motor Industry Heritage Trust Heritage Certificate, a note book containing dates and mileages covered during use, Aston Martin Owners Club forms and correspondence, and an extraordinary quantity of maintenance invoices from both local garages and parts suppliers, as well as Aston Martin Lagonda.
Although the car was on SORN (Statutory Off Road Notification) since 2005 the last MOT certificate on file is from June 2007 when the odometer recorded just over 71,700 miles. It is possible that the wheels were reported as being in need of a change during an MOT test, as correspondence with Motor Wheel Services in 2007 shows the gentleman requested a quote for new wire wheels and tyres but then declined to proceed. The car was apparently not driven after this time.
In December 2013 the car was sold at a classic car auction in London and the catalogue description makes a mention of "the vendor's late father", so it is clear the gentleman sadly passed away some time in the six years since the car was last MOT'd. The recorded mileage at the auction was 71,747, and as well as being described as a running car, the car was complete and appeared to be in good condition.
Acquired by a London based classic car dealer, in February 2014 they set about recommissioning the car which involved a bare-metal repaint in the car's original Olive green colour. That was followed by a recognised Aston Martin specialist carrying out a mechanical refresh of the car including overhauling the gearbox and removing, inspecting, and cleaning the engine and engine compartment. Lastly, in July that year the interior and seats were re-trimmed in the original Natural coloured leather.
This original Vantage specification Aston Martin DB6 Saloon is a truly special example. With a comprehensive and documented history as well as a recent renovation to an excellent standard, Aston Martin Works are delighted to offer for sale this beautifully coloured car. Being so instrumental in its birth and the first few years of its life, it is exciting to be able to find it a new home after nearly forty cherished years with its previous owner. Cars so rarely have a history file as comprehensive, and this along with its condition and factory Vantage specification make it a rare and special machine.