This listing is no longer available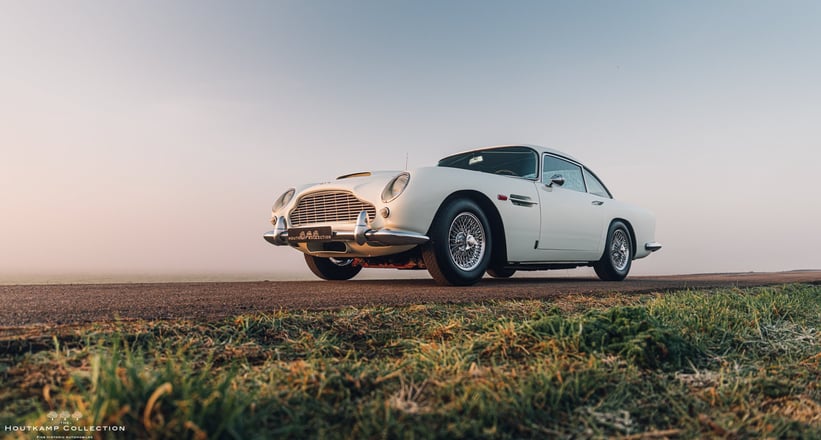 1963 Aston Martin DB5
Original Left Hand Drive
Summary
Location
Description
- Extremely rare/unique original Left Hand Drive example
- The 5th. built Aston Martin DB5, so number 5 of the DB5's
- Finished from the factory in Platinum (white)
- 899 DB5 coupes examples were built between 1963 and 1965
- As the favoured car of international spies for over 60 years, an Aston Martin DB5 has a place in every car collection
- Instantly recognizable, a car of unmatched power, elegance, and luxury
It is near impossible to mention a DB5 without associating it with the secret agent that found himself behind the wheel of one in the 1964 film Goldfinger.
Little did Aston Martin know at the time that that vehicle would be forever linked with 007 and his exploits, and, in the process, the DB5 is considered by many as "The Most Famous Car in the World."
It would make many return appearances in future James Bond films.
Introduced in July 1963, the Aston Martin DB5 represented a further evolution of the preceding DB4 series rather than the beginning of an entirely new model line.
Superior materials were used, such as aluminum body panels which were mounted over a skeleton of small-diameter tubing, which was patented by Touring of Milan as Superleggera construction.
Its race-proven engine was also made of aluminum, including both the block and its twin-cam hemispherical cylinder head. Then, of course, the interior was upholstered in the finest Connolly leather, which was complemented by deep-pile Wilton carpets.
ABOUT THIS SPECIFIC EXAMPLE
The history of this very early example of DB5 starts on October 10, 1963 where this rare DB5 was completed and delivered on June 13, 1964 through British Motor Car Distributors of San Francisco to its first owner, the manager of Washington Fruit & Produce Company in Yakima, Washington.
The DB5 was newly delivered in Platinum (white) with Blue Connolly leather interior.
Extra's included overdrive, triple SU carburetors, four-wheel disc brakes, chrome wire wheels and Smiths instrumentation.
A special and unique detail is that this DB5 is the 5th. DB5 built. It was together in the factory with the famous James Bond car which was number 8!
The car was purchased by a new owner in the 1970s and was acquired in 1981 by a Bay Area owner who kept it for 38 years.
The Aston Martin still has it's matching numbers engine, gearbox, rear axle and even it's original numbered keys.
A very impressive file which comes with the car show the services which the car received during it's life as well as the change of owners and other historical details.
CONDITION EXTERIOR
This is a car in a condition which we personally adore. It's certainly not over the top restored. The car is in a very correct and honest condition.
Nowadays the restoration companies are demanded to make cars nicer then new. Doorgaps and fittings have to be better then perfect but this car is as it was when it left the factory.
It's perfect, it's beautiful but it's not nicer then new.
The car is honest and correct. It's a collectors car in a wonderful condition.
One can find some very minor spots on the car and one could for example re-chrome the bumpers because the rear bumper has a very small dent.
But we appreciate that the car has been used and that it shows some patina.
The paint on the car is nice. It has a beautiful shine. If you search carefully it is possible to find a small sign of use.
The chrome surrounding of the windows is beautiful and has a nice shine.
The front grille show some pitting because of little stones from the road.
Alltogether this is a beautiful DB5 with some signs of use. With a bit of patina which belongs to a car like this.
When James Bond was using his DB5 it was also not spared for a scratch.
CONDITION INTERIOR
The Blue interior of the Aston is very attracting and in our opinion the colour suits the exterior color of the car very well.
The reclinable front seats were reupholstered during the life of the car and are in period correct material and in a beautiful condition
The dark bleu carpet is also in period correct material and in a beautiful condition.
Power windows were standard on the DB5 model.
An original wood-rimmed steering wheel in beautiful condition is fitted in the car.
All meters such as the oil pressure, oil temperature, amperage, fuel level, and coolant temperature meters are in perfect working condition.
The interior has proven it wasn't just a showcase of period luxury, it was also very stylish and timeless.
DRIVING EXPERIENCE
Driving an Aston Martin DB 5 is extremely special. Everybody knows the model because of James Bond and everybody seems to love the brand.
An Aston Martin is always accepted and people enjoy seeing an Aston life on the street.
For the continent it is off-course a huge advantage that this Aston is a left hand drive example. But amongst this advantage, the amount of left hand drive cars made by Aston Martin is rather low which results in a huge demand for these cars. Factory-delivered left-hand-drive Aston Martin DB5s are rare cars indeed. In fact, from a total production run of 1,021 cars, it's thought that only around 20% were delivered in LHD configuration.
With its rarity, signature production features, originality and fascinating history with a very detailed history file, it stands proudly today as one of the most desirable Astons DB5, equally ready to be toured as David Brown originally intended.
Disclaimer
The information provided on this website has been compiled by The Houtkamp Collection with the utmost care. The information contained within this advert is provided 'as-is', without warranties as to its accuracy whether expressed or implied and is intended for informational purposes only. The Houtkamp Collection is not liable for any errors or mistakes.