This listing is no longer available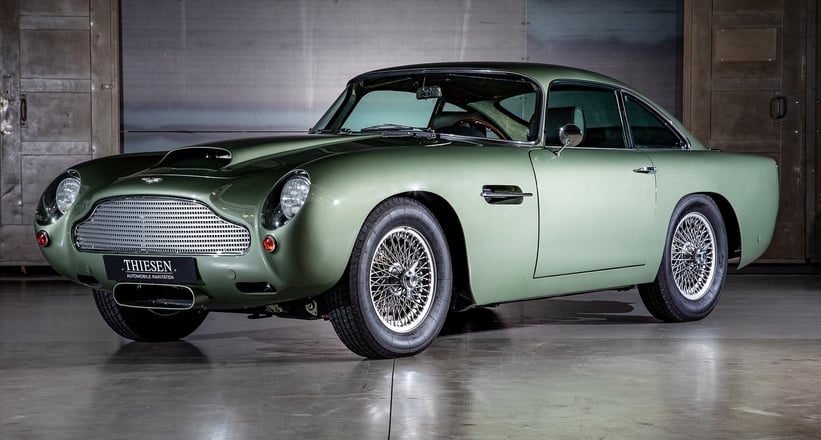 Location
Description
- Sehr sorgfältig erstellter Umbau durch deutschen Aston Martin Experten
- Vom Original fast nicht zu unterscheiden
- Begehrte Farbkombination
Beschreibung:
Aston Martin stellte den DB4 1958 auf dem Pariser Autosalon vor. 1959 brachte Aston Martin den DB4 GT. Auf einem verkürzten Chassis ( -127 mm im Vergleich zum DB4 Saloon). Leichtbau war das erklärte Ziel um konkurrenzfähig im Motorsport zu sein. Für die entsprechende Mehrleistung bekam der Motor eine Doppelzündung, höhere Verdichtung und drei Weber Doppelvergaser. Heute sind die DB4 GT sehr gesuchte Sammlerstücke, die Preise zwischen 2 und 3 Millionen Euro erreichen.
Dieser DB4 wurde Mitte der 2010er Jahre von einem deutschen Aston Martin Experten zum DB4 GT umgebaut. Dabei flossen alle signifikanten Merkmale des DB4 GT in den Umbau mit ein. So hat der Motor die oben erwähnten GT-Merkmale. Auch der Tank mit zwei Einfüllstutzen liegt im Kofferraum, das Reserverad darüber. Wenn man bedenkt, dass die "Continuation" von Aston Martin 2017 gut 1,8 Millionen Euro kostete, hat man hier die Gelegenheit, einen fast nicht vom Original zu unterscheidenden Umbau, für einen Bruchteil eines orig. DB4 GT oder der "Continuation" zu erwerben.
Mit TÜV und H-Kennzeichen.
---
- Very carefully made conversion by German Aston Martin experts
- Almost indistinguishable from the original
- Sought-after colour scheme
Description:
Aston Martin presented the DB4 at the 1958 Paris Motor Show. In 1959 Aston Martin brought the DB4 GT. On a shortened chassis (-127 mm compared to the DB4 Saloon). Lightweight construction was the declared target to be competitive in motorsport. For the corresponding additional power, the engine got a double ignition, higher compression and three Weber double carburetors. Today the DB4 GT are very wanted by collectors, reaching prices between 2 and 3 million euros.
This DB4 was converted into the DB4 GT by a German Aston Martin expert in the mid-2010s. All the significant features of the DB4 GT were incorporated into the conversion. So the engine has the GT features mentioned above. The tank with two filler necks is also in the trunk, with the spare wheel above. If you consider that the "Continuation" from Aston Martin in 2017 cost 1.8 million euros, you have the opportunity here to make a conversion that is almost indistinguishable from the original for a fraction of an orig. DB4 GT or the "Continuation".