This listing is no longer available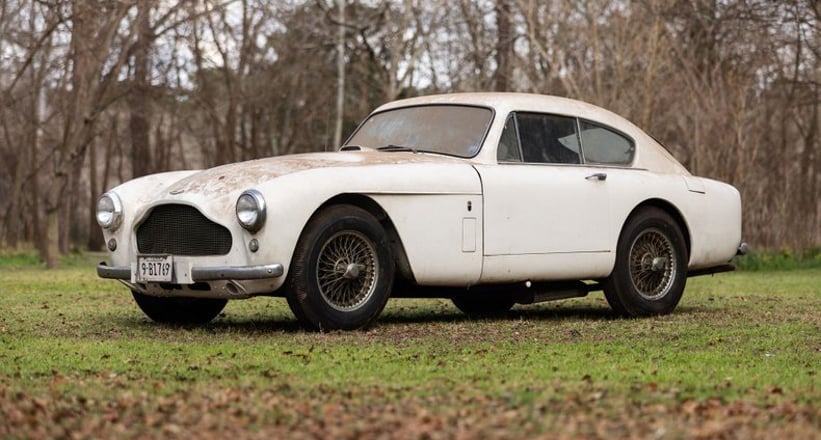 Location
Description
Selling NOW, exclusively at Auction, through Bring-a-Trailer: https://bringatrailer.com/listing/1959-aston-martin-db-mkiii-sports-saloon
An Exceedingly Rare and Exciting Discovery...
1959 Aston Martin DB 2/4 Mark III Saloon
Chassis No. AM300/3/1726
Engine No. DB/D/1428 (matching numbers)
Gearbox No. DBCW/S/369 (matching numbers)
Rear Axle No. F58/605 (matching numbers)
Final Model Year Mk III, Fitted with Exceedingly Rare DBD Special Series Engine
• 1 of only 31 Sport Salloons
• Factory LHD
The original James Bond Aston Martin model, appearing in Ian Fleming's novel 'Goldfinger'
Rare Factory Left Hand Drive Example, In Correct Desert White over Black leather, as Delivered
2-Family Ownership from New
• Documented Provenance
• Sold New to Pasadena, California
• Longtime Tennessee Resident, from over 50 Years of Single-Family Ownership
• Large Dossier of History, Correspondence, Service Records & Service Spreadsheet
• Owner Ledger
An exciting Garage/Barn Find - Presented as Discovered
• Sold on its 1983 Tennessee Title
• A Time Capsule Highly Original in Complete Preserved / Unrestored Condition
• Retains original upholstery, etched glass, trim and equipment
• Older exterior repaint in original color
• Engine bay and undercarriage remain exceptionally original and solid
• Among the most remarkably preserved DB Aston Martins we have ever seen!
• ALL Matching Numbers Example
• Documented by British Motor Industry Heritage Trust Certificate
• Copy of Original factory Build Cards
• Complete with Original Instruction Book, Workshop Manual, Keys, Tools, Emergency Equipment, Period Tennessee License Plates & Vintage Accessories
An Extraordinarily Solid, Complete, & Ideally Optioned DB MkIII for a Straightforward Restoration or Thoughtful Conservation
Factory Fitted Equipment
DB/D Engine with Twin Exhaust, Firestone Super Sport tires, Chrome Wheels, Instruction Book, Tickford Body, Three SU Type HV6 Carburetors, Front Disc brakes, Rear Alfin brake drums, Armstrong shock absorbers, Smiths miles-per-hour speedometer. Rear Axle Ratio 3.77 : 1
Ownership History
L.H. Garlinghouse (1960)
R.E. Garlinghouse (1964)
L.A. Patton (January 1970)
R. S. Patton (early 1970s)
K.A. Patton (December 1983)
Note: Engine turns freely by hand.
The above vehicle information is accurate to the best of our knowledge at the time it is posted to this website. It is provided 'as-is', without warranties as to its accuracy, whether expressed or implied, and is intended for informational purposes only. Corrections or additional information is always appreciated.
All advertised prices exclude government fees and taxes, any finance charges, any dealer document preparation charge, and shipping expenses. Vehicles are subject to prior sale. DriverSource is not liable for any errors, omissions, or mistakes.