This listing is no longer available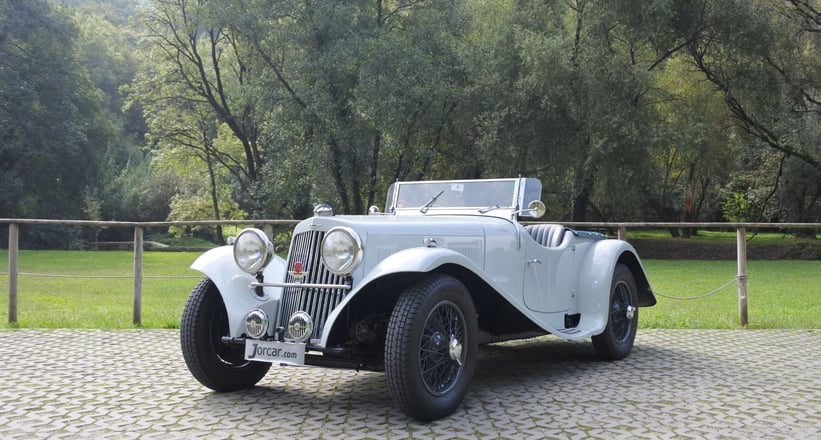 1939 Aston Martin 15/98
Short Chassis
Summary
Location
Description
ASTON MARTIN 15/98 SHORT CHASSIS 98CV 1939
.
It is a very attractive "pre-war" car, very agile with 98 bhp, 1,949 cc inline four-cylinder engine with overhead camshaft, twin SU carburetors, Moss four-speed synchromesh manual transmission, live front and rear axles, and four-wheel mechanical Girling drum brakes. Wheelbase: 102 in.
Aston Martin was, and remains, the quintessential British maker of elegant, low-volume sporting cars. Lionel Martin and Robert Bamford, who had been selling Singer automobiles in partnership, founded Aston Martin in 1913. Martin was a racer at heart, so the pair drew on his success at the Aston Clinton Hill Climb in Buckinghamshire for the new company name. Their fundamental aim was to produce a light English sporting car with at least the quality of the French Bugatti.
By the mid-1930s, Aston Martin was indeed one of the most admired of British sporting makes, as it was now under the design and technical direction of Augustus "Bert" Bertelli, who started with the company in 1926. The cars were undeniably pretty, but they were also purposeful, solidly engineered, hand-built, quick, and agile. The signature 1.5-liter endurance sports racers continually evolved and gained great success, taking the team prize in the 1934 Tourist Trophy race in Ulster and finishing in an impressive 3rd place at the 1935 24 Hours of Le Mans. As a production car, the newly christened Ulster model made for a very desirable 100 mph sporting mount for the enthusiastic driver. Ultimately, though, its market was limited to a small number of serious (and well-heeled) sportsmen.
So Aston Martin took the decision to develop a more versatile offering for the company's next generation of cars, starting with an updated new chassis by Bertelli, with credit to another brilliant engineer, Claude Hill. Significantly, the new specification mandated an increase in displacement to two liters, as its longer stroke could provide plenty of torque for a more relaxed motoring experience. With its four-cylinder, single overhead-camshaft wet sump engine, the new car developed some 98 brake horsepower, and it featured a four-speed Moss synchromesh gearbox and Girling rod mechanical drum brakes. Overall, it was an exceptionally well-balanced machine, now marketed as being the Two Litre range. Accolades piled up, such as the following summary from Autocar: "[The Aston Martin Two Litre is] softer, quieter, and more flexible, whilst acceleration and general suitability for everyday purposes have increased out of all knowledge."
The car was originally targeted for debut at Le Mans in 1936, so a competition version of the Two Litre chassis was developed (known as the Speed Model), but a labor strike in France resulted in the cancellation of the race. Nevertheless, production continued, with an initial focus on touring configurations, such as a closed saloon, a drophead coupe by coachbuilder Abbott, and a 2/4 seat open tourer, with road going versions dubbed 15/98; this was a common designation that denoted Britain's "taxable" vs. measured horsepower.
With excess capacity at the factory, a short-chassis version of the 15/98 was introduced with its most appealing shape to date, the Open Sports, which was bodied by Abbey Coachworks, of Willesden, London. One delightful feature of sport models such as this Abbey example is that the wind wings are removable, and with the windscreen flat forward, they slide into perches above the dash to act as aeroscreens, adding further panache to the attractive silhouette. After its debut at the inaugural Earl's Court Motor Show in 1937, some 50 were built in this stylish form, out of the approximately 171 Two Litre cars produced in total by Aston Martin during the pre-war era. The result provided sporty, open motoring without the racing pretentions.
- A rare and desirable pre-war car
- Superb looking due to it's wonderful color combination Light green exterior with dark green interior
- An enormous amount of money invested during a restoration in Germany some years ago
- OLD ENGLISH LOGBOOK
- FIA PASS
- FIVA CARD
- DEUVET PASS
- EXPERTISE EVALUATION
- RESTAURATION FILE
ABOUT THIS SPECIFIC EXAMPLE
This Aston Martin 15/98 Short Chassis has been newly delivered to a gentlemen in Ingland near Manchester Mr. James Michael until .
This car is a very rare ORIGINAL examplar. Figures are not exactly known but approximately 50 examples have been made in this version.
In 1966 Mr. Charles Enzembach an sports car entusiast buys the car , drives it and enjoint for some years
In 1990 Dr. Muller a German Colector Buy the car and starts an extensive restoration to bring the to is corrent mint condition , also made some upgrades , conversion to 12v , Rally instruments , electric stering .
In 2020 Jorcar Buys the car and bring the car to Portugal
A serious amount of money was spend on the car to bring it in it's current condition.
CONDITION :
The condition of the exterior of the Aston is very beautiful. The body has been restored on a high level this painting is top quality level and the result is astonishing.Also the chromes in perfect state .
The interior of the Aston Martin is also very attracting and in our opinion colorwise the best possible. The Dark Green leather interior color suits the exterior color of the car very well.
The condition of the leather can be best described as almost new.
The dashboard, including the meters are looking superb and everything is in perfect working order.
The carpets are in perfect condition without any damages.
On The Road :
If a car looks very nice it mostly disappoints in driving. But this Aston is driving extremely well and handles amazing.
The car is very fast.
The car has a superb sound coming from the exhausts.
The engine has been exactly set at a roller bank and therefore runs very well.
The reaction on the gas is perfect and much better as most Aston's.
Driving the car is magnificent. The engine is so responsive and the is very impressive.
Participated in several European events and touristic Rallyes. It is a very attractive "pre-war" car, very agile, has been well preserved throughout all these years and has kept all the originality , being Matching Numbers.
MORE INFORMATION
For more information or an appointment, please call Jorge Faria or send an e-mail to [email protected] Please do not hesitate to contact us . Jorcar is located near Fatima in the centre of Portugal .