This listing is no longer available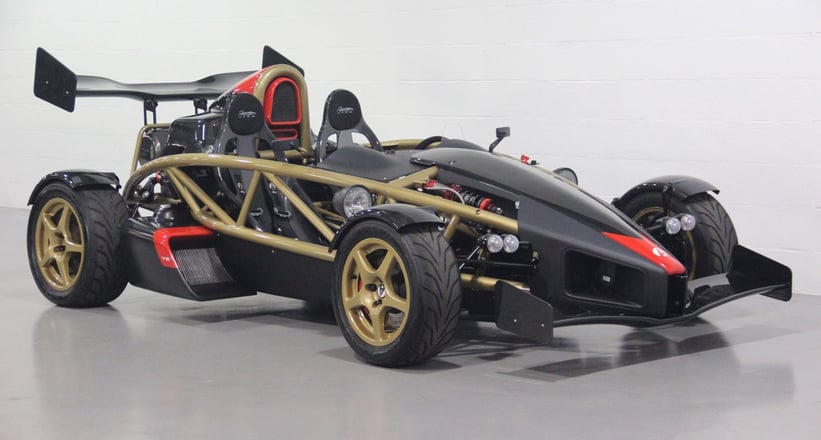 2014 Ariel Motor Atom
V8 - 03 of 25 Worldwide! -
Location

Performance

500 PS / 368 kW / 494 BHP
Description
Ariel Atom V8
25 pieces Worldwide !
03-25
Like new !
Only 500 Kms !
Left Hand Drive with UK registration
500 horsepower for a weight of 550 kg, the Atom V8 is equipped with a 3 Liter V8 engine developed on the basis of two engines Suzuki Hayabusa!
Engine :
Ariel/Hartley 75 Degree odd fire V8 offset cam drive
3.000cc Aluminium Alloy Block, Cylinder Head, Aluminium Cases and Sump, Flat Plane Crank, Forged Aluminium Pistons
Chain Drive DOHC with 4 Valves per cylinder
Power :
500 BHP @ 10.600 RPM
Torque 385 Nm @ 7.750 RPM
Gearbox :
Sadev with 6 Speed Sequential + Reverse
Hydraulic Clutch
Paddle Shift with flat shift Capability
Auto Shift Capability
Adjustable Limited Slip Diff.
Exhaust:
Twin 4-1 Ceramic Coated Fabricated Exhaust Manifolds
Ceramic Coated Stainless Silencer
Chassis :
Bronze & TIG Welded ERW/CDS Steel Tube
Aluminium Bulkheads
Phosphated & Powder Coated Gold Finish
Left Hand Drive
Suspension :
Double unequal length chromoly aerofoil tube fabricated wishbones
Outboard adjustable race frade rod ends front and rear
Lightweigth Fabricated Uprights Front & Rear
Aluminium Bell Cranks Front and Rear
4-Way Adjustable Alloy Steel Springs
Braking :
290mm Ventilated Crescent Grooved Discs
4 Piston Calipers Front and Rear
Performance :
0-100 Kph : 2,3 Sec
0-160 Kph : 5,4 Sec
Top Speed : 320 Km/h
- Uniquement sur rendez-vous
- Only on appointment
- Plus de photos sur notre site, more photos on our website :
- www.pch-automotive.be
- Since 1984 -
- Suivez nous sur facebook, follow us on Facebook : www.facebook.com/pchautomotive
- Suivez nous sur Instagram, follow us on Instagram : www.instagram.com/pchautomotive