This listing is no longer available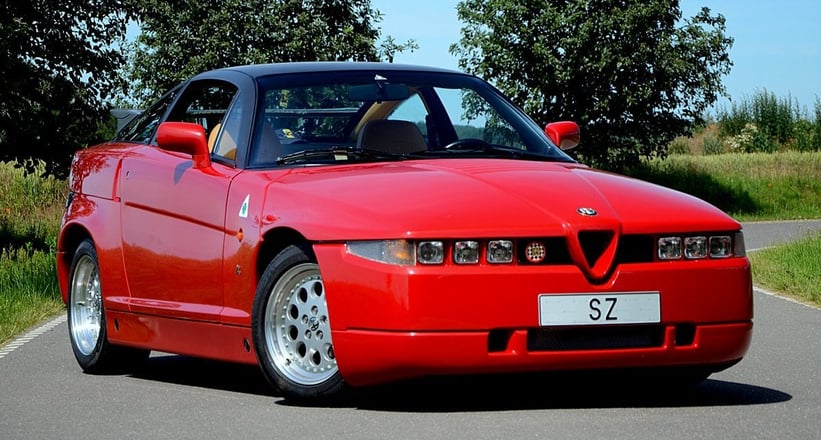 Location

Performance

210 PS / 155 kW / 208 BHP
Description
Not least due to a brutal styling and hence soon nick named "Il Mostro" the Alfa Romeo SZ shocked in several ways. Powered with the creamy Busso 3.0 liter V6 marvel of an engine and many other components from the hefty Alfa 75 also gave the SZ performance to match its macho looks. The SZ with code name ES-30, Experimental Sportscar 3.0 litre, was built from 1989 to 1991 all finished in red with dark grey roof except one car in black delivered to Zagato.
The letters SZ, Sprint Zagato was an old Alfa designation from the 1950s when design house Zagato built some lightweight Giulietta Sprints mainly to win the legendary Mille Miglia race. In contrast to what many believe the design of the SZ was the work of Robert Opron from Alfa Romeo Centro Stile headed by Walter da Silva and Fiat Centro Stile with Zagato only playing a minor part. Zagato aficionados will also notice that the Zagato trademark "Double Bubble" roof is missing.
Producing a healthy 207 BHP giving a power to weight ratio of 6kg/HP the SZ is certainly no slouch. Top speed is 245 km/h and 0-100 km/h is over in less than 7 seconds. Best of all is however the road holding. The suspension was taken from the Alfa 75 IMSA Group A race car and modified by Giorgio Pianta the manager of Lancia and Fiats works rally team with extensive use of rose joints and other race car technology.
Number 334 of the 1036 produced were sold new to Sweden. It has been kept as a collector/investment car on a no expense spared basis and stored in a temperature and humidity controlled environment in Stockholm and exercised regularly to now a total mileage of 39,800 km. Based on mileage alone the cambelts never was in need of replacement, but they have been changed no less than 3 times. This illustrates the kind of attention and service this 2 owner car has received.
The documentation is immense. Apart from the comprehensive dossier of service records there is a whole library belonging to this car. The original Zagato certificate is there and so are a large collection of brochures, leaflets, rare books etc. all related to the SZ. This car also comes with the tailor made set of suitcases all numbered 334 as the car. This set was an expensive option and is not usually found with these cars.
Number 334 is definitely among the SZ cars worth a consideration for the collector looking for the best the market has to offer in terms of collectability and investment potential.