This listing is no longer available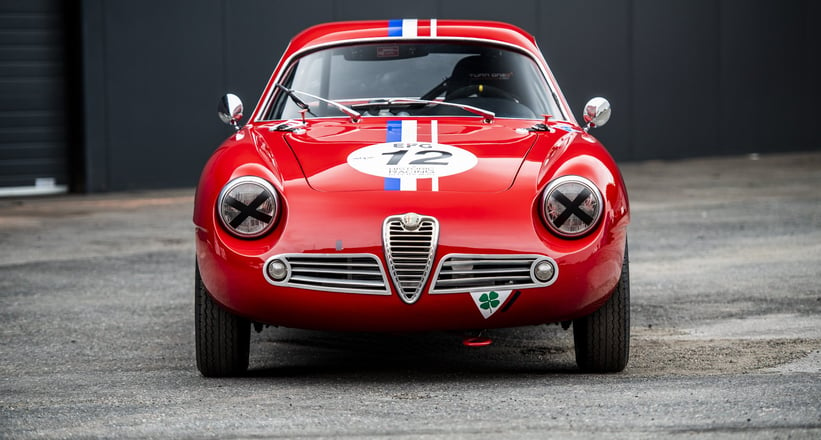 1961 Alfa Romeo Giulietta
Sprint Zagato
Summary
Location
Description
La Giulietta SZ est un modèle particulièrement intéressant, car c'est le plus performant des dérivés de la Giulietta. Elle est née d'un concours de circonstances, à la suite d'une sortie de route aux Mille Miglia 1956, Dore Leto di Priolo, pilote privé, confie sa Sprint Veloce à Zagato pour effectuer les réparations et par la même occasion, en faire une voiture plus performante. Le carrossier gagne alors 135 kg et habille la voiture d'une carrosserie plus profilée, ce qui permit ensuite à Dore Leto di Priolo de dominer les Sprint Veloce en compétition, entraînant plusieurs commandes de pilotes privés chez Zagato pour cette Giulietta SVZ, "Sprint Veloce Zagato". Un accord passé entre le constructeur et Zagato débouche en 1959 sur la Sprint Zagato, la SZ, plus aboutie et plus légère que la SVZ. Véritablement conçue pour la course, elle est aussi la plus rare des Giulietta. L'occasion de trouver une Giulietta SZ ne se présente donc pas souvent. La légende dit que 300 heures étaient nécessaires à la fabrication et aux finitions de chaque auto.
Agile et très performante, grâce à son moteur plus puissant et sa carrosserie en aluminium, l'Alfa Romeo SZ est, en plus de sa rareté, une auto très compétitive en courses historiques. Dévoilée au salon de Genève en mars 1960, la SZ remplace la SVZ. Elle se présente comme une version résolument sportive du coupé Giulietta. Avec 100 ch à 6500 tr/mn, elle en constitue le haut de gamme, devançant la Sprint Veloce (90 ch) et la Sprint (80 ch). Construite sur un empattement raccourci à 2,25 mètres, la voiture ne pèse que 750 kilos grâce à sa carrosserie en aluminium (à l'instar de toutes les Zagato) et ses vitres en Perspex. Cette qualité, jointe à une aérodynamique soignée, lui permet de flirter avec les 215 km/h. Toutefois, la carrière de la SZ sera courte (1960-1962) et quelque 200 exemplaires seulement seront construits, dont les derniers en SZ2 dits "Coda Tronca".
Alimenté par ses deux carburateurs double corps, le formidable moteur Alfa 1300 double arbre monte dans les tours avec enthousiasme - il prend aisément 7500 tr/mn, et la boîte de vitesses à cinq rapports est un régal. Quant au système de freinage, il fait appel aux fameux tambours Alfa Romeo à trois mâchoires, évolution ultime et sophistiquée de cette technique traditionnelle, qui sera remplacée par les disques.
L'Alfa Romeo SZ chassis #086 que nous vous proposons a été livrée neuve au Maroc à Casablanca en 1961, on retrouve la voiture entre les mains de M.André Balbure de Casablanca en 1998, puis entre les mains d'un collectionneur du sud de la France en 2002, qui participera a de nombreux Tour Auto, elle est achetée par son actuel propriétaire en 2011, elle est optimisée afin de recevoir un moteur et une boite de vitesse préparés pour la course. L'auto fera ensuite le bonheur de son pilote au Tour Auto ou lors des courses de THE GREATEST'S TROPHY by Peter Auto, entre autres ou elle glanera de nombreuses victoires a l'indice de performence. L'auto est vendue avec ses attestations FIVA et Alfa Romeo et son PTH FIA, révisée et prête à courir. Seront également fournis des jantes, et quelques pieces. Notre SZ est proposée a un prix atractif !
The Giulietta SZ is a particularly interesting model, as it is the most successful derivative of the Giulietta. It was born from a combination of circumstances: after a crash at the 1956 Mille Miglia, Dore Leto di Priolo, a private driver, entrusted his Sprint Veloce to Zagato for repairs and, at the same time, to turn it into a better performing car. The coachbuilder gained 135 kg and gave the car a more streamlined body, which allowed Dore Leto di Priolo to dominate the Sprint Veloce in competition, leading to several orders from private drivers for this Giulietta SVZ, "Sprint Veloce Zagato". An agreement between the manufacturer and Zagato resulted in the Sprint Zagato, the SZ, in 1959, which was more refined and lighter than the SVZ. Truly designed for racing, it is also the rarest of the Giuliettas. So the opportunity to find a Giulietta SZ does not come along very often. Legend has it that it took 300 hours to build and finish each car.
Agile and very powerful, thanks to its more powerful engine and aluminum body, the Alfa Romeo SZ is, in addition to its rarity, a very competitive car in historic races. Unveiled at the Geneva Motor Show in March 1960, the SZ replaced the SVZ. It is presented as a resolutely sporty version of the Giulietta coupe. With 100 hp at 6,500 rpm, it was the top of the range, ahead of the Sprint Veloce (90 hp) and the Sprint (80 hp). Built on a wheelbase shortened to 2.25 meters, the car weighs only 750 kilos thanks to its aluminum body (like all Zagato cars) and Perspex windows. This quality, combined with careful aerodynamics, allows it to flirt with 215 km/h. However, the career of the SZ was short (1960-1962) and only about 200 examples were built, the last of which were the SZ2 called "Coda Tronca".
Fueled by its two double-barrel carburetors, the formidable Alfa 1300 twin-shaft engine revs up enthusiastically - it easily reaches 7,500 rpm, and the five-speed gearbox is a delight. As for the braking system, it uses the famous Alfa Romeo three-shoe drums, the ultimate and sophisticated evolution of this traditional technique, which will be replaced by discs.
The Alfa Romeo SZ chassis #086that we offer was delivered new to Casablanca Morocco in 1961. we found the car in the hand of M.André Balbure from Casablanca in 1998, and then owned by a collector in the south of France in 2002, witch had taken numerous start of the Tour Auto, it was purchased by its current owner in 2010 it was optimized to receive a racing engine and a revised gearbox. The car will then make the happiness of its driver at the Tour Auto or during the races of THE GREATEST'S TROPHY by Peter Auto, among others. The car is sold with its FIVA certificates Alfa Romeo Attestation and its FIA HTP, ready for the coming races. Some wheels and spare parts will be delivered with the car.Price to sell!