This listing is no longer available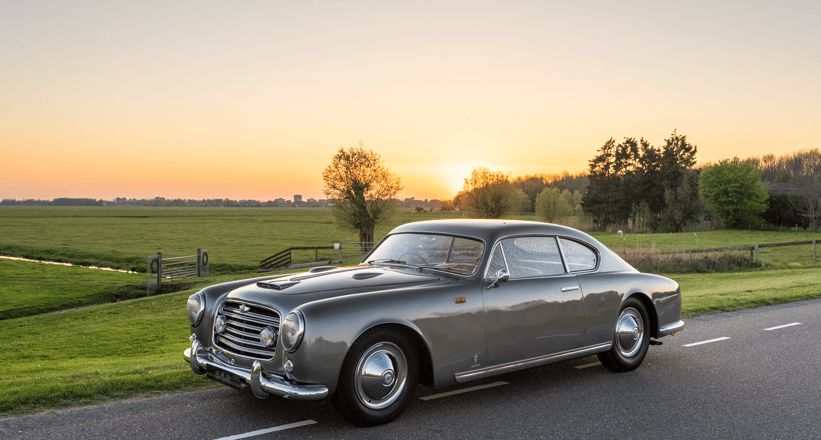 1952 Alfa Romeo 6C
2500 Sport, 1 of 3 example built
Summary
Location
Description
1952 ALFA ROMEO 6C 2500 SPORT
- Extremely unique piece of art
- Just 1 existing
- Is among the finest examples we have ever had the opportunity to offer from our collection
- Complete with original pictures from Pininfarina when the car was newly delivered
- A very elegant model and with a line that in the rear, anticipates the design of the Lancia Aurelia B20 Coupé and recalls the Bentley Continental S1 "Fastback"
- It was sold in 1950 to Mrs. Norma Zarbin of Milan and later sold to the Cristallerie Murano in Venice. In 1962 it arrived to Mr. Leto di Priolo, the famous Alfa Romeo gentleman driver
- Some pictures of this example can be found in the book "Alfa Romeo 6C 2500" by Angelo Tito Anselmi (pages 140-141)
- This Alfa Romeo 6C 2500 S Berlina sits proudly among the most stunning and understated of Alfa Romeo's creations, boasting elegant Pinin Farina coachwork
- Presented today in a wonderfully patinated condition
In 1939, the Alfa Romeo 6C 2300 was replaced with the new 6C 2500.
The engine, with an increased cylinder bore of two millimetres, an improved cylinder head for better aspiration, and increased compression, could produce, in Sport tune, a respectable 95 horsepower, with performance being aided by modern, lightweight aluminium coachwork.
The 6C 2500 was a favourite of coachbuilders, and the car presented here wears stunning coachwork from Pinin Farina. Pinin was the nickname of Battista Farina (1893-1966) who began his career at his brother Giovanni's Carrozzeria Farina. He visited America in the 1920s, learning much about mass production before founding Carrozzeria Pinin Farina in 1930, thirty years before the company and his name would become Pininfarina. He is revered as one of the world's great masters of elegant shapes and one of the largest influences on post-war styling.
The 6C 2500 Sport boasts what is arguably the most iconic body style for this model, the cabriolet by Pinin Farina of Turin. This design boasts styling cues familiar to the Pinin Farina enthusiast, such as smoothly integrated headlamps, flowing wings, and smooth hidden door handles, which were also seen on the coachbuilder's Ferraris and Cisitalias of this period.
The 6C 2500, however, offered the same design but in comfortable four-passenger form.
ABOUT THIS SPECIFIC EXAMPLE
This specific example is an exquisite and desirable 6C 2500 Super Sport in elegant Pinin Farina design and is among the finest examples we have ever had the opportunity to offer from our collection.
This particular car retains its original matching-numbers engine, chassis, and Pinin Farina bodywork.
Is an extremely unique piece of art and just 1 was existing.
This extremely rare Alfa has spent most of its life in Italy. It was delivered in 1950 to its first owner, Mrs. Norma Zarbin of Milan and later sold to the Cristallerie Murano in Venice. In 1962 it arrived to Mr. Leto di Priolo, the famous Alfa Romeo gentleman drive.
Whilst the car has been meticulously maintained over recent years it has never been subject to a full restoration and so retains a huge amount of charm that would normally by wiped away by the enthusiastic restorer.
The Alfa is presented today in wonderfully patinated condition and with a ownership record, this 6C 2500 S Berlina has clearly been cared for throughout its life. Retaining its original engine and just one original example, this elegant car belies its almost 70 years of age.
There is an extremely nteresting history file included with the car with old photos It is also included in the book "Alfa Romeo 6C 2500" by Angelo Tito Anselmi (pages 140-141). Complete with original pictures from Pininfarina when the car was newly delivered.
CONDITION EXTERIOR
The condition of the exterior is nice. The exterior is not perfect as the Alfa benefitted from an older respray.
The lovely bodywork has well fitted body panels and a good paint finish. One can find here and there probably some very small signs of use.
This superb Alfa is in a period correct very beautiful and drivable condition.
All lights and glazing are in good order as well.
CONDITION INTERIOR
The leather does show some fantastic patina but the leather does not show any damages, scratches or broken parts which is off-course very unique after all those years.
One can hardly find traces of use. The car shows with well fitted seats and door upholstery, dashboard instruments, and carpeting.
The beautiful dashboard is in a very nice condition and all meters are properly functioning.
DRIVING EXPERIENCE
This superb and extremely unique Alfa Romeo, is ideal for show, swift transport in the highest of style, and tours and rallies.
We've been in and out of this car and it looks fabulous, delightful to drive. The driving experience of the Alfa reflects the fabulous looks of the car. The feeling is fantastic and the sound is great.
Disclaimer
The information provided on this website has been compiled by The Houtkamp Collection with the utmost care. The information contained within this advert is provided 'as-is', without warranties as to its accuracy whether expressed or implied and is intended for informational purposes only. The Houtkamp Collection is not liable for any errors or mistakes.