This listing is no longer available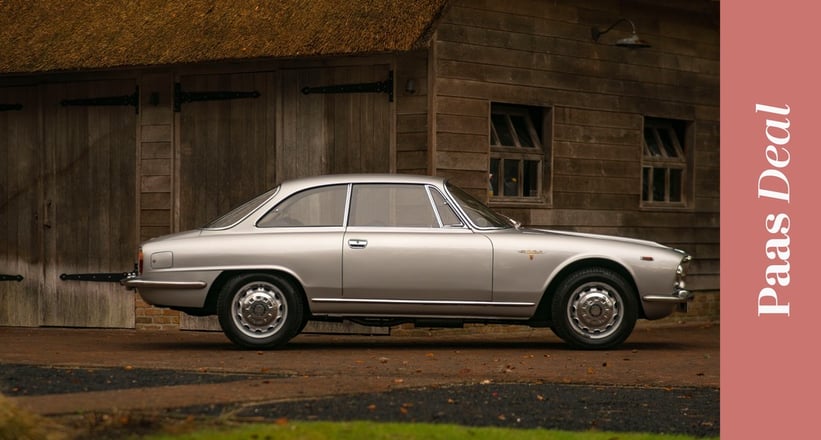 Location
Description
Model year: 2022
Number of cylinders: 6
Empty weight: 1.382 kg
Emission class: Euro 0
Service history: Present
Number of owners: 2
Number of keys: 2
Registration number: 76-62-TP
Alfa Romeo 2600 Sprint
While it entered, this beautiful Alfa Romeo 2600 Sprint still felt warm from its last tour through the Vosges in France. It's the ultimate proof that the original Italian delivered classic drives fantastic in its current condition and is reliable too. The Netherlands has been familiar territory for the silver charmer since 1972. The last 2 of only 3 (!) owners in total are Dutch. The more we can tell you about the past of this overhauled 6-cylinder Alfa 2600 Sprint. Or do you want to go (test) drive right away?
History
We will be the last ones trying to stop you from driving through the mountains of France or wherever you want to take our Italian beauty to. But for those who are interested, here's what we can tell about its history: the original owner, an Italian, enjoyed his classic Alfa for 6 years. The 2 Dutch owners that followed possessed our 2600 Sprint respectively for 27 and 23 years. So yes, the GT must have been excellent. Replacement of the clutch and crankshaft seals back in 2020 means that this Romeo is technically ready for a new adventure.
Exterior
And not just technically. The bumpers, grille and double round headlights fit the crushing cachet of the timeless coupe perfectly. Speaking of timeless: the sleek Bertone design seems to be forever. In short, a true masterpiece, especially in silver. Connoisseurs even speak of "one of the most influential designs in automotive history". Stunning details such as the air inlet in the bonnet and slender shape of Alfa's flagship ensure a distinctive and understated appearance. We can never get enough of the 2600 Sprint!
Interior
The grand tourer also shows character inside. The 2+2-seater is spacious and comfortable. Black leather seats are newly upholstered, which explains the immaculate condition. The driver has a view of a beautiful set of large round instruments. The black steering wheel has 3 aluminum spokes and is just as minimalistic as the manual 5-speed gear knob. The journey of this classic Alfa Romeo can clearly start any moment!
Technique & performance
The 2.6 liter 6-cylinder in-line engine will too, by the way. It's smooth, has 3 twin-choke horizontal carburettors and produces 147 hp. A new clutch and crank seals even further encourage your plans to climb the next mountain. However, remember: traditionally the journey starts with a visit to our showroom. Looking forward to welcoming you in Holland!
Kind regards, Prins Classics.