This listing is no longer available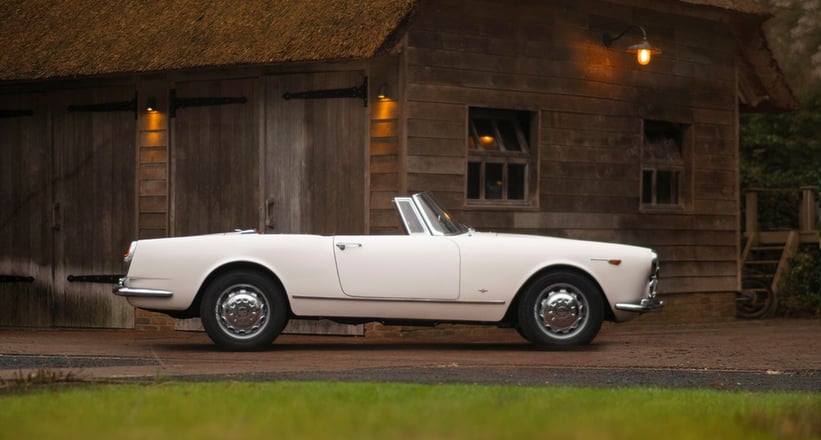 Location
Description
Model year: 2022
Number of cylinders: 6
Empty weight: 1.300 kg
Emission class: Euro 0
Service history: Present
Number of keys: 2
Registration number: DR-62-18
In the past, lots of beautiful cars were built. But only a few become a little bit prettier year after year. The extremely charming Alfa Romeo 2600 Spider is one of them. And therefore one of a kind. The Alfa 2600 Spider is a 6-cylinder 2+2 convertible and an absolute gem. This specific version has been restored and overhauled through the years, but of course we couldn't resist making it even more perfect in our own garage. This Italian beauty comes straight from a genuine Alfa fan and is fully documented. Who's on its way to Holland already?
History
Friday December 7, 1962: the amazing Alfa is delivered new at Brussels, Belgium, followed by a Dutch registration in 1998. Our country has been good for the Italian, referring to the restoration of (a part of) the bodywork back in 2005. Next was an engine overhaul in 2015. The original invoices are included, both for the visual and technical part. We decided to make the open Alfa Romeo 2600 extra smooth again in 2021, by giving every detail the attention it deserves. The former owner, who exchanged his classic for a modern Alfa machine, used the Spider for several tours and rallies, so you could say the 2600 isn't only gorgeous, it's also very solid. A real driver's car.
Exterior
As a successor of the Alfa Romeo 2000, the 2600 became the new flagship of the famous Italian brand. It was sold as a 4-door Berlina, Coupe from Bertone and this beautiful Spider made by Carrozzeria Touring. In terms of design, the similarities with its predecessor are very clear. However, the Alfa 2600 Spider was given a front grille with only horizontal bars and an air intake on the hood that was bigger. Alfa Romeo clearly wanted to make a powerful statement with this… Our Spider has an off-white lacquer that fitted the 60s perfectly. The overall bodywork is nice and smooth, making it not only a classic dream car, but a dream come true.
Interior
According to us, the combination with a full red interior couldn't have been better. In total 2,152 left-hand drive versions of this open 2+2 have left the factory. And since it's a proper driver's car, the best position is behind the ultra-thin 3-spoke aluminum steering wheel. On the luxurious dashboard you'll find beautiful instruments. Also, there's a very characteristic (and romantic?) the mirror on top of it, just like previous Alfa Spiders had. But you don't want to waste any time by looking backwards, because there's a whole new classic world in front of you. And it looks very promising.
Technique
Start the 6-cylinder in-line engine with 145 hp and you can't stop smiling. The model name reveals the capacity: 2.6 liters. The 2 valves per cylinder are sufficient to achieve a top speed of 200 km/h. Don't forget: we're talking about a 1962 convertible here! So no, the air intake in the hood doesn't only has a visual purpose… Go hard, brake hard; the Alfa Romeo 2600 Spider has standard disc brakes at the front. Later series also have discs at the back. Curious how Alfa's 60s flagship drives in 2022? Find the answer at Prins!
Kind regards,
Prins Classics.