This listing is no longer available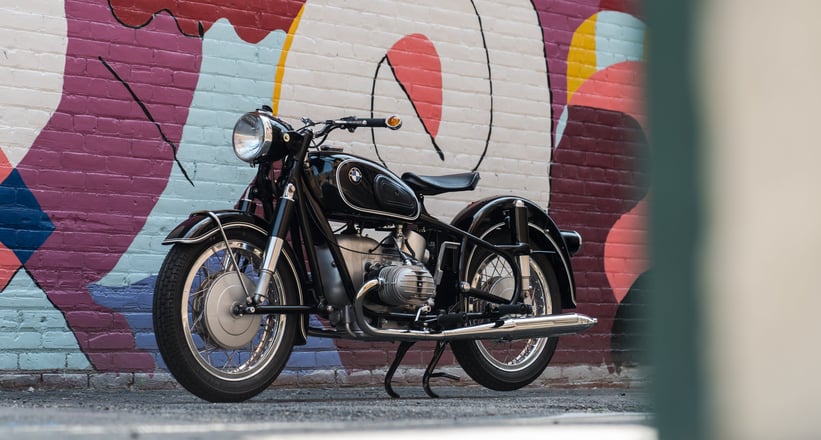 1967 BMW Motorcycles R60/2
Summary
Location
Description
- Chassis # 1811507
- Engine # 1811507
- A Fully Numbers Matching Example
- Only 39 Miles Since Comprehensive And Thorough Restoration
Following the end of World War II, Germany was prohibited from producing motorcycles but once the ban was lifted by the Allies, BMW went back to work immediately and released the 500cc R51/2 which was quickly replaced by the R51/3. The 600cc R67 and R67/2 quickly followed up the success of the 500cc offerings. The R60 series of BMW motorcycles were first introduced in 1956 as an updated model to its previous 600cc offering, the R67. The R60 would see the addition of some modern technology such as an enclosed shaft drive as well as some odd changes made to the suspension. Although they had invented and first used telescopic front forks back in the 30's it was decided that the "Earles" style fork would be used on these R50 and R60 models, a decision that helped in the predictable handling nature of these motorcycles as well as aiding in their ability to be used with a side car attached. Starting in 1960, BMW introduced the slightly updated R50/2 and R60/2 which saw updates such as changes in the switchgear and a slightly larger headlight as well as some changes to the 600cc engine to aide in reliability and power, increasing engine output to 30hp. Although only available in the now-classic black with white pinstriping, it was possible to special order an R50 or an R60 from the factory in other colors such as Granada Red, Dominican Blue, or Dover White, among a few others, although these are all fairly rare. The R60/2 would remain in production through 1969 when the new and drastically updated /5 series of BMW motorcycles were introduced.
The motorcycle on offer here is a 1967 BMW R60/2, chassis # 181150 and engine # 1811507. It is a triple number matching example, meaning the head tube tag, the frame, and the engine numbers all match. This motorcycle is finished in the common, but always stunning, black with white pinstriping and currently wears a solo Denfield tractor sale seat. This R60/2 has benefited from a full restoration completed earlier this year and has under 40 miles on it since. This BMW was acquired along with 7 other motorcycles from a private collector in 2017. The current owner, an experienced BMW restorer, began restoration of the motorcycle shortly after acquiring it. The bike was completely torn down and inspected, detailing any and all pieces that needed to be replaced or refurbished. The engine was completely disassembled and inspected. Every bearing was replaced, as well as all seals and gaskets, along with rebuilding the crankshaft and replacing the oil slingers. The transmission was also completely disassembled and inspected with all new bearings, gaskets, bushings, and seals being used int reassembly. The final drive was completely disassembled and inspected and the bearings were replaced and properly shimmed per BMW specifications. The frame and swingarms were powder coated and the remaining parts that needed paint were finished with a two-stage base and clear coat along with the appropriate and well-done hand pinstriping.
Please visit www.LBILimited.com for many more photos and details. Worldwide shipping is available upon request. Follow us on Instagram and Facebook @LBILimited #claimyourclassic.