Zeitgeist by Chanel
Does the word "Superleggera" start you dreaming? Do you think of some of the greatest sports cars in the world? If it does then you have something in common with Frenchman Jacques Helleu, for many years the artistic director of Chanel, and car enthusiast of passion. You can imagine him owning a Porsche or Facel Vega, a different car for every day of the week. If someone like this has the chance of designing a sports watch then it must end up as homage to the great automotive designs of the past. The result is the J12 Superleggera.
Speaking in a recent interview, Helleu said "First and foremost I created the watch for myself. I wanted to make a timeless and durable watch that reminded its wearers of the great classic cars." This philosophy is translated into practice by the use of materials such as ceramic and aluminium. The former material (now frequently used in high-performance braking systems on Ferraris, Porsches and Mercedes) forms the tachymetre ring while the latter is used in part of the watch as a highly polished contrast to the black ceramic.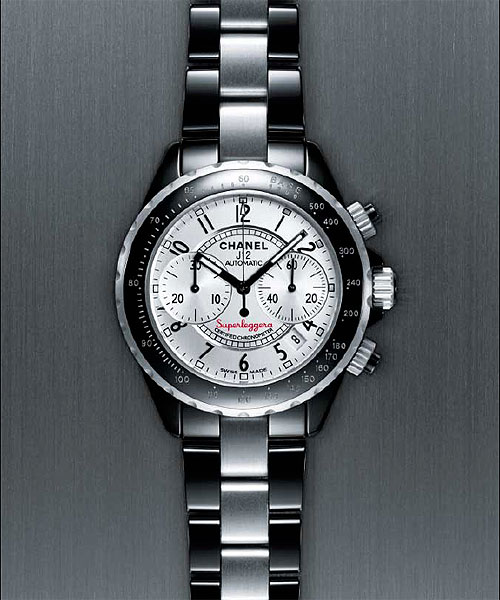 The red "Superleggera", a name used by designers Touring of Milan to signify the tubular steel framework that supported a hand-formed aluminium body, signifies not only the connection with the world of 1950s and '60s classic cars, but also the 'Superlight' construction of the J12 watch. With its high content of aluminium and ceramic it is lighter than many similar timepieces.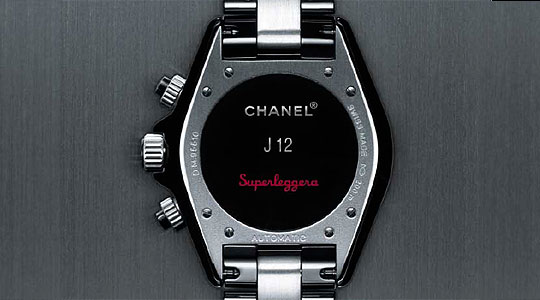 So "Chapeau!" to Chanel for making a true chronograph for automobile enthusiasts. The J12 Superleggera costs in the region of 4,750 EURO.
For more information please visit www.chanel.com.
Text: J. Philip Rathgen
Photos: Chanel
---
ClassicInside - The Classic Driver Newsletter
Free Subscription!