World Speed Record on Ice for Bentley Continental GT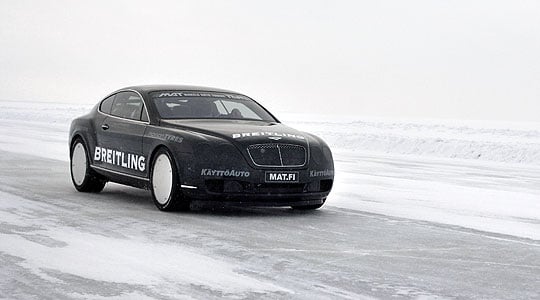 A Bentley Continental GT, driven by four-times World Rally Champion Juha Kankkunen, has smashed the world ice speed record, reaching an average speed of 199.86mph (321.65km/h) on frozen sea off the coast of Finland.

Video:

The near standard four-wheel-drive Continental GT - which is privately owned by the world rally star - eclipsed the previous ice speed record of 184.14mph (296.34km/h), set by a Bugatti EB110 Supersport at the same location.
Kankkunen's team endured temperatures of minus 30 degrees Celsius on a 10km section of frozen sea, 50km north of Oulu in western Finland. Accelerating hard over 70cm-thick ice, Juha took around 5km to hit his optimum speed before reaching the start of the marked kilometre over which his speed was measured. In spite of the Continental GT's exceptional grip and traction he experienced wheel-spin even above 120 mph.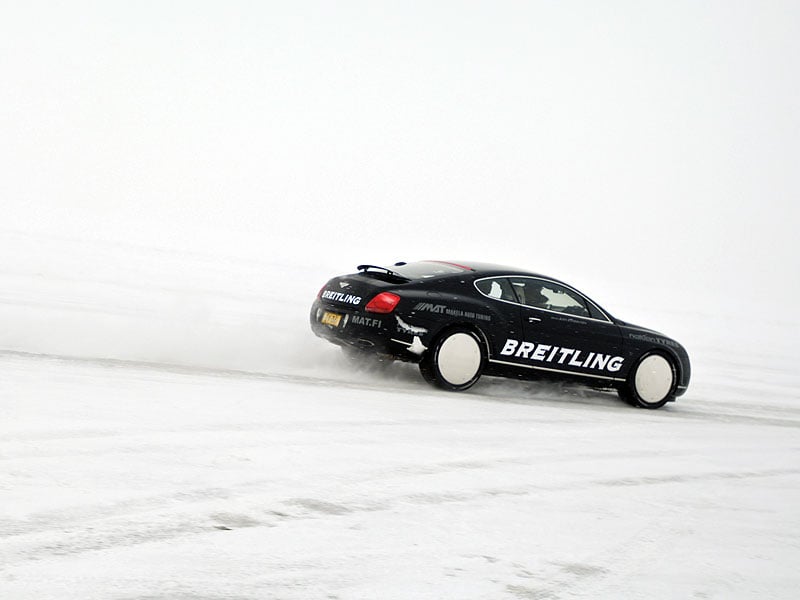 After a brief check-over, Juha turned the Continental GT around and drove the measured kilometre a second time to fulfill the judge's requirements, peaking at an incredible 205mph (330km/h).
Modifications to Juha's Continental GT were kept to a minimum. For safety reasons, a rollcage was fitted, along with Nokian snow tyres. Various aerodynamic tweaks were also made, but the powertrain was essentially untouched, although the car ran non-standard fuel with matching calibration to cope with the extreme temperatures.
'Juha's record-breaking achievement is just what we've come to expect from some of our more adventurous owners,' said Dr. Ulrich Eichhorn, Member of the Board, Engineering. 'It shows that the spirit of the famous Bentley Boys lives on and is still harnessed by drivers with sufficient skill and courage to extract the full potential of our motor cars in extreme conditions - though, naturally, we would not recommend our other owners try to attempt such high speeds on sheet ice!'
This most recent world record set in a Bentley continues a long tradition started in the 1920s when some of W.O's Bentley Boys set the pace at European circuits. In 1922, John Duff drove his Bentley 3 Litre single handed for 24 hours, at an average speed of almost 87mph at Brooklands to secure a Class record. And in 1928, another 3 Litre driven by Dudley Froy became the first car to achieve more than 115mph over a distance of 100 miles at the same venue.
Text: Classic Driver / Nokian/ Bantley
Photos: Nokian
---
ClassicInside - The Classic Driver Newsletter
Free Subscription!